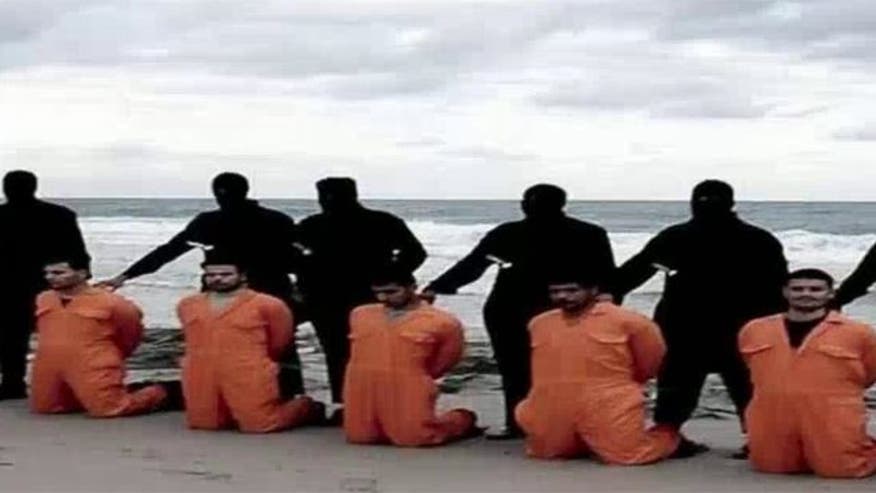 A video released on Sunday by militants in Libya claiming loyalty to the Islamic State terror group purports to show the mass beheading of Coptic Christian hostages.
The video, which appeared on the Twitter feed of a website that supports Islamic State, appears to show militants dressed in blank marching captives to a beach. 
Before the killings, one of the militants stood holding a knife in his hand and said: "O Crusaders, safety for you will be only wishes, especially when you're fighting us all together. Therefore, we will fight you all together, until the war lays down its burdens, and Jesus, peace be upon him, will descend, breaking the cross, killing the swine and abolishing jiziyah."
The prisoners were then forced down to their knees, and then beheaded.
The militant speaker then pointed northward and said, "We will conquer Rome, by Allah's permission."
The makers of the video identify themselves as the Tripoli Province of the Islamic State group — the Islamic militant group that controls about a third of Syria and Iraq. Militants in Libya claiming affiliation with the Islamic State terror group had been holding 21 Egyptian Coptic Christians hostage for weeks.
The Egyptian government declared a seven-day mourning period and President Abdel Fattah el-Sissi convened an emergency national security meeting to discuss a response. El-Sissi sent condolences to "the victims of terrorism," according to a statement released by the presidency.
Since the 2011 uprising in Egypt, thousands have traveled to neighboring Libya in search of jobs, despite advice from their government not to go to one of the most dangerous countries in the region.
The Associated Press contributed to this report