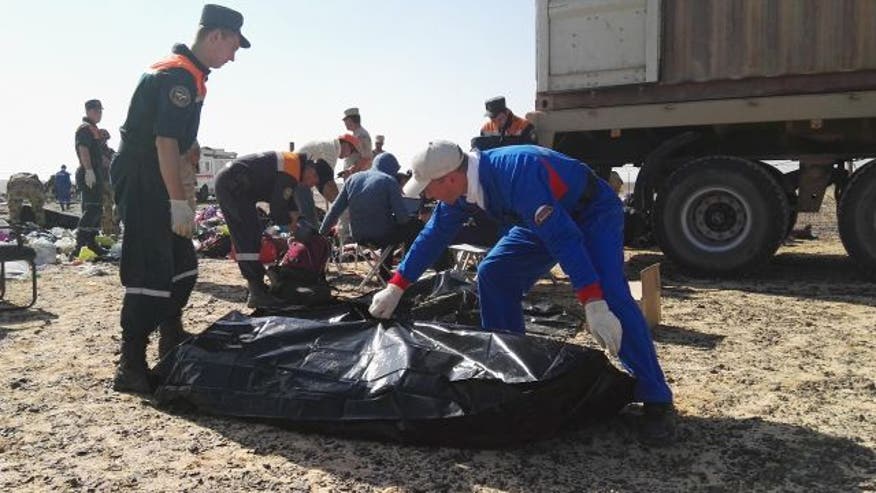 Communications of known Islamist militants intercepted by U.S. and British intelligence following the crash of a Russian passenger plane in the Sinai Peninsula last weekend indicated that ISIS terrorists had planned a major attack in the region, according to Britain's Daily Telegraph.
The paper reported that the intercepts were the key factor in British Prime Minister David Cameron's decision Wednesday to suspend flights to and from the Sinai Peninsula. Cameron said Thursday that it was "more likely than not" the case that the jet was brought down by a bomb. 
The Telegraph also reported that investigators are focusing on the possibility that a baggage handler at the Sharm el-Sheikh airport smuggled a bomb on board the doomed Airbus A321-200, which killed all 224 people on board when it crashed 23 minutes after takeoff Saturday. 
The disclosure came as British authorities prepared to dispatch flights to retrieve an estimated 20,000 vacationers stranded in the Red Sea resort. Travelers were being told that they could only bring hand luggage on board their flights home and their checked bags would travel in cargo planes separately, a possible indication of how seriously the baggage handler theory is being taken.
The Telegraph reported that employees of the Sharm el-Sheikh airport are not required to pass through security, unlike their counterparts at Western airports. Though the airport is equipped with metal detectors and X-ray scanners, travelers to the area have previously complained about inattentive security screeners.
Philip Baum, editor of Aviation Security International, said a bomb could be placed on a plane in a variety of ways, including by someone with access or by those on catering teams or maintenance crews.
"The options are almost too many to consider," he said in a telephone interview from Gambia.
Lending further credence to the bomb theory is images that appear to show holes in the remains of the plane's fuselage punched from the inside out. Other inward-facing parts of the plane appear to have been punctured with shrapnel.
Egypt and Russia have repeatedly dismissed suggestions by the U.S. and Britain that a terror attack brought down the flight. On Thursday, Cameron held a pre-arranged meeting with Egyptian President Abdel-Fattah el-Sissi that was followed by a news conference. The Egyptian leader said that British officials had sent a security team to evaluate the Sharm el-Sheikh airport 10 months ago and were satisfied with the results.
"They checked the security actions, they were happy with that," he told a Downing Street news conference through an interpreter. However, the Telegraph reported that the British team had urged the Egyptians to carry out more background checks on tarmac baggage handlers and add more scanners. It is unclear if these recommendations were carried out.
For its part, Moscow reacted angrily to news of the British intercepts. Foreign Ministry spokeswoman Maria Zakharova told reporters Thursday that if Britain had information about a bomb on the plane, it's "really shocking" that information hasn't been shared with Russia. 
British Foreign Secretary Philip Hammond said in response that the U.K. government had not shared the intercepts widely, saying, "Some intelligence we can share, some we cannot. We have reached a conclusion. What we are sharing with our partners is our conclusion. I expect during the course of today you will see more and more of those partners looking at those conclusions, listening to our explanations … and deciding that they too want to take a precautionary approach."
Cameron also spoke by phone with Russian President Vladimir Putin to explain that concern for the safety of British citizens had led Cameron's government to go public with its suspicions about a bomb.The Kremlin said Putin told Cameron it was necessary to rely on data yielded by the official crash investigation.
Metrojet suspended all flights of Airbus A321 jets in its fleet after the crash. The company has ruled out a pilot error or a technical fault as a possible cause, drawing criticism from Russian officials for speaking with such certainty too soon.
Egypt's Foreign Ministry condemned the British travel ban. with spokesman Ahmed Abouzeidas calling it "premature and unwarranted" and noting the damage it would do to the country's tourism industry. 
Responding to that charge, Hammond said, "Of course this will have a huge negative impact for Egypt. But with respect to [Abouzeidas], he hasn't seen all the information that we have."
The Associated Press contributed to this report.