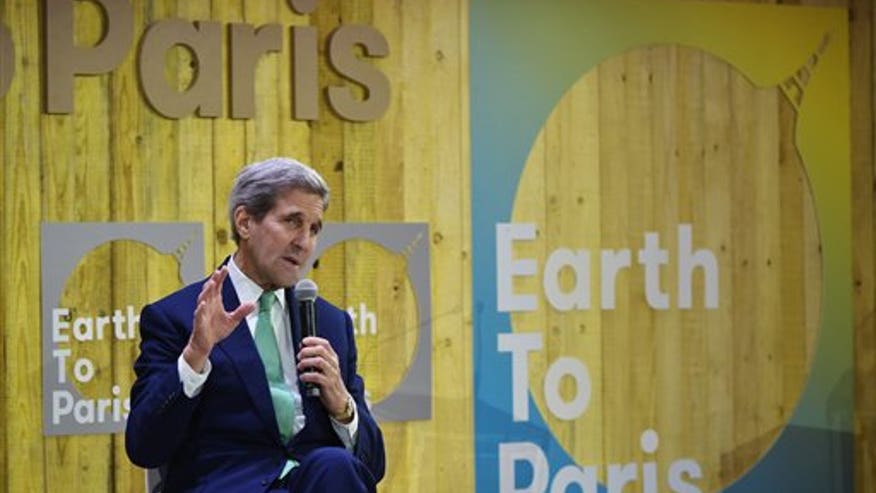 EXCLUSIVE: While negotiators hammer out a new climate accord in Paris, an army of supporters has been pushing out a digitally-amplified public relations campaign for more drastic cutbacks in greenhouse gases and larger cash transfers from rich countries to poor ones to bolster the United Nations-sponsored deal, which is supposed to be signed on December 11.
U.N. Secretary General Ban Ki-moon called the orchestrated "civil society" propaganda campaign a "tsunami trend" on Monday during an 8-hour, globally-streamed talkathon titled, "Earth To Paris," in the French capital's Petit Palais exhibition hall. The talkfest was slated to continue for four hours on Tuesday at UNESCO's Paris headquarters.
Among other things, supporters were urged to bombard world leaders with "love letters," organize neighborhood "watch parties" for the event, and post messages of support with a #EarthToParis hashtag on social media accounts.
Secretary of State John Kerry also took part in the "Earth to Paris" event, along with climate activists, academic environmental planners, representatives of renewable energy firms and investments funds,  and de rigeur cameo appearances on video by U.S. and international entertainment stars, including actors Matt Damon and Jack Black.
This year, the digital cheerleading is more important than ever to creating a climate change bandwagon effect
To a large degree, however, Ban's "tsunami" of environmental enthusiasm at the global climate conference amounted to an orchestrated extension of the U.N. itself, in tandem with its not-for-profit U.S. fundraising arm, the United Nations Foundation.
This year, the digital cheerleading — complete with streaming broadcasts, burgeoning Twitter feeds and Facebook exhortations –is more important than ever to creating a climate change bandwagon effect in Paris, due to tight security and bans on marches during the 12-day climate conference in the wake of  France's horrifying Nov. 13 Islamic terrorist attacks.
It is also vital to the aim of supporters of the climate negotiation process to breathe life — real or artificial — into the hodgepodge Paris deal, which largely consists so far of a pile of national promises to do something over the next five years, with huge variations in what those promises will achieve.
The promises of the Obama administration, for example, based on vows to cut U.S. carbon emissions between 26 percent and 28 percent from 2005 levels over the next 15 years, are real, deeply painful, highly unpopular with Congress, and likely to be implemented only through executive orders that could be reversed after the next presidential election.
The promises from many of the developing country participants, including India and China, are vows only to reduce the rate of increase of greenhouse gas emissions over the next 15 years, but nothing more draconian.
Whether anything substantive happens at all in Paris is still up in the air, as developed and developing nations squabble, among other things, over whether and how to provide a $100 billion annual transfer from rich to poor nations as part of the agreement, and over how the greenhouse gas promises might actually be measured.
Despite the fact that those deals are being cut by politicians and technocrats behind closed doors, the frothy "Earth To Paris" campaign is intended to "give everyone a seat at the table," according to Aaron Sherinian, chief communications and marketing officer at the U.N. Foundation, which coordinated the event. (Or, as the foundation put it in a press release, to "let leaders know that every sector, every community, and every person must play an active role in addressing climate change.")
It was also aimed, he added, at creating pressure to keep nations focused on the "implementation and action phase" of the deal, he added, after the Paris hoopla is over.
"We have 170 national commitments to action," Sherinian told Fox News. "We want to make sure it happens as promised."
But as critics pointed out that many of the promises did not actually amount to much, the Earth To Paris campaign also underlined  the reality that there is probably no bigger cheerleader for climate change than the U.N. itself.
Especially since the failed 2009 climate summit in Copenhagen, the world organization has stripped away its image of ostensible neutrality on the climate change issue in favor of a marketing strategy that emphasizes the public cheerleading approach, increasingly tilted toward Millennials and even younger, digitally-hip consumers.  
Indeed, in Paris, it seemed that planned enthusiasm had unofficially become part of the U.N. business model.
At the ETP talkathon where Ban extolled his "tsunami," for example, no fewer than seven U.N. agencies and organizations were included as "convening partners," for the event, along with the U.N. Foundation, which lobbies the U.S. government and funnels private donations to various U.N. causes, and the U.N. Global Compact, an organization that links private companies to U.N. objectives.
The agencies included the U.N. Framework Convention for Climate Change (UNFCCC), which hosts the climate talks, along with agencies such as the U.N. Environment Program, the U.N. Development Program (UNDP) and UNICEF, all of which often play implementing roles in climate-related programs.
(Private-sector "convening partners" include social media giants Facebook and Twitter, digital media firm Mashable, and National Geographic, whose media assets are in a partnership that is majority-owned by 21st Century Fox, the parent company of Fox News.)
A much broader array of "collaborating partners" for "Earth To Paris, who are helping to extend the forum's message, are also either U.N. Foundation offshoots, extensions or joint partners. Among them:
The Better World Campaign, a U.N. Foundation sibling whose president and CEO, Kathy Calvin, has the same function at the foundation. Among its main goals are to keep U.S. government support flowing to the U.N. and "educate people about the real benefits the U.S. receives through our relationships with the UN
Girl Up, a U.N. Foundation project that also gathers money for U.N. programs, including for reproductive health
Nothing But Nets, a U.N. Foundation campaign in conjunction with the NBA to raise money for anti-malaria bedding nets that are often delivered by UNICEF
Climasphere, an environmental news agency sponsored by the U.N. Foundation and the Intergovernmental Panel on Climate Change, the U.N.-sponsored organization that has issued mammoth reports underlining the 2-degree ceiling for increased global warmth 
Love Song to the Earth, a fundraising vehicle for the foundation and Friends of the Earth 
Shot@Life, a foundation fund-raising and advocacy project for vaccination that collaborates with UNICEF, the World Health Organization and the Bill and Melinda Gates Foundation, among others
Sustainable Energy For All, a U.N. initiative pushing renewable energy that was  launched by Ban Ki-moon and includes a U.N. Foundation representative on its board
Travel + Social Good, a U.N. Foundation partner "aimed at transforming the world's largest industry into a global force for good"
Universal Access Project, a foundation project for birth control and family planning that partners with, among others, Planned Parenthood.
Another "Earth To Paris" collaborating partner is the Energy Future Coalition, a behind-the-scenes group that operates out of UN Foundation offices in Washington and says its strength is its "ability to bring together diverse stakeholder groups to effect meaningful change in the energy sector."
The Coalition was founded in 2002 by Timothy Wirth, U.N. Foundation president from 1998 to 2013 and still a foundation board member, and John Podesta, chairman of the 2016 Hillary Clinton presidential campaign, former senior counselor to President Barack Obama and onetime chairman of the Center for American Progress, a highly influential liberal think tank.
A third founder was Boyden Gray, a counselor and diplomat in the George H.W. Bush and George W. Bush administrations.
According to the Coalition's website, one of its chief objectives is to "change the rules that currently dominate our energy sector," and build support for the Obama administration's controversial Clean Power Plan, renewable energy and higher fuel economy standards, and also tax measures that "would put a price on carbon."
George Russell is Editor-at-Large of Fox News. He is reachable on Twitter at @GeorgeRussell and on Facebook at Facebook.com/George.Russell