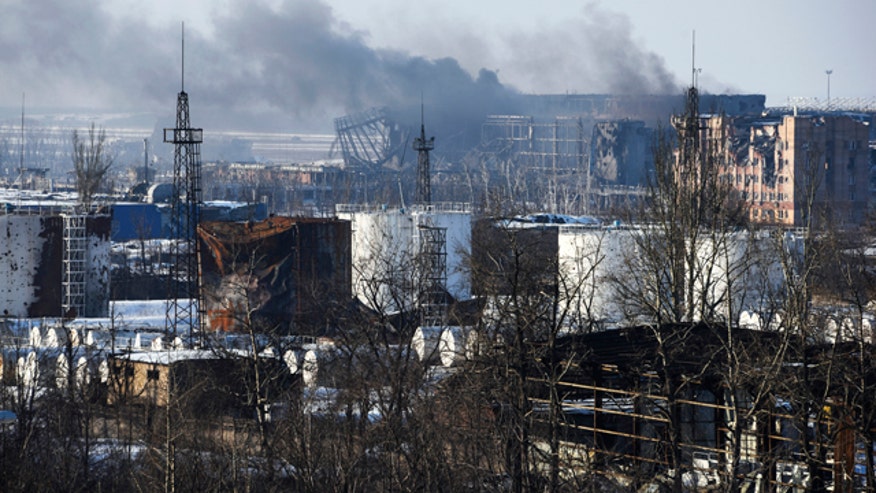 DONETSK, Ukraine –  Pro-Russian rebels in eastern Ukraine claimed Monday that they have seized control of the Donetsk airport after days of intense fighting. Ukrainian officials have not confirmed a retreat.
"All attempts of Ukrainian army to take the airport and to get revenge for the defeat of the last year… have failed," rebel leader Alexander Zakharchenko said at a press conference early Monday in Donetsk.
He accused Ukraine of using rocket and artillery fire with an intensity that rebel forces had "never experienced it before."
The separatist stronghold was shaken by heavy outgoing and incoming artillery fire over the weekend as a battle raged for the air terminal and surrounding areas. Sporadic explosions could still be heard from the direction of the airport early Monday.
Ukrainian officials did not confirm the retreat. Yuriy Biryukov, an adviser to Ukrainian President Petro Poroshenko, wrote on his official Facebook account early Monday that wounded soldiers had been evacuated from the air terminal overnight, but did not say how many troops had remained.
"We will not abandon our own, nobody has forgotten them," he wrote. "Everything will be (ours), but just not right away. We are learning."
The U.N. estimates that more than 4,700 people have been killed in eastern Ukraine since April.