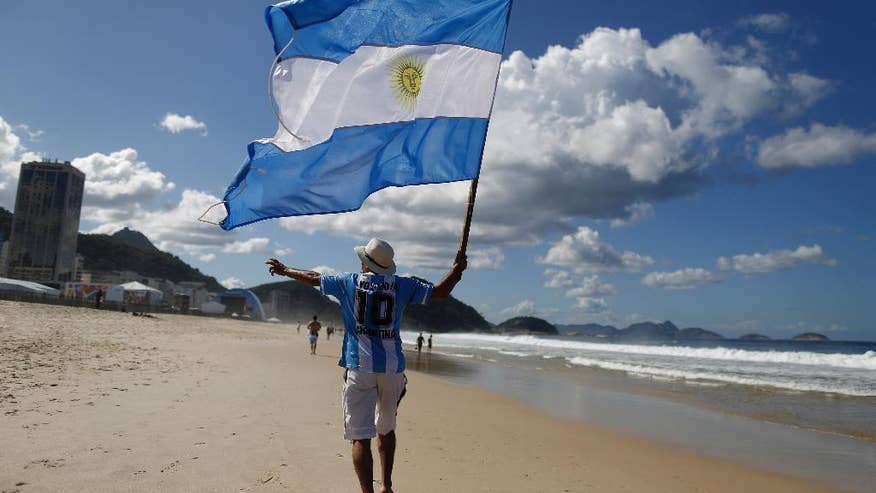 RIO DE JANEIRO –  Lucas Bazan Pontoni rifled through his pockets for the 45-cent lunch fee as he stood in line at a downtown soup kitchen. When he came up short, an acquaintance sprang for the government-subsidized meal.
One of about 160,000 Argentines who flooded into Brazil for the World Cup, Pontoni hardly fits the image of deep-pocketed foreigners who dropped around $3 billion in Brazil during the monthlong tournament. The 23-year-old actor is broke, and he has no immediate plans to return home almost two weeks after Germany beat Argentina in the July 13 final.
"Brazil is amazing, and I want to stay," said Pontoni, who had been camping out in Rio's Sambadrome Carnival parade grounds, lunching at soup kitchens and searching for an odd job to cover bus fare to see northern Brazil. "It could be weeks or months or longer. I'm going to see where life and the road take me."
Local media reports say tens of thousands of Argentine fans remain in the country. They appear to be overwhelmingly young and male: Most are in their 20s, and less than a third of them are women.
Brazil's Federal Police did not respond to email and telephone requests seeking confirmation of how many Argentines are still here. But the prospect of a large number of foreigners selling handicrafts, juggling at intersections for handouts or relying on government social services for poor Brazilians has officials worried.
Although Brazil's once-gangbuster economy has slowed in recent years, the situation is far better than that in crisis-wracked Argentina, which has a shortage of dollars and one of the world's highest inflation rates.
Antonio Pedro Figueira de Mello, who heads Rio's tourism promotion agency, has acknowledged that controls along Brazil's 1,260-kilometer (780-mile) land border with its southern neighbor may have been too lax during the tournament.
"We were taken by surprise" by the influx of Argentines, the Rio newspaper O Globo quoted Mello as saying. "In any place in the world, people have to state where they're going, how much time they're staying, what resources they have and whether they have health insurance. That was not done."
Argentines don't need a visa, or even a passport, to visit Brazil. A government ID card will do.
Mello spoke at the Sambadrome, which was turned into a makeshift campsite to help accommodate the waves of Argentines who arrived by car, bus and motorhome during the World Cup. The site was closed last week, and the last campers were evicted. Media reports said Argentine consular officials were there to help organize return transportation for people whose money ran out or whose documents were lost or stolen, but many reportedly weren't interested in such help.
The stragglers dress mostly in raggedy shorts, T-shirts and flip-flops, bathing infrequently at public water fountains or outdoor showers at the beach. There is no need for warm clothes in Rio, where the temperatures currently hover around 28 degrees Celsius (low 80s Fahrenheit).
The Argentines are not the only World Cup fans intent on remaining in Brazil. Last week, police in the southern state of Rio Grande do Sul said several hundred fans from the West African nation of Ghana applied for asylum after coming in on tourist visas to follow their national team. Brazil is studying the applications.
It could prove much more difficult to control the Argentines, without any visa requirements.
Following their eviction from the Sambadrome, Pontoni and 10 or so of his compatriots moved to a nearby park, where they lounged on the grass with their oversized backpacks. They knotted friendship bracelets and prepared other handicrafts to hawk on the beach.
"I don't think I'm going back," said 25-year-old Martin Sichero, a friend of Pontoni. "I came for the World Cup, but now I think I'm here for good."