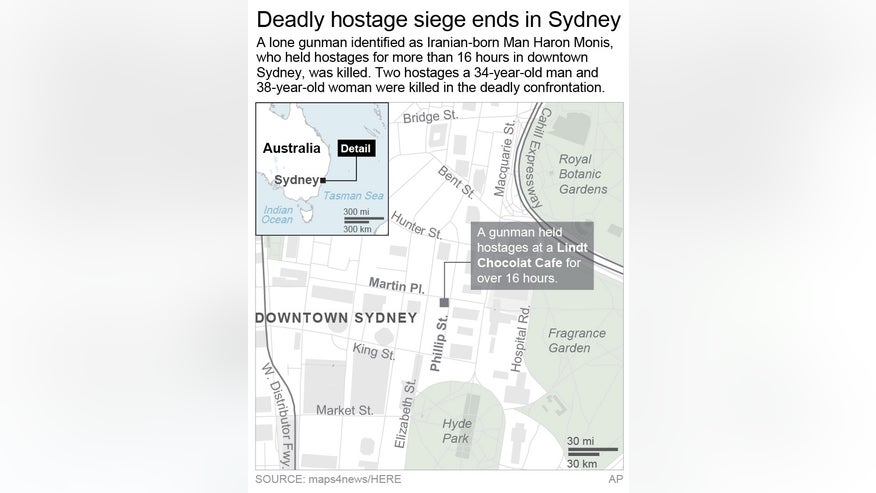 SYDNEY –  An armed gunman entered a Sydney cafe during Monday morning's rush hour and took an unknown number of hostages. Hours after the crisis began, five people escaped but a number of others remained inside. Then early Tuesday morning, a loud bang was heard and police stormed the cafe.
A timeline of events:
MONDAY
9:45 a.m. — Police are called to Lindt Chocolat Cafe in Sydney's Martin Place, a busy plaza in the heart of the city. Initial reports suggesting it could be an armed robbery are soon ruled out.
10:10 a.m. — Australian television stations broadcast images of hostages inside the cafe with their arms in the air and hands pressed against the window. Shortly after, two hostages appear at the window holding a black flag with white Arabic script.
10:30 a.m. — Armed police line up outside the shop. Nearby buildings are evacuated.
12:30 p.m. — Prime Minister Tony Abbott goes on national television and pledges that the police response will be thorough for what he calls "a deeply concerning incident."
About 4 p.m. — Three men escape from the cafe's fire exit and run toward police. One is wearing a Lindt cafe apron and appears to be an employee.
About 5 p.m. — Two women sprint from the same side door and run into the arms of police. Both are wearing Lindt aprons.
6 p.m. — Prime Minister Abbott says the gunman has claimed "political motivation," but makes no reference to concerns of a terror plot.
6:30 p.m. — Police Deputy Commissioner Catherine Burn says police are conducting a "sensitive negotiation" that requires discretion. She declines to say if direct contact has been made with the gunman, or specify the number of hostages held or any operational tactics.
8:15 p.m. — Police Commissioner Andrew Scipione says the priority of police is getting everyone out safely. He declines to speculate on the gunman's motives or possible terror link.
9 p.m. — Lights inside the cafe are switched off. Police outside put on night googles.
TUESDAY
1 a.m. — A cleric from Iran, Man Haron Monis, is identified as the gunman. He had been granted asylum in Australia.
2:10 a.m. — A loud bang is heard from the cafe, and several hostages flee.
Moments later — Heavily armed police storm the cafe after throwing what appear to be stun grenades.
2:40 a.m. — Police say the siege has ended.
5:30 a.m. — Police confirm 3 people died: two hostages — a 34-year-old man and a 38-year-old woman — and the gunman. Four other people are wounded.