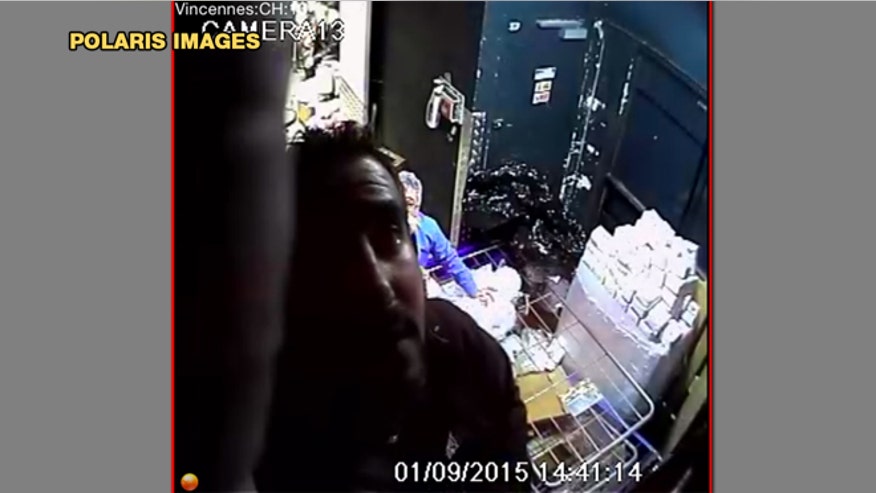 Images made available to Fox News show hostages huddled together and security cameras being disabled inside Hyper Cacher before a police raid.
Surveillance footage taken from inside the Kosher grocery in Paris before the standoff between authorities and a compatriot of the Charlie Hebdo shooters ended shows frightened hostages in the harrowing moments before police moved in.
The images at the Hyper Cacher market in east Paris, which were made available to Fox News on Wednesday, show hostages huddled together and security cameras being disabled before a police raid killed Amedy Coulibaly, 32, last Friday. Coulibaly, who pledged his allegiance to the Islamic State terror group in a video that emerged two days later, killed four hostages in the attack.
He had claimed that he was acting with Cherif and Said Kouachi, the pair who killed 12 in the attack on the Charlie Hebdo headquarters on Jan. 7. Coulibaly's girlfriend, 27-year-old Hayat Boumeddiene, remains at large.
Inside the supermarket, a quick-thinking Muslim employee hid several Jewish shoppers in the basement before sneaking out to brief police on the hostage-taker upstairs. Lassana Bathily, a young immigrant from Mali, literally provided police with the key to ending the hostage crisis at the supermarket.
Bathily was in the store's underground stockroom when gunman Coulibaly burst in upstairs, according to accounts given to French media and to a friend of Bathily's who spoke to The Associated Press. Bathily turned off the stockroom's freezer and hid a group of frightened shoppers inside before sneaking out through a fire escape to speak to police. Initially confused for the attacker, he was forced to the ground and handcuffed.
Once police realized their mistake, he provided them with the key they needed to open the supermarket's metal blinds and mount their assault.
"The guy was so courageous," said Mohammed Amine, a 33-year-old friend and former coworker of Bathily's who spoke to him about the assault on Saturday.
Witnesses and authorities have corroborated Bathily's account.
Since the attack, Jewish community leaders in France have said that all of the victims of Friday's attack had close ties to Israel.
Yohan Cohen, 22, worked at the grocery store. He was friends on Facebook with Bathily.
Yoav Hattab finished high school in Tunisia before moving to Paris to seek a business degree in marketing. He was killed while attempting to snatch one of Coulibaly's weapons, according to witnesses quoted in French media. The 21-year-old Hattab was the son of Tunis' chief rabbi.
Francois-Michel Saada, a pensioner in his 60s, was killed while buying goods for the Sabbath. Born in Tunis, he left a wife and two children who were Israeli residents.
Philippe Braham, a sales manager in his 40s, was the brother of a rabbi of a suburban Paris synagogue, according to French daily Le Parisien.
Earlier Wednesday, Al Qaeda's affiliate in Yemen released a video claiming responsibility for the Charlie Hebdo attack. Nasr al-Ansi, a top commander of Al Qaeda in the Arabian Peninsula, or AQAP as the branch is known, appeared in an 11-minute Internet video posted Wednesday, saying that the massacre was in "vengeance for the prophet." A U.S. intelligence source told Fox News the video was indeed made by the terror organization, but did not corroborate the assertions made on it.
Al-Ansi also said in the video that France belongs to the "party of Satan" and warned of more "tragedies and terror." He says Yemen's Al Qaeda branch "chose the target, laid out the plan and financed the operation," though he produced no evidence to support the claim. Orders he said, came from Al Qaeda's top leader Ayman al-Zawahri, Usama bin Laden's successor.
Fox News' Catherine Herridge and The Associated Press contributed to this report.