Your ads will be inserted here by
Easy Plugin for AdSense.
Please go to the plugin admin page to
Paste your ad code OR
Suppress this ad slot.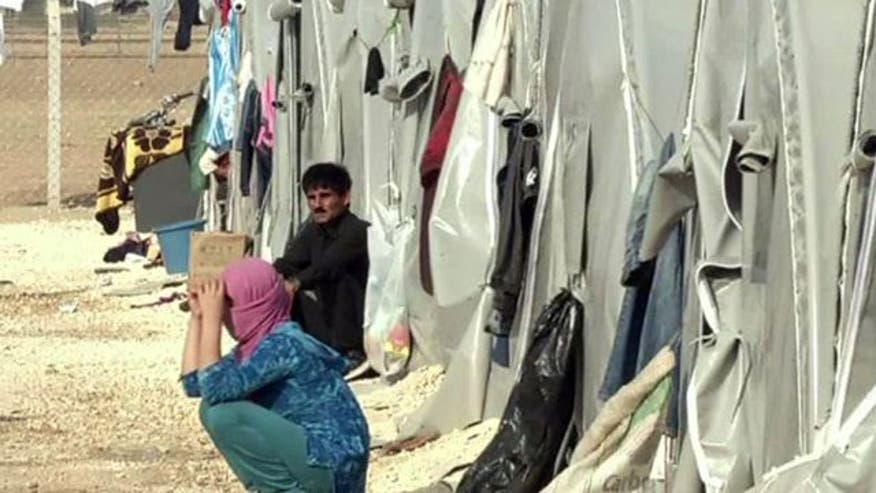 The human catastrophe that continues in Syria echoes the extermination of the Jews by the Nazis, warns the wealthy philanthropist son of Holocaust survivors, who had family members perish in Auschwitz.
"I see incredible similarities. The world is sitting on the sideline, thinking this is going to go away and it's not going to go away," warns Yank Barry, the co-founder of a charity that is helping Syrian refugees, Global Village Champions Foundation, and former lead singer of the 1960s group "The Kingsmen."
"I've been watching this for four years now and it's just getting worse."
So far, estimates put the number of civilians killed at more than 100,000, with 9 million forced from their homes. Barry says if it were not for his foundation's efforts, those who it has helped "would be dead."
He is an example of how one man can make a difference.
Barry bought two hotels in Bulgaria and his foundation supports the largest refugee camp there, saving the lives of thousands of Syrian Christians, Muslims, and Yazidis by setting up housing and trying to move them to Europe or the United States.
"When I first started talking about ISIS four years ago, no one knew how to spell it…they are everywhere and it is going to get worse. We have to start to really think of this for our futures, because it is going to happen in the States, it's going to happen in Canada, it is happening everywhere."
Barry thinks that we all must face the challenge of radical terrorism and its philosophy.
"Individuals are making a big difference," he says. "We have to group together because governments are moving much too slowly, much too slowly. Every individual has to do something."
Your ads will be inserted here by
Easy Plugin for AdSense.
Please go to the plugin admin page to
Paste your ad code OR
Suppress this ad slot.
Barry's current cause could not be farther from his past. He was the lead singer of the 1960s group "The Kingsmen," best known for the song "Louie Louie." He also ended up serving prison time decades ago in a music industry related extortion case.
Those experiences lead him to another path, as the owner of Vitapro Foods, which supplies soy protein world-wide, and then founder of the Global Village Champions Foundation in 1995, alongside such notables as boxer Muhammad Ali.
The foundation says that it has served more than half-a-billion meals around the globe, but for now the Syrian crisis is taking up much of Barry's attention. Part of that effort includes trying to move the refugees to other countries, but so far the flow has been a trickle.
In December, the U.S. State Department said 25 countries have agreed to accept Syrian refugees, and that U.S. officials were reviewing 9,000 applications for relocation to the United States. By contrast, U.S. officials say 524 had been accepted since 2011. Last month State Department spokeswoman Jen Paski said that "we are likely to admit 1,000 to 2,000 Syrian refugees for permanent resettlement in fiscal year 2015 and a somewhat higher number, though still in the low thousands, in fiscal year 2016."
Barry is calling on governments to speed up the process and resettle far more refugees. He spoke to Fox News from London, where he says he was trying to convince the British government to accept some of the refugees that his foundation is housing.
"There is no risk with the ones who have cleared through Bulgaria. Why are we having such a problem trying to get countries to accept them? We are paying for their flights, we are paying to get them there. The only country, two countries that have really come forward, are Germany and Greece."
The European University Institute says that European Union countries plan to accept 33,000 Syrians, though the vast majority, 28,500, would go to one country -Germany. It cautions that while the United Nations calls for resettlement of 130,000 more Syrian refugees to the E.U., response "has also been tepid."
Barry notes among his Foundation's refugees is a family whose father was beheaded by ISIS for not agreeing to convert to Islam. He says the terrorists used the man's head as a soccer ball.
"I'm Jewish and I think I have to give back. Why don't more people do it?"
Ben Evansky contributed to this report
Eric Shawn is a New York-based anchor and senior correspondent for FOX News Channel (FNC). He anchors "America's News Headquarters" on Sundays from 12 p.m. to 1 p.m. ET. and  "Sunday Morning Futures with Maria Bartiromo." He anchors frequently  during the week on the Fox News Channel and reports on politics, terrorism, and foreign affairs. Shawn has  provided live coverage from both the Democratic and Republican National Conventions since 1992.  In 2004 he led the Fox News investigative team that uncovered new evidence in the murder of Jimmy Hoffa, based on the claims of hit-man Frank Sheeran.  Click here for more information on Eric Shawn.