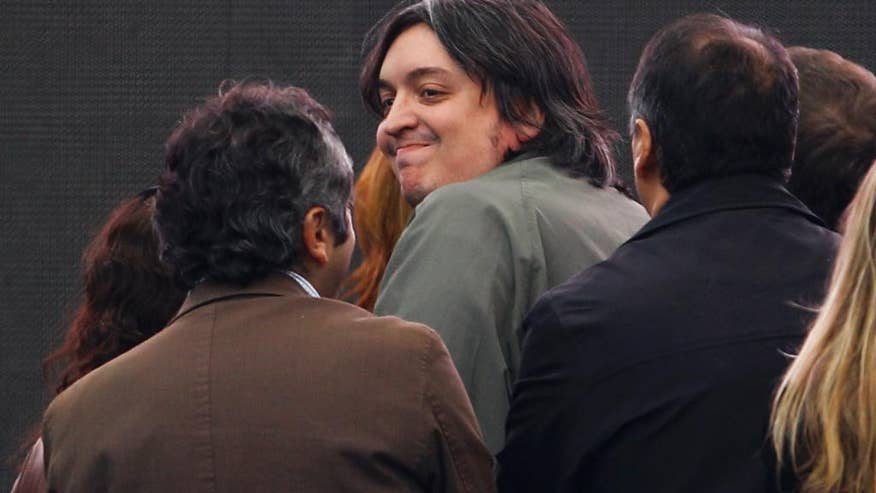 BUENOS AIRES, Argentina –  The son of Argentina's president on Tuesday denied anonymously sourced press reports alleging he had foreign bank accounts, calling them false accusations designed to smear his mother's administration.
"Let's be clear. I never had and do not have any account abroad, absolutely nothing," Maximo Kirchner told local radio Continental during an interview.
On Sunday, the newspaper Clarin, which has long been at odds with President Cristina Fernandez, published a story saying Kirchner held joint accounts in the United States and Cayman Islands with Nilda Garre, a former defense minister who is now Argentine ambassador to the Organization of American States.
Citing unidentified bank sources, Clarin said the accounts had tens of millions of dollars. Garre also had two accounts in an Iranian bank, which created "suspicions of business triangulation between Argentina, Iran and Venezuela," Clarin said.
On Monday, the Brazilian magazine Veja published a similar report, citing an unidentified U.S. financial sector investigator. Earlier this month, Veja published a report claiming Iran asked former Venezuelan President Hugo Chavez to mediate a deal with Argentina in which the South American country would cover up the roles of Iranians wanted in the 1994 car-bombing of a Jewish community center.
Garre strongly denied the claims over the weekend. On Tuesday, Kirchner said he did not usually respond to false reports, but said the allegations were so strong that he felt compelled to speak out.
"Nobody called me, not the Brazilian publication or Clarin, to check this information," said Kirchner, who rarely grants interviews.
Kirchner said the reports were an attempt to hurt his mother's government by keeping attention on the death of prosecutor Alberto Nisman.
Days before he was found shot dead in this apartment Jan. 18, Nisman had accused Fernandez and top administration officials of orchestrating a secret deal with Iran to cover up the roles of several Iranian officials wanted in the community center attack, which killed 85 people and wounded hundreds. Nisman said the Argentine government made the agreement in exchange for favorable trade deals with the Middle Eastern country.
Fernandez has strongly denied the allegations, saying Argentina had nothing to gain from such a deal, and Iran has long denied involvement in the attack.
Nisman's death, which has captivated Argentines, has not been solved. Authorities say they are investigating a possible homicide or suicide.
The case that Nisman built against Fernandez is in limbo and has become a flashpoint in a sharply polarized country ahead of the presidential election in October.
The case was thrown out by a federal judge in February, and then upon appeal, was thrown out again by the Federal Chamber. In both cases, the judges said there was no proof a crime had been committed.
On Tuesday, the case was appealed to the Criminal Appeals Court.