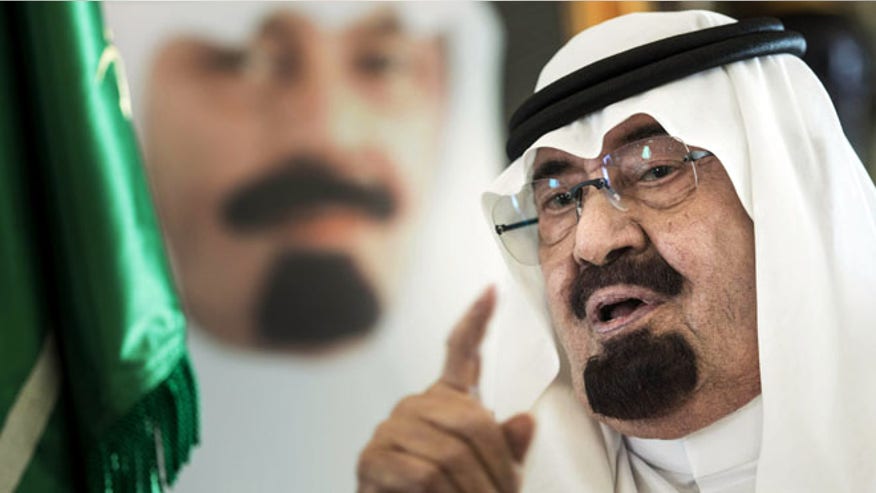 The king of Saudi Arabia has warned that jihadists could target the United States and Europe if leaders across the globe do not react to growing terrorist threats as Islamic State militants make advances across Iraq and Syria.
While not mentioning any terrorist groups by name, King Abdullah's statement appeared aimed at drawing Washington and NATO forces into a wider fight against the Islamic State terror organization and its supporters in the region. Saudi Arabia openly backs rebels fighting Syrian President Bashar Assad, but is concerned that the breakaway Al Qaeda group could also turn those very same weapons on the kingdom.
"If neglected, I am certain that after a month they will reach Europe and, after another month, America," he said at a reception for foreign ambassadors Friday.
"These terrorists do not know the name of humanity and you have witnessed them severing heads and giving them to children to walk with in the street," the king said, urging the ambassadors to relay his message directly to their heads of state.
The Islamic State, formerly known as ISIS, has been fighting moderate rebels, other extremists and Assad's forces in Syria for nearly three years. Iraq has faced an onslaught by the Sunni extremists and their supporters since early this year, and the country continues to be roiled by instability.
While providing arms and support to Sunni militants in Syria, Saudi Arabia has denied directly funding or backing the Islamic State group.
On Friday the UK government raised its terror threat level from "substantial" to "severe," the fourth highest of five levels, in response to events in Iraq and Syria. The move means a terrorist attack is highly likely, although there is no intelligence to suggest one is imminent, Home Secretary Theresa May said. It was the first time in three years the level was raised to severe by the U.K.'s Joint Terrorist Analysis Center.
"This is not some foreign conflict thousands of miles away that we can hope to ignore," Prime Minister David Cameron said Friday. "The ambition to create an extremist caliphate in the heart of Iraq and Syria is a threat to our own security here in the UK. And that is in addition to the many other Al Qaeda-inspired terrorist groups that exist in that region. The first ISIL terrorist attacks on the continent of Europe have already taken place."
The White House has said it does not expect the U.S. to bump up its terrorism threat warning level and on Friday Department of Homeland Security Secretary Jeh Johnson said that officials were "unaware of any specific, credible threat to the U.S. homeland" from Islamic State.
However, despite assurances that no threat to American soil is imminent, the watchdog group Judicial Watch said Friday that Islamic State operatives are in Juarez, just across the border from Texas, and are planning to attack the United States with car bomb, while a Texas law enforcement bulletin obtained by FoxNews.com found that social media chatter shows Islamic State militants are keenly aware of the porous U.S.-Mexico border, and are "expressing an increased interest" in crossing over to carry out a terrorist attack.
Saudi Arabia, a major U.S. ally in the region, has taken an increasingly active role in criticizing the Islamic State group. Earlier this month, the country's top cleric described the Islamic State group and Al Qaeda as Islam's No. 1 enemy and said that Muslims have been their first victims. State-backed Saudi clerics who once openly called on citizens to fight in Syria can now face steep punishment and the kingdom has threatened to imprison its citizens who fight in Syria and Iraq.
A decade ago, Al Qaeda militants launched a string of attacks in the kingdom aimed at toppling the monarchy. Saudi officials responded with a massive crackdown that saw many flee to neighboring Yemen. In the time since, the kingdom has not seen any massive attacks, though it has imprisoned suspected militants and sentenced others to death.
The Associated Press contributed to this report.