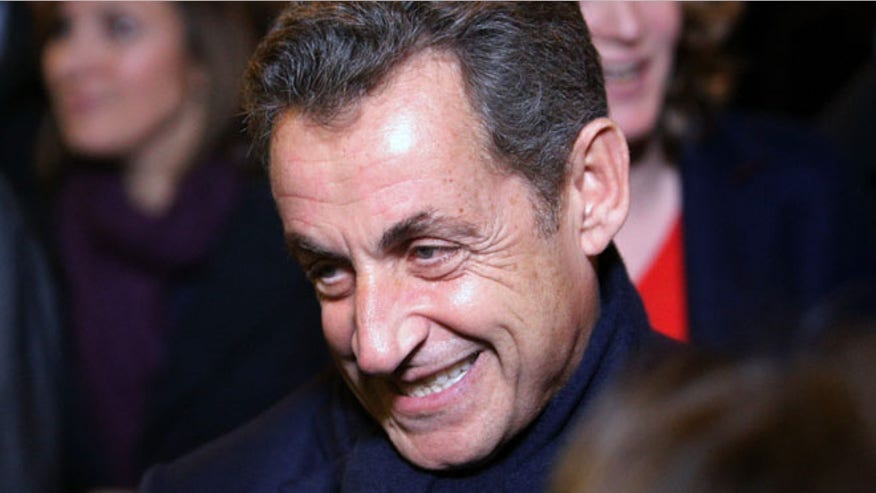 PARIS –  Returning from the political wilderness, former French President Nicolas Sarkozy has taken a big step toward a possible re-election bid by winning the leadership of the country's main conservative party.
Sarkozy had been widely expected to win the Union for a Popular Movement leadership in the vote by party members Saturday. The 59-year-old Gaullist collected 64.5 percent of the vote to defeat former government ministers Bruno Le Maire and Herve Mariton, a margin that some analysts said was below expectations.
Still, the victory advances Sarkozy's hopes of running in the 2017 presidential race, and cements his return to the political scene after all but disappearing following his loss to Socialist Francois Hollande in the presidential election over two years ago.
The party, known as the UMP, will choose its presidential nominee in two years. Sarkozy has used the UMP leadership as a springboard before: He also won it in 2004 — with 85 percent of the vote — and built a ground game that helped propel him to victory in the presidential race three years later.
For the presidential nomination in 2016, he faces two likely rivals: his own prime minister, Francois Fillon, and Alain Juppe, another former premier who was a longtime ally and protege of President Jacques Chirac. The two — both seen as more even-tempered than the explosive Sarkozy — were not vying for the party leadership.
Conservatives are sharpening their political knives. Polls show Hollande is the least-popular French leader in modern history, largely for failed promises to bring down France's double-digit unemployment rate.
The UMP, like Hollande, has had its own troubles. Saturday's vote was necessary because the previous party chief, Jean-Francois Cope, resigned this summer in a scandal involving party funds. Before that, Cope had won the party leadership by a razor-thin margin that sparked a particularly nasty bout of intra-party bickering.
In sober remarks on his Twitter account after his victory, Sarkozy called for party unity, credited his rivals for a "dignified" campaign, and thanked party electors for providing "the best answer to two years of internal quarreling and division."
The UMP will also have to refine its strategy against the newest force in French politics: The far-right National Front party, which has gained momentum amid a lackluster economy and has fanned fears about immigration. Sarkozy, a former interior minister, used a tough-on-crime image to siphon support from the far-right ahead of his previous presidential win.
As former president, Sarkozy simply outgunned his rivals in Saturday's vote in star power. He has the persona of shoot-from-the-hip political brawler. During his presidency, he took France to war against Libyan leader Moammar Gadhafi's forces, and was chummy with Italy's Silvio Berlusconi and George W. Bush, but eventually lost favor with many voters over his extravagant lifestyle and close ties with the super-rich.
Several analysts said Sarkozy, in order to reap a full symbolic impact that could again command broad public support, needed to clear 70-percent of the vote Saturday — not just win a majority.
Political scientist Thomas Guenole said any score under that bar would signal "failure" for Sarkozy. I-Tele television commentator Mickael Darmon said that while Sarkozy did capture the party leadership, "politically, he was not the winner tonight."
They agreed that the strong performance by Le Maire, who got nearly 30 percent of the vote, was the biggest surprise.
Above all, the result shows Sarkozy isn't as inspiring as he once was within the party. He has shown vulnerabilities and is facing legal troubles that have diminished his status as the darling of the mainstream right.
Nearly 270,000 dues-paying party members were eligible to vote. The online system used came under an "organized" cyber-attack that temporarily slowed down voting, UMP secretary-general Luc Chatel told France-Info radio. He said the party was filing legal action against the unidentified hackers behind the attack, and that police were investigating.