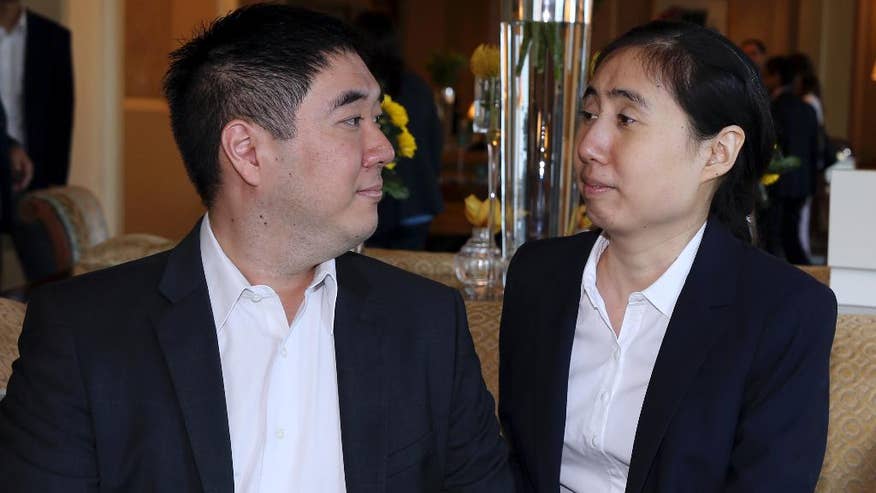 A Qatari appeals court has overturned a ruling against an American couple once accused of starving their adopted daughter.
Sunday's ruling is likely to end the months-long legal saga of Matthew and Grace Huang of Los Angeles, who were originally charged with murder following the January 2013 death of their adopted daughter, Gloria. 
The Huangs were released from prison in November of 2013, but were banned from leaving Qatar before their trial. In March, a judge convicted the Huangs of child endangerment and sentenced them to three years in prison. 
The Huangs claimed that Gloria, who was born in Ghana, died of medical problems complicated by unusual eating habits that included periods of binging and self-starvation. Defense witnesses at the Huangs' trial testified that the girl appeared healthy and active just days before her death.
The Huangs have two other children, both also adopted from Africa. They were permitted to leave Qatar during their parents' trial and are staying with relatives in the U.S. 
Matthew Huang told reporters that he and his wife are looking forward to returning to the United States.
"It has been a long and emotional trial for me and my family, and Grace and I want to go home and be reunited with our sons," he said after the ruling. "We have been unable to grieve our daughter."
The case raised questions about possible cultural misunderstandings in Qatar, with an investigative report by police questioning why the Huangs, both of whom are of Asian descent, would adopt children who did not share their "hereditary traits." At one point in the appeal, the prosecution even raised the possibility of brining human trafficking charges against the couple. 
U.S. officials intervened on the couple's behalf, with State Department spokeswoman Jen Psaki last month urging Qatar to lift their travel ban immediately and bring the case to "an expeditious and just conclusion." Qatar hosts an important American military air operations center at a desert air base outside the capital, Doha, and is allied with the US in ongoing airstrikes against ISIS.
The Huangs moved to Qatar in 2012 because Matthew Huang, an engineer, was working on infrastructure projects in the country.
The Associated Press contributed to this report.