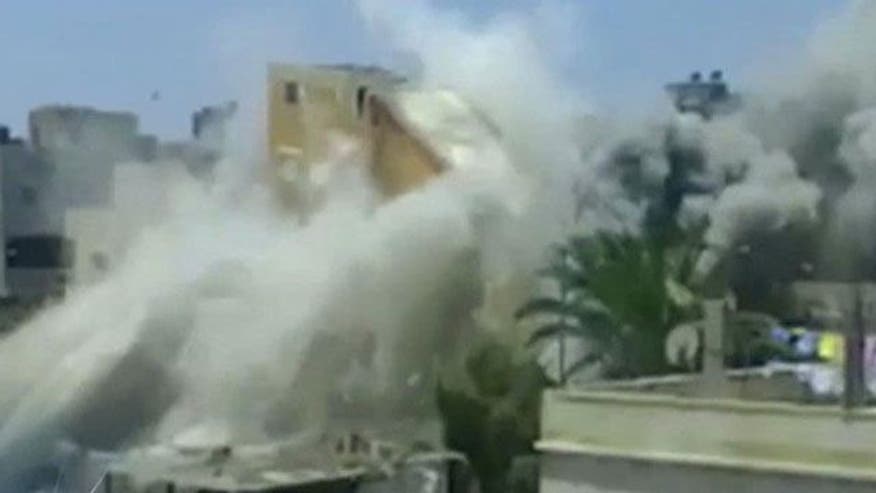 Rockets fired by militants in Gaza reached deeper into Israel Friday, as Prime Minister Benjamin Netanyahu said Israel will continue to pound Gaza with missiles until Hamas backs down.  
Netanyahu said Israel won't end its military campaign yet, despite international calls for peace, Israeli newspaper Haaretz reported. "We have struck over 1,000 targets in Gaza that belong to Hamas and Islamic Jihad. Israel's strikes in Gaza will continue until we are certain quiet has returned to the citizens of Israel, "Netanyahu told reporters in Tel Aviv Friday.
A strike from Lebanon hit the northern part of Israel Friday, leading Israeli officials to suspect Lebanese fighters may be joining the four-day conflict.
The Lebanese military said three rockets were fired toward Israel around 6 a.m. and the Israelis retaliated by firing about 25 artillery shells on the area. Israeli military spokesman Lt. Col. Peter Lerner confirmed that the Israeli military had responded to the new attack with force.
Lebanese troops and United Nations peacekeepers later began searching the area, and the military said it was trying to find out who was behind the attack.  
In Gaza, an Israeli airstrike Friday hit the home of a well-known Islamic Jihad leader. Gaza health officials said strikes overnight killed a total of eight people, raising the death toll to at least 98, including dozens of civilians. A later strike pushed the tally over 100 to go along with some 670 wounded, officials said.
Rocket fire continued in earnest from Gaza toward various locations in southern and central Israel, including towards Israel's international airport.
"The leaders of Hamas are hiding behind the citizens of Gaza, and they are responsible for all casualties, " Netanyahu said. He also said he has had "good conversations" with a number of world leaders in recent days, including President Barack Obama and European heads of state, but will not cave to international pressure.
In the southern Gaza city of Rafah, residents sifted through the remains of a four-story building that was struck and scattered for cover as another airstrike landed nearby.
The commercial center of Tel Aviv and Ben-Gurion airport also heard warning sirens Friday but these rockets were intercepted and there was no disturbance to Israel's air traffic. Hamas says it intends to fire rockets at the airport and warned foreign airlines to stop flying to Israel.
Gaza rocket fire also struck a gas station and set it on fire Friday in southern Israel.  The explosion in Ashdod sent plumes of smoke high into the air. Israeli health officials said the blast wounded seven people, including one in serious condition.
The blast—which left a trail of charred vehicles in its wake—could  be the most serious in the four days of fighting that has yet to kill anyone on the Israeli side. Rocket sirens could be heard in Beersheba, Ashkelon, and Gaza frontier towns Friday evening, the Jerusalem Post reported.
Lerner said Israel has suspected that Lebanese militants may try to join the fray as Israel exchanges fire with Islamic Hamas militants in Gaza. However, he said it was still unclear whether Friday's attack was "symbolic or something more substantial."
Southern Lebanon is a stronghold of the Shiite militant group Hezbollah, which has battled Israel numerous times. However, recent fire from Lebanon has been blamed on radical Palestinian factions in the area and Hezbollah has not been involved in the ongoing offensive. It has largely refrained from engaging Israel since a monthlong war in 2006 when it fired thousands of rockets into Israel and was pummeled by Israeli airstrikes in response.
The Jerusalem Post cited senior Israeli officials who also claimed the rocket was not fired by Hezbollah, but by a small radical organization in Lebanon.
Gaza militants already have fired more than 550 rockets against Israel in the four-day offensive. Israel's "Iron Dome" defense system has intercepted most of those aimed at major cities but some have slipped through.
Frequent air raid sirens sounded across Israel on Friday, including for the first time in the northern city of Haifa. Israel has shot down at least 110 incoming rockets thus far.
Israel launched the Gaza offensive to stop incessant rocket fire against it. The Jerusalem Post, citing a senior Israeli security source reports that the Israeli Defense Forces has so far struck 1,100 targets belonging to Hamas and other groups in the Gaza Strip since the start of the operation launched Monday to end rocket attacks from Gaza , and 210 targets over the past 24 hours.
Lerner said the military was doing its utmost to prevent civilian casualties, calling inhabitants ahead of time to warn of an imminent attack. He said Israeli forces also fire "non-explosive munitions" at roofs as a warning and looks for people to leave before destroying a structure.
Lerner blamed Hamas for the death of innocent bystanders by firing from heavily populated areas.
Israel's military "uses its weapons to defend its civilians. Hamas uses its civilians to defend its weapons," he said.
With Hamas on its heels, Israeli leaders were still mulling whether to launch a ground assault in Gaza to deliver what they hope could be a decisive blow. Such a move, though, would likely involve a rise in Palestinian civilian casualties and put Israeli troops at risk as well.
Israel has mobilized more than 30,000 reservists to supplement the potential ground operation.
The U.N.'s top human rights official said Friday that Israel's air campaign in Gaza may violate international laws prohibiting the targeting of civilians. Navi Pillay, the U.N. high commissioner for human rights, said the Israeli military and the Gaza militants, must abide by international law.
"We have received deeply disturbing reports that many of the civilian casualties, including of children, occurred as a result of strikes on homes," Pillay said. "Such reports raise serious doubt about whether the Israeli strikes have been in accordance with international humanitarian law and international human rights law."
Pillay says civilians bear the brunt of the conflict now — and all sides must refrain from launching attacks or putting military weapons in densely populated areas.
"Israel, Hamas, and Palestinian armed groups in Gaza have been down this road before, and it has led only to death, destruction, distrust and a painful prolongation of the conflict," Pillay said.
Click for more from The Jerusalem Post.
The Associated Press contributed to this report.