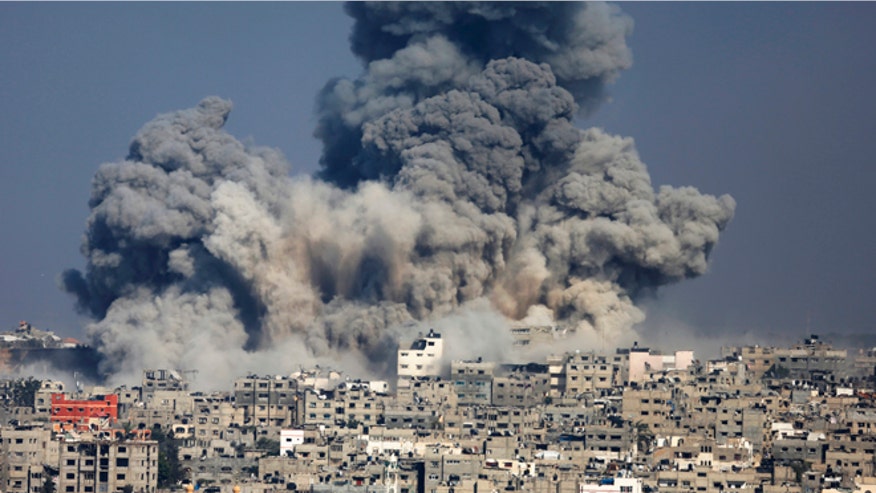 HAIFA, Israel –  A horrific missile attack that killed 11 children in Gaza during last summer's war between Israel and Hamas, for which Israel was broadly condemned at the time, was actually caused by a Palestinian missile misfiring and killing its own people, Amnesty International charged in a report released Thursday.
"In the deadliest incident believed to have been caused by a Palestinian armed group during the conflict, 13 Palestinian civilians – 11 of them children – were killed when a projectile exploded next to a supermarket in the crowded al-Shati refugee camp in Gaza on 28 July 2014, the first day of Eid al-Fitr," Amnesty's report said. "The children had been playing in the street and buying crisps and soft drinks in the supermarket at the time of the attack."
"Although Palestinians have claimed that the Israeli military was responsible for the attack, an independent munitions expert, who examined the available evidence on behalf of Amnesty International, concluded that the projectile used in the attack was a Palestinian rocket."
The report highlights the fact that the blast could not have been caused by a drone attack or as the result of Israeli shelling. The crater was too shallow, it said, while "its circumference was too wide to have been caused by a tank shell."
"Palestinian armed groups, including the armed wing of Hamas, repeatedly launched unlawful attacks during the conflict killing and injuring civilians," said Philip Luther, director of the Middle East and North Africa Programme at Amnesty International. "In launching these attacks, they displayed a flagrant disregard for international humanitarian law and for the consequences of their violations on civilians in both Israel and the Gaza Strip."
Israel's insistence from the start that the 13 deaths were caused by one of Hamas' own missiles going astray was generally disregarded as Hamas rushed to accuse Israel. Even repeated testimony from an Italian journalist in Gaza at the time that indicated a number of journalists were convinced the deaths had been caused by a Hamas shell, failed to persuade most people that the Israel Defense Force (IDF) was telling the truth.
The journalist, Gabriele Barbati, tweeted, "International journos [journalists] say: feeling today's massacre in Shaati beach playground #gaza was misfired rocket by Hamas or factions." The following day he added, "@IDFSpokesperson said truth in communique released yesterday about Shati camp massacre. It was not #Israel behind it".
Barbati subsequently fled for his life from Gaza once his tweets were noticed by Hamas, but later that day tweeted again, "Out of #Gaza far from #Hamas retaliation: misfired rocket killed children y'day in Shati. Witness: militants rushed and cleared debris."
Amnesty also made note of "other violations of international humanitarian law by Palestinian armed groups during the conflict, such as storing rockets and other munitions in civilian buildings – including UN schools – and cases where Palestinian armed groups launched attacks or stored munitions very near locations where hundreds of displaced civilians were taking shelter."
The Palestinian Authority of Mahmoud Abbas, which against the wishes of the U.S. and others, intends to apply for membership of the International Criminal Court, next week, may be liable for this and other war crimes committed by Palestinians during the war if accepting ICC jurisdiction.  The PA officially became jointly responsible for Gaza as part of the unity government with Hamas on June 2, 2014, some 5 weeks before the conflict began.
Earlier this week, in a special report, FoxNews.com highlighted a new documentary revealing Hamas' pride at training child soldiers released ahead of an imminent decision by the EU on whether or not to re-instate Hamas' designation as a terrorist organization that lapsed three months ago due to an EU technicality.
Thursday's report is the third of four from Amnesty International detailing the human rights organization's opinion of events in Gaza during the 2014 war. The first two reports mainly focused on the activities of the IDF and included strong criticisms of the Israeli military and accusations of "callous indifference " and "war crimes", which were again mentioned by Philip Luther. "The fact that Palestinian armed groups appear to have carried out war crimes by firing indiscriminate rockets and mortars does not absolve the Israeli forces from their obligations under international humanitarian law," he said.
Luther added, "The devastating impact of Israeli attacks on Palestinian civilians during the conflict is undeniable, but violations by one side in a conflict can never justify violations by their opponents."
Israel disputes the number and status of the casualties, suggesting that independent analysis of the names of the 2,000 Palestinians reportedly killed shows that nearly 50 percent of the dead were actually combatants. Amnesty has suggested the figure is nearer a quarter. To date, there has been no reaction from Hamas to today's highly critical report, and across Palestinian media there appears not to have been any coverage of the issue.
"Unlike Hamas, Israel is vigorously investigating its conduct, aiming to draw lessons and minimize civilian harm," a spokesperson for Israel's Embassy in London told the Jerusalem Post. "Meanwhile, Hamas continues to incite terrorist attacks against Israeli civilians, boast of building new cross-border assault tunnels, and test-fires rockets, in preparation for further violence against Israelis."
The fourth and final report from Amnesty into the 50-day conflict is expected later this year and will focus on allegations of Hamas' executions and summary killings of opposition supporters, and anyone else who questioned their rule of the Islamist enclave during hostilities.
Paul Alster is an Israel-based journalist. Follow him on Twitter @paul_alster and visit his website: www.paulalster.com.