Your ads will be inserted here by
Easy Plugin for AdSense.
Please go to the plugin admin page to
Paste your ad code OR
Suppress this ad slot.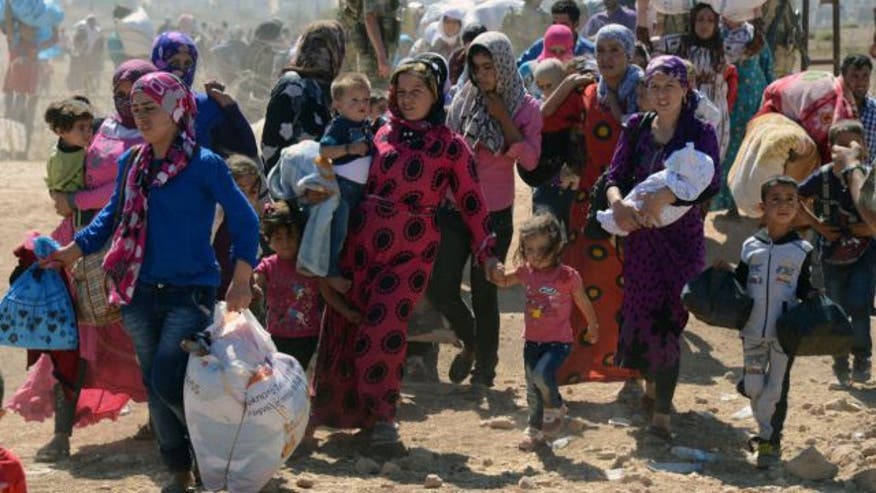 German authorities are growing increasingly concerned that newly arrived refugees from Syria and elsewhere in the Middle East are being recruited by radical Islamists once they arrive in the country.
The Wall Street Journal, citing interviews with security officials from across Germany, reports that an increasing number of refugees are attending services at mosques that investigators believe attract extremists. 
The report brings into focus a different dimension to the possible security risk posed by asylum-seekers who have flooded into Western Europe for months. Some of the ISIS terrorists who killed 130 people in Paris earlier this month posed as refugees from Syria's civil war to slip into Europe and meet their co-conspirators.
However, security officials tell the Journal that they have already reported over 100 cases in which known Islamists have tried to contact refugees. Aid agencies report that the suspects have reached out to the new arrivals with offers of food, shelter, and German interpretation, as well as copies of the Koran and traditional Muslim clothing.
Your ads will be inserted here by
Easy Plugin for AdSense.
Please go to the plugin admin page to
Paste your ad code OR
Suppress this ad slot.
"They start by saying, 'We will help you live your faith,'" Torsten Voss of Germany's domestic intelligence agency told the Journal. "The Islamist area comes later—that is, of course, their goal." The Journal reported that German intelligence agencies have seen no evidence that the recruiting has been effective, but believe such methods will present a long-term risk.
Germany is expected to take in between one million and 1.5 million refugees from the Middle East, Africa, and Asia this year, far more than in years past. Several organizations have warned that even if most or all of the new arrivals have no interest in terrorism, they may pose a threat to public order due to their views on Israel and the West, as well as other ethnic and religious tensions. 
"You can't put Afghans, Syrians, and Eritreans in the same place because they hate each other," Malte Lehming, editor-in-chief of the opinion page of Der Tagesspiegel newspaper told FoxNews.com in October, later adding, "I'm afraid that anti-Americanism, anti-Israel sentiment, and anti-Semitism will be on the rise. We have very limited educational tools to change that. Syria is one of the most anti-Israel countries, influenced by Iran and helped by Hezbollah."
Germany has one of Europe's largest populations, many of whom have roots in relatively secular Turkey. However, Germany security officials say many of the new arrivals are seeking out mosques that have been linked to extremism. The Journal reports that Berlin authorities issued a 16-page warning to aid workers flagging three mosques in the city as having Islamist ties.
In other regions of the country, officials say refugees attending some mosques linked to fundamentalism make up half the congregation. Local officials are attempting to fight the tide by asking experts in radicalization which mosques to recommend. The security officials say such preventative techniques are the best they can do, since fundamentalists who approach refugees aren't breaking any laws.