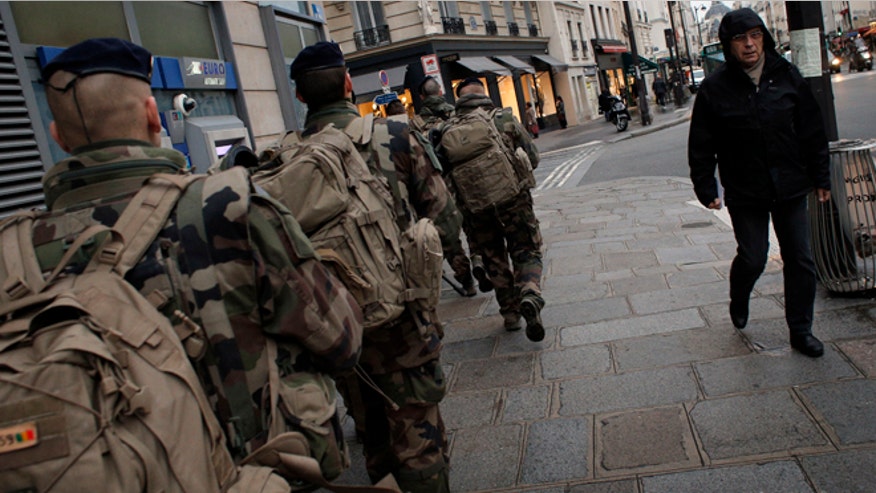 France announced Wednesday that 54 people had been arrested since the Paris terror attacks in a country-wide crackdown on hate speech, anti-Semitism and the glorification of terrorism.
The announcement came as Charlie Hebdo's defiant new issue sold out before dawn around Paris, with scuffles at kiosks over dwindling copies of the satirical newspaper fronting the Prophet Muhammad.
Like many European countries, France has strong laws against hate speech and especially anti-Semitism in the wake of the Holocaust. In a message distributed to all French prosecutors and judges, the Justice Ministry laid out the legal basis for rounding up those who defend the Paris terror attacks as well as those responsible for racist or anti-Semitic words or acts.
Among those detained was Dieudonne, a controversial, popular comic with repeated convictions for racism and anti-Semitism.
The attacks that left 17 people dead are prompting France to tighten security measures but none of the 54 people detained have been linked by authorities to the violence. That is raising questions about whether the government is impinging on the freedom of speech that Charlie Hebdo so vigorously defends.
The Justice Ministry said 54 people — including four minors — have been detained for defending or verbally threatening terrorism since the Charlie Hebdo attack. Several have already been convicted under special measures for immediate sentencing.
The government is also working on new phone-tapping and other intelligence efforts against terrorism that it wants nailed down by next week, government spokesman Stephane Le Foll said Wednesday.
The government is launching a deeper project to rethink education, urban policies and its integration model, in an apparent recognition that the attacks exposed deeper problems of inequality both in France and especially at its neglected, often violence-ridden suburban housing projects.
Dieudonne, a comic who popularized an arm gesture that resembles a Nazi salute and who has been convicted repeatedly of racism and anti-Semitism, is no stranger to controversy. His provocative performances were banned last year but he has a core following among many of France's disaffected young people.
Dieudonne's Facebook post in question, which was swiftly deleted, said he felt like "Charlie Coulibaly" — merging the names of Charlie Hebdo and Amedy Coulibaly, the gunman who seized a kosher market and killed four hostages, along with a policewoman.
In a separate post Monday afternoon, the day the investigation was opened into Dieudonne, the comic wrote an open letter to France's interior minister.
"Whenever I speak, you do not try to understand what I'm trying to say, you do not want to listen to me. You are looking for a pretext to forbid me. You consider me like Amedy Coulibaly when I am not any different from Charlie," he wrote.
The Associated Press contributed to this report.