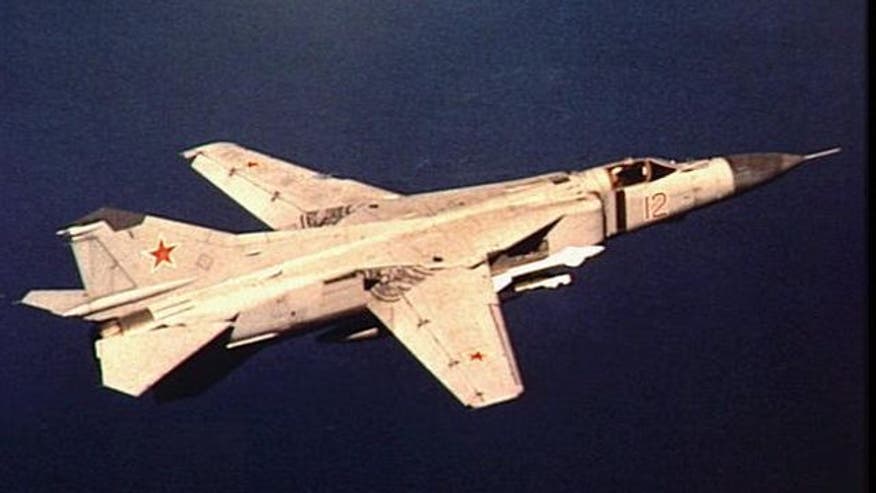 BEIRUT –  Former Iraqi air force pilots are training extremists from the Islamic State group to fly three warplanes captured earlier from air bases belonging to the Syrian army, a Syrian activist group said Friday.
The Britain-based Syrian Observatory for Human Rights said the planes, seen flying over the Jarrah air base in the eastern countryside of Aleppo province this week, are believed to be of the MiG-21 and MiG-23 variety.
Rami Abdurrahman, director of the Observatory, said the planes have been flying at a low altitude, apparently to avoid being detected by Syrian military radar in the area.
The report, which could not be independently verified, comes as the U.S. and its allies are bombing Islamic State group bases in Syria and Iraq, where the extremists have seized large swaths of territory.
The group is known to have seized fighter jets from at least one air base it captured from the Syrian army in the eastern Raqqa province earlier this year. Militant websites had posted pictures of fighters with the aircraft, but it was unclear if they were operational.
Abdurrahman said Islamic State members were being trained by Iraqi officers who had joined the group and who were once pilots under former Iraqi leader Saddam Hussein.
The Jarrah air base was seized by Islamic groups including al Qaeda's Syrian branch, the Nusra Front, in early 2013. It was captured by Islamic State militants in January this year.