More WC: Tim Howard's historic effort | Belgium bounces US 2-1 in extra time
The final true highlight of this dramatic World Cup for the United States was tantalizingly teasing in what it portends, but heartbreaking in what could have been.
The majestic final touch off the foot of teenage star Julian Green moments after making his tournament debut, a volley past possibly the world's best goalie, gave the USA a late lifeline against Belgium and more vindication for Jurgen Klinsmann's construction of this team — emphasizing youth and fitness. It indicates a continued bright future for this program. But that perfectly-weighted, arcing ball — the kind of delivery that usually makes midfield maestro Michael Bradley stand out from every other player in our country — also a was sad reminder that, had Bradley had more moments like that, and far fewer where he gave the ball away and made uncharacteristic mistakes, this team might still have games yet to play in Brazil.
Of course, it's not quite that simple. It never is in this game. This isn't a case where the United States was hard-done by shoddy officiating or lost a game it should have won. They were not the better team. Belgium's superior world-class talent was abundantly clear, and that young Belgium Golden Generation will make noise on a global stage for some time.
But it's just as true the USA kept them scoreless in regulation despite injuries, and had a perfect chance to steal the game late, had Chris Wondolowski managed to do what so many MLS strikers have failed to do in World Cups before — finish with everything on the line. Even in extra time, after Green's goal, captain Clint Dempsey was sprung inside the box, at a time when Belgium was finally reeling, but he couldn't capitalize either, and so the United States goes home. Now the navel gazing begins about where US soccer stands, and where it might be going, and how this country eventually wins it all.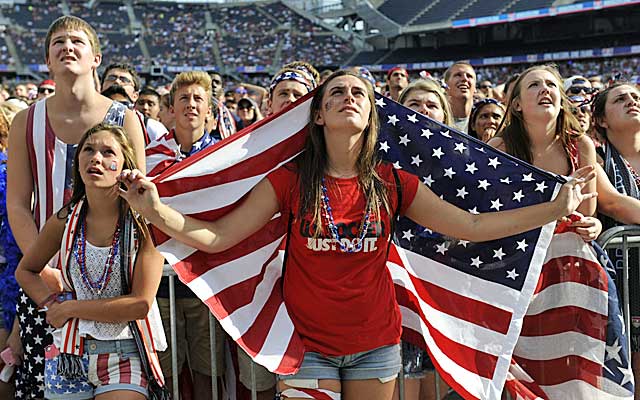 Klinsmann's statement about this team not being ready to win the tournament was neither revelation nor defeatist. It's reality. We still lack enough world-class players playing every week for competitive sides in Europe. It's no coincidence to me the modern American team that advanced the deepest in a tournament — the 2002 team that came a Torsten Frings handball away from possibly reaching the semifinals — had a spine and nucleus comprised of players getting heavy minutes in strong European leagues every week. For all the considerable gains MLS has made, I want to see our most creative prospects (midfielders and forwards) plying their trade abroad from a young age.
I remain very optimistic about this movement, and the future of US Soccer, and seeing some of the key German-based players Klinsmann incorporated — Green, John Brooks (who also scored a vital goal in a very limited appearance) Fabian Johnson and Timmy Chandler — continue to evolve in this next cycle. I'd love to see much time spent in upcoming Gold Cups, and especially the 2016 Copa America to be held on our turf, seeing if there is a way to cultivate a Jozy Altidore/Aron Johannsson coupling up front. Perhaps they aren't cut out to play off one another in a productive manner, but I want to see it at least attempted in meaningful or quasi-meaningful games.
Ultimately, however, the way this ended wasn't unfair or unjust. It's probably just about right. I would have loved to have seen a US team with Altidore and Johnson both able to go 90 minutes, or more, against Belgium. I truly believe that would have made a significant difference. But given the injuries, travel, getting out of a brutal group — and recalling some of the great moments, particularly the way the US outclassed Portugal, and recalling the nonsense and over-the-top criticism Klinsmann has faced to get to this point, I can find a way to smile today. I'm eager to see the manager continue to make ballsy decisions and apply his deft touch to roster-construction as well as in-game tactical changes and substitutions for years to come.
The US remains in that second tier of world soccer, in that second 10 teams or so, able to compete with anyone. The Americans are feared more for collective determination than individual brilliance but, I believe, are headed in the right direction. This team, come 2022 (particularly if that tournament ends up held in the US, and I suspect it will) just might be ready to give US fans an unprecedented ride.
In the meantime, I hope some of you who caught soccer fever for the first time go ahead and experience it first-hand, live. Get to a World Cup qualifier, home or road (you can plan a pretty cool vacation to a warm-climate location around it), check out the Gold Cup and Copa America and try to support your local MLS team, because there is a pipeline from the expanding (and hopefully not over-expanding!) league to the national team. There's a decent chance you might run into me sometime with the American Outlaws going bonkers in the stands, and this party, trust me, goes on pretty much every few months. And it's definitely not limited to every four years.
Here are a few other takeaways from this tournament, which, overall has been the most entertaining World Cup of my lifetime, and one I'm sure has plenty of drama and crazy finishes still to come in these final seven matches (I don't do the third-place game thing):
Game-changer: Don't underestimate how much this team had to reinvent itself on the fly without Altidore (and, it turns out, a second striker on the roster who could be trusted). It was huge. Couple that with the loss of Johnson on Tuesday and it's massive. That lineup against Belgium I felt was set up to funnel them inside, make them try to get too cute and pretty in the center of the pitch, and then explode in counter attack down the wing, very wide, with Johnson leading that attack. Seeing him go down so early in the match obviously used up a substitute well before Klinsmann wanted to use it, forced some tactical adjustment, and led to another set of tired legs in what turned out to be a 120-minute-plus game. I felt like seeing some triangles and interwoven passing from Johnson, Bradley and Altidore (as we did in great moments in the friendlies leading up to Brazil) would be a huge part of the US build up in this tournament and we were robbed of ever being able to see it. I remember having a long discussion with my boy Trevor Woodward on the drive to New Jersey for the Turkey friendly and the US could least afford to lose. I had Bradley first but he made the case for Jozy as the most critical player on the roster, and we both agreed Johnson was in that top three without a doubt. Wish we could have had them on the pitch together for more than 20 minutes, 17 seconds.
Biggest bad surprise: Bradley. Save all the yapping about how far he ran. This isn't a marathon. I get that he does dirty work. But even as a ball-winner and disrupter, he faltered far too much, won the ball less than I anticipated, gave away possession with shocking regularity and his service was so often well below his standard. I appreciate his effort and grit and he's one of my all-time favorite players in this program, and I want to see him wear the armband moving forward … but don't try to sell me this was anything less than a poor World Cup for him. Give me the 2010 Bradley from South Africa in Brazil and this team is still playing soccer. It's not all on him at all (Geoff Cameron was not good; Graham Zusi was not as good or consistent as I thought he would be), but having watched these games multiple times you will never convince me this was anything close to what this team expected to get out of its most influential player. I'm fearful spending the next four years possibly in Toronto will stunt him, at least somewhat.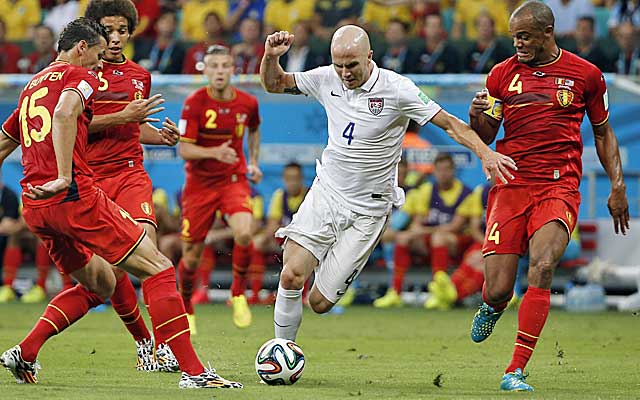 Biggest good surprise: DaMarcus Beasley. It's a shame in all the noise about Landon Donovan being left off the team, almost no one has given Beasley his due. He came in with Landon in the run-up to 2002, has actually played in four World Cups, reinvented himself under Klinsi when it seemed his international career was long over and he was far better in Brazil than I expected. He was anything but a liability; he was an asset who logged heavy minutes, ran his tail off (in mostly smart fashion) and his backtracking almost the entire field to clear a ball off the line kept the game scoreless. What a tremendous way for him to go out. I've always had a soft spot for him and he has been a part of some tremendous moments in US Soccer history. Hope you get a proper sendoff at a friendly before the 2014 year ends. Thank you.
Men of the tournament: Tim Howard and Jermaine Jones. Howard's effort vs. Belgium was ridiculous. I thought his game might be dipping some during the past EPL season, but he was unreal in Brazil. The only mistake I can think of was against Portugal, when he failed to fully handle an initial shot and knocked it off the post instead, and then had to scramble to get a hand on the rebound and knock it above the crossbar. In the end, no harm. I mean, that's really it. He helped keep that backline together — despite the names changing game to game. His distribution was excellent (that's an area you could nitpick on US goalkeeping — generally so stellar — in the past). He was awesome. And Jones was the best field player for the US. He showed amazing restraint and sportsmanship despite being all over the place and in traffic virtually the entire tournament. He was the engine, scored a huge goal and provided a vital connecting midfield presence at times when Bradley suffered. He rewarded Klinsmann for years of loyalty. But alas, time catches everyone, and with Russia a full four years away, that brings us to …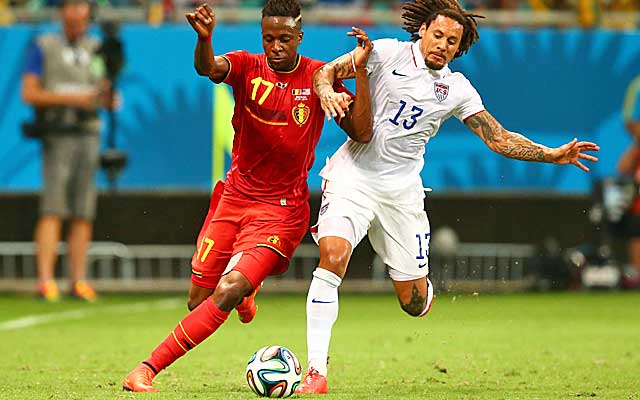 Winds of Change: (Klinsi has to love the Scorpions, right? Who can't picture him rocking out in a convertible in SoCal signing some Scorps?) If anything, Klinsmann's roster continued to show us this is a young man's game. I can't imagine that not remaining the trend. If you go back to 2010, the entire backline changed for this tournament, with Cherundolo, Bocanegra, Onyewu and Bornstein (a name I hope to never type again) and Goodson all off this 2014 roster.
Turnover is inevitable and unfortunately this team will be without several stalwarts four years from now. Dempsey first and foremost. At 35, maybe he is the last of the 23 for 2018, but that's probably a stretch. Brad Guzan needs to start playing big matches for the US in the very near future. Kyle Beckerman had a helluva tournament but guys like Mix Diskerud will be seeing a lot of the middle of the pitch moving forward (still surprised Mix never saw the pitch in Brazil. Maybe he was hurt or something and they kept it quiet?). And Beasley's departure leaves a void where the US always seems to have one — left back. You tell me who the next one is? There are a relative surplus of options on the right, especially with what Yedlin showed in this tournament (what a revelation), but once again the search is on for a left outside defender. Your guess is as good as mine.
What if: While some were fixated on what-if scenarios regarding Donovan, I was thinking about Charlie Davies, and how the incredibly speedy striker once shined in the Confederations Cup before his horrible car accident. What an asset he could have been as a second striker or late-game poacher had he not suffered such career-altering injuries. He was starting to come into his own playing in France, and given the dearth of home-produced striking options, his presence might have been significant. Wondolowski just has to bury that strike vs. Belgium, but really was it that much different than what guys like Edson Buddle or, gasp, Robbie Findley (still can't believe he played significant minutes in a World Cup) or Brian Ching have had to offer at this elite stage of world soccer over the past few World Cups? It's the same 'ol thing. We have to have that goal. Have to have it. And I'll go back to my point: We need those players developing abroad if possible. You have to go back to 2002, with Clint Mathis, to find a current MLS striker (Landon is a midfielder to me) showing the kind of form required in a World Cup and delivering when needed. You have to go back to that same tournament to find an MLS duo at least maybe, possibly worthy of pairing up top in a World Cup (Mathis and Josh Wolff). That has to change over time. Thankfully, for now, Altidore, Green and Johannsson should provide options at forward.
Run of Play: Despite lacking individual greatness in terms of scoring, not nearly enough is being made of the way this team has managed to create from the run of play. The chances came, the soccer wasn't always sexy but was largely effective and this wasn't like teams in years past just hoping and praying for a free kick or penalty to have any chance of scoring. Klinsmann's handprints are all over that. In 2006, the US scored only one goal in the tournament (the draw against Italy, 1-1, was an own goal). In 2010, things started to turn (Bradley's emergence was a huge part of that, and Donovan had his best tournament), and the trend continues in the right direction. This team managed not to fall into big early deficits, which defined the previous group, while still displaying the kind of late heroics that 2010 team was capable of. I'll take that as a positive.
What controversy? If there were people still clinging to the idea Donovan would have been a difference maker in Brazil, Green's moment had to shut them up. He was never going to start in this tournament, and Klinsmann's substitutions were generally beyond sage. Landon wasn't seeing the pitch with these guys and having "the face of US Soccer" as the 23rd man, likely never seeing the pitch, didn't make sense. Having that spot go to a 32-year-old at the end, over a kid like Green who could have three more tournaments in him, is beyond stupid. In the first game, Graham Zusi was the perfect sub off the wing and he changed the game with the corner. Maybe that would have been Landon, but he couldn't have done any better. The use of DeAndre Yedlin in midfield was masterful, and his pace made a difference in a way that Landon did too … in 2002. Long time ago. No way Klinsmann would have put Landon up top late with Dempsey on Tuesday. He was going with a traditional striker with some size — so for those saying Donovan would have finished that ball Wondolowski wasted, please. My biggest issue with Klinsmann in terms of lineups and subs is he went with Wondo there and not Aron Johannsson. I can only guess Johannsson hadn't been finishing in training and didn't seem in form. His greatest asset to this team would have been in taking penalties, and it was never a factor.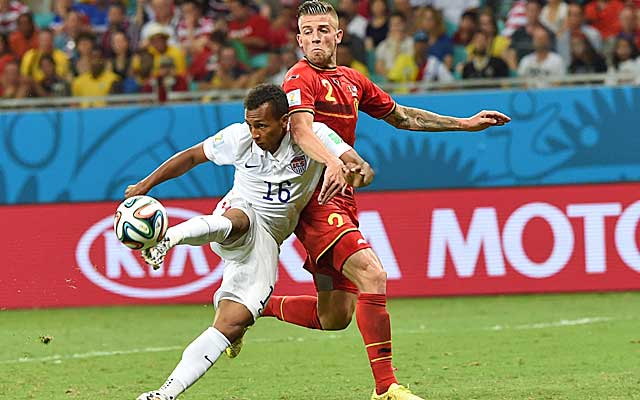 Final thoughts: CONCACAF needs to get a seeded team here sometime soon. The US deserved a seed as much as the Swiss. If you keep winning Gold Cups and the region shows well in qualifying and you top CONCACAF qualifying now two straight cycles, come on. That has to count for something. That lame equation needs to change. Getting a seed would be massive and its deserved … FIFA needs to make it an accumulation of three yellow cards through the quarters for a suspension. It's crazy that two yellows in say, 45 minutes, has the same penalty as two over like 270-plus minutes.