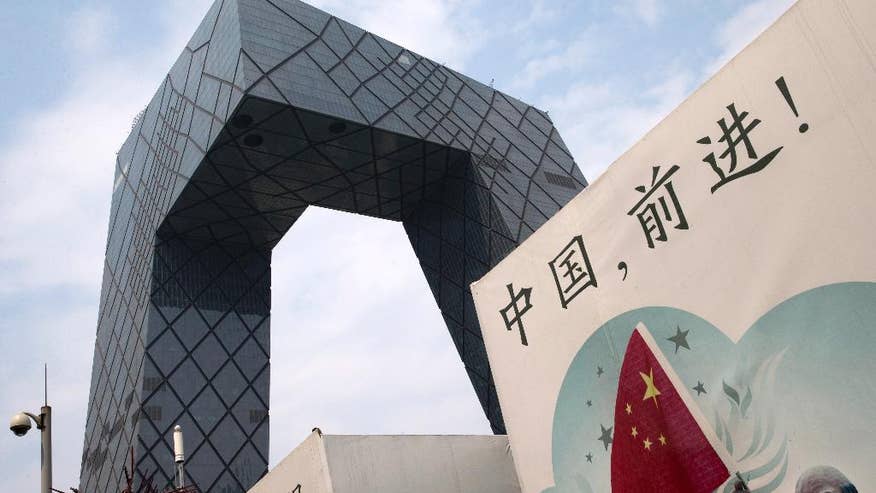 BEIJING –  For months, Chinese state television has publicized a steady drumbeat of accusations of bribery and other abuses by a string of officials. Now, the state-run broadcaster faces allegations of graft in its own ranks.
Since late May, at least six people at China Central Television's financial news channel, including star anchor Rui Chenggang and two senior executives, have been taken away by prosecutors. Rui's seat was empty for his program's Friday broadcast, and a business news magazine said he was detained just before air time with no warning to CCTV.
The detentions come amid a spreading anti-corruption campaign that has snared officials including a former deputy chairman of the body that controls China's military and a former boss of the Cabinet agency that oversees the biggest state-owned companies.
The Global Times newspaper, published by the ruling Communist Party, on Monday suggested the broadcaster traded favorable coverage for money.
Chinese newspapers, broadcasters and other media all are owned by the state or by the ruling party. But they must support themselves financially and most can make their own editorial decisions, so long as they work within official censorship guidelines. Low-paid journalists accept money from companies to attend events or report on them and sometimes to suppress information about scandals.
"Corruption is everywhere in China, and the media are part of it," said Zhan Jiang, a journalism professor at Beijing Foreign Studies University.
Chinese media are barred by regulators from using news reporting to promote commercial interests, "but implementation has not been ideal," the Global Times said. "The corruption at CCTV financial news should be considered part of this problem."
The problem is hardly new. A decade ago, a researcher published what was believed to be a price list to obtain coverage by CCTV, the Communist Party newspaper People's Daily or the Xinhua News Agency. The report in the journal China Perspectives said CCTV charged 40,000 to 50,000 yuan ($6,500 to $8,200) per minute for a news report and up to 1 million yuan ($160,000) for a favorable profile of a provincial-level leader.
Chinese media outlets also play a role in a "black public relations" industry that generates phony scandals for customers that want to hurt a business rival.
Last year, journalist Chen Yongzhou confessed he took money to publish false reports that a manufacturer of construction equipment, Zoomlion Heavy Industry Science &Technology Co., had fabricated financial information. Chen was detained and his newspaper ran a front-page apology.
Beijing has repeatedly launched crackdowns. In the latest, Xinhua was required in June to return 3.5 million yuan ($570,000) to a state-owned bank after investigators concluded it accepted money for coverage or to suppress news. No other details were released.
In another case, a reporter for the Hangzhou Daily in eastern Zhejiang province took more than 300,000 yuan ($49,000) from a public relations company, according to People's Daily.
"How could they be the conscience of the society when they turned news reporting into a tool for private gains under the name of being a watchdog?" said People's Daily in an editorial earlier this year.
Some Chinese reporters and editors used to play a limited watchdog role, calling attention to embezzlement and other abuses by lower-level officials, pollution and other problems. Such reporting has largely disappeared over the past six years as authorities tightened controls, including by prohibiting media outlets from sending reporters outside the area where they operate.
Chinese President Xi Jinping, who took power in 2012, has made anti-corruption a hallmark of his administration. However, he has made clear the press is not to play an independent role in revealing abuses. He has increased restrictions on reporters and ordered them to undergo training in Marxism to emphasize the ruling party's control.
The latest corruption crackdown might be the most sweeping ever. Dozens of senior government and party figures and executives of the giant state-owned China National Petroleum Corp. have been detained on corruption charges.
Still, "to clean up the national media, that's almost unprecedented," said Zhan, the journalism professor.
CCTV's hundreds of millions of viewers make it one of China's most influential media outlets. Rights to the daily 10-second advertising slots after its evening news broadcast each night in 2014 sold for a total of 3.5 billion yuan ($570 million).
Rui, the CCTV finance channel's star anchor, rose to prominence as he interviewed world leaders and business magnates.
On his microblogging page, Rui strikes a nationalistic tone and has more than 10 million followers. He became a household name in 2007 as a leading figure in a public campaign that prompted authorities to remove a Starbucks from the grounds of the imperial place in Beijing.
Rui raised eyebrows in 2010 when he stood up at a news conference given by President Barack Obama at a Group of 20 meeting in South Korea and said he could speak for all of Asia.
On Friday night, Rui was abruptly taken away from the studio, moments before he was to anchor the nightly news program, according to the magazine Caixin.
Prosecutors also took away the deputy director of financial news, Li Yong. In late May, their boss, Guo Zhenxi, director of financial news, was detained on suspicion of taking bribes. Three other CCTV employees from the same channel have reportedly been detained.
In a sign of trouble for Rui, the Global Times said his disgrace "has once again sent out strong signals that corruption is not limited to government officials."
When it comes to how to use their public influence, Chinese media "remain immature," the editorial said.