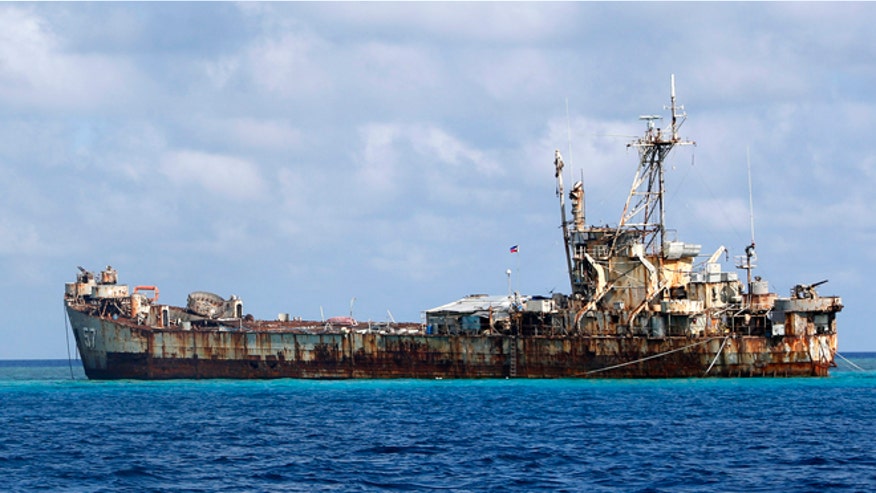 China appears to be flexing its considerable military muscle, building a massive island that could host an airstrip in an area of the South China Sea that has become a source of regional tension over disputed territorial claims.
IHS Jane's said satellite imagery it obtained showed that in the past three months Chinese dredges have created a land mass that is almost the entire length of Fiery Cross Reef in the contested Spratly Islands.
The leading defense publication reported Thursday that the satellite pictures also showed the dredges are creating a seaport east of the reef that would appear to be large enough to receive tankers and major surface combatants.
The Spratly Islands are a collection of islands, reefs and shoals between Vietnam and the Philippines. Brunei, China, Malaysia, the Philippines, Taiwan and Vietnam have all staked claims to the islands.
A U.S. military spokesman said Friday the land reclamation project on Fiery Cross Reef is one of several pursued by China but the first that could accommodate an airstrip.
"It appears that's what they're working towards," Lt. Colonel Jeffery Pool told Agence France-Presse.
The U.S. opposes the Chinese land-grab and wants other governments to refrain from doing the same.
"We urge China to stop its land reclamation program, and engage in diplomatic initiatives to encourage all sides to restrain themselves in these sorts of activities," Pool told the French wire service.
Reuters said the construction has stoked concern China may be turning the disputed islands into military installations, further exacerbating tensions.
Reuters also said Beijing has ignored the U.S. protests, saying it can build whatever it wants in the South China Sea.
IHS Jane's said the new island is nearly two miles long and two-tenths of mile wide. The reef was previously underwater except for a concrete platform built by China's navy to house a small garrison with air-defense guns.
"The land reclamation at Fiery Cross is the fourth such project undertaken by China in the Spratly Islands in the last 12-18 months and by far the largest in scope," HIS Jane's said.
"Given its massive military advantage, this new islands appears purpose-built to coerce other claimants into relinquishing their claims and possessions, or at least provide China with a much stronger negotiating position if talks over the dispute were ever held," the publication said.