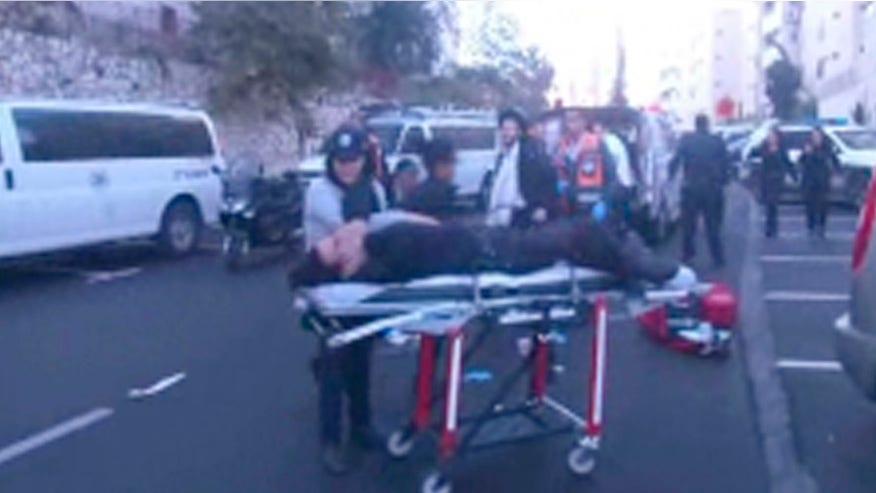 Four worshippers were killed and six were wounded when two suspects attacked a Jerusalem synagogue Tuesday.
Two Palestinians armed with knives, guns and axes entered the synagogue in the Har Nof neighborhood of Jerusalem and began attacking people in the building.
The two suspects were killed immediately following the attack after a shootout with police
Police spokesman Micky Rosenfeld said of the six people wounded in the attack, two were police officers. 
He also said police were searching the area for other suspects.
Israeli Prime Minister Benjamin Netanyahu called the attack a "cruel murder of Jews who came to pray and were killed by despicable murderers."
Netanyahu also said Israel will "respond harshly" to the deadly attack.
U.S. Secretary of State John Kerry condemned the attack as well. Kerry also demanded Palestinian leaders to halt incitement.
Israeli TV footage showed the synagogue, in Jerusalem's ultra-Orthodox Har Nof neighborhood, surrounded by police and rescue workers following the attack.
"I tried to escape. The man with the knife approached me. There was a chair and table between us … my prayer shawl got caught. I left it there and escaped," Yossi, who was praying at the synagogue at the time of the attack, told Israeli Channel 2 TV. He declined to give his last name.
The violence comes amid high tensions in the city, with a wave of attacks by Palestinians on Israelis killing at least six people in recent weeks.
Jerusalem residents have already been in fear after what appeared to be lone wolf attacks who have used cars and knives to target pedestrians.
Tensions appeared to have been somewhat defused last week following a meeting by Netanyahu, Kerry and Jordan's King Abdullah II in Jordan. The meeting was an attempt to restore calm after months of violent confrontations surrounding a sacred shrine holy to both Jews and Muslims.
Both Israel and Palestine said they would take steps to reduce tensions before any more escalations.
The Associated Press contributed to this report