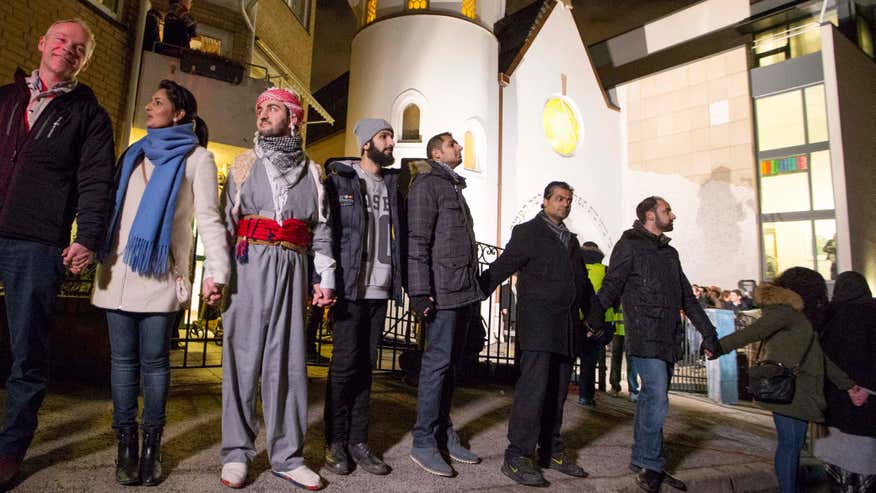 More than 1,000 people formed a "ring of peace" outside the main synagogue in Norway's capital at the initiative of a group of young Muslims.
The event in Oslo follows a series of attacks against Jews in Europe, including a terror attack in Paris in January and in Denmark last week.
Several European countries have seen an increase in anti-Semitic incidents recently, starting with the conflict between Israel and Palestinian militants in Gaza last year.
In January, three Muslim gunmen killed 17 people between a kosher grocery store and at the office of Charlie Hebdo magazine. Last week, one person killed a Jewish security guard in Copenhagen and a filmmaker attending a free speech event.
One of the organizers of Saturday's event said the gathering shows "that Islam is about love and unity."
"We want to demonstrate that Jews and Muslims do not hate each other," co-organizer Zeeshan Abdullah told the crowd, standing in a half-circle before the white synagogue. "We do not want individuals to define what Islam is for the rest of us."
"There are many more peace-mongers than warmongers," he added
The country's Chief Rabbi Michael Mechior sang traditional Jewish end of Sabbath song outside the synagogue before the large crowd of people holding hands.
Ervin Kohn, head of Oslo's Jewish community, called the gathering "unique."
The Associated Press contributed to this report