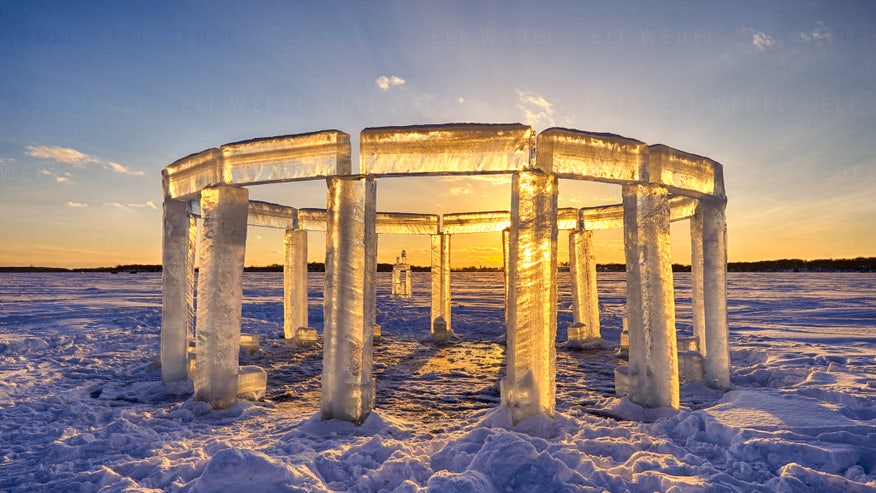 It took a group of five friends two days to build this striking Stonehenge replica.
Over 3,900 miles from the original Stonehenge, lies a frozen masterpiece created by five determined friends.
'Icehenge' is the brainchild of Kevin Lehner, Drew McHenry , Quinn Williams, Alec Seamars and Patrick Shields—none of whom are professional ice sculptors.
The friends first attempted the challenge of recreating one of the world's most famous stone structures in 2011. But inhospitable weather conditions kept any successful attempts at bay until this year.
Fast forward to 2015, conditions were just right across frozen Rock Lake in Wisconsin and the men were able to use chainsaws and ice pics to cut the blocks from the lake, heave them out of the water, and stand them up upright. According to Lehner, the supporting pillars each weigh up to 300 pounds, and are six-feet tall, while the cap pieces weigh up to 200 pounds—each.
"We did it purely for fun and personal enjoyment," Lehner told FoxNews.com via email.  "It's been mostly 'learn by doing and trying' to figure out what works."
It only took the self-proclaimed 'Hengers' two full days spread out over two weekends to complete the icy masterpiece. Lehner says curious onlookers stopped by, and some even offered to help with the extreme effort.
Eli Wedel, a Wisconsin-based photographer and graphic designer, was able to capture several stunning shots before the sculpture was disassembled on Feb. 7 due to warming temperatures around the lake that it made it unsafe for kids.
Though the team has no present plans to rebuild a new Icehenge, we're sure the five friends are thinking of the next frozen attraction to delight locals.