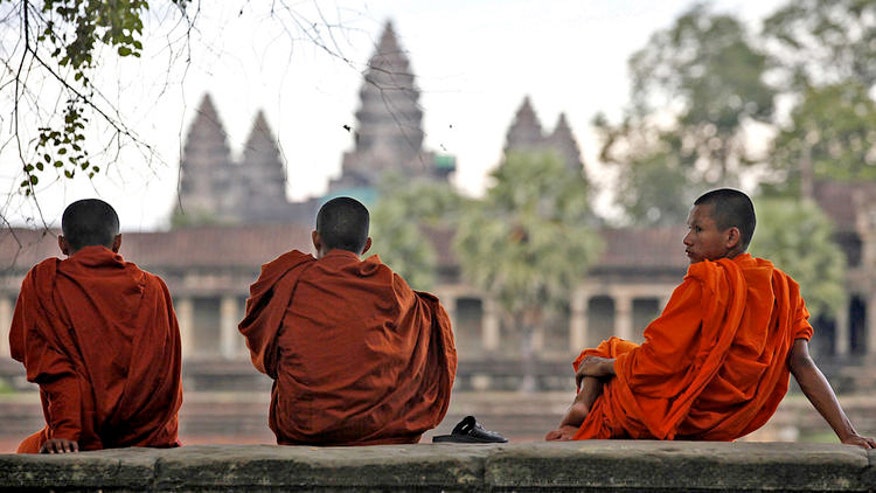 Just in case you didn't get the memo, no selfies with monks, no skimpy clothing and no smoking are allowed at Cambodia's ancient Angkor Wat temple complex. Okay?
In yet another attempt to discourage foreign visitors from bad behavior, Apsara Authority—the organization that runs the Unesco World Heritage Site—just released a two-minute video showing an increasingly distressed Khmer king, riding through the grounds of the complex on the back of an elephant as he's being confronted with people showing off too much skin, smoking, taking selfies with monks and other behaviors that are frowned upon.
The video underscores the rules at the holy site, that also forbids visitors from giving candy or money to children, smoking and from talking in loud voices.
Angkor Wat, the site of ancient Khmer Empire remains from the 9th to 12th century, is Cambodia's biggest attraction, which brought 2.35 million international tourists in 2014 alone. It is still a temple and is used by Buddhist monks today. But with the mass influx of travelers over the past few years, bad behavior has forced officials to crackdown down on rule breakers.
In January, a Chinese model posed topless amid the ruins. A month later, three French men posed naked at a temple, soon followed by two American sisters who were arrested for dropping their pants and mooning the sacred site.
Last month, notices at the Cambodian temple complex were posted warning of criminal sanction for 'exposing sex organs' after surge in bad behavior.  Now, this week, Apsara has imposed new rule requiring prior consent for filming and photo taking for profit – affecting media and reportedly casual visitors too, reported the South China Morning Post.
A statement from Aspara said companies and journalists who want to shoot photographs in the Angkor complex must first apply for permission at Apsara headquarters. They must also be accompanied by a security guard.
Some are concerned that this may also include tourists because this new rule can reportedly apply to anyone who looks like they are "planning to profit from their photos or videos."