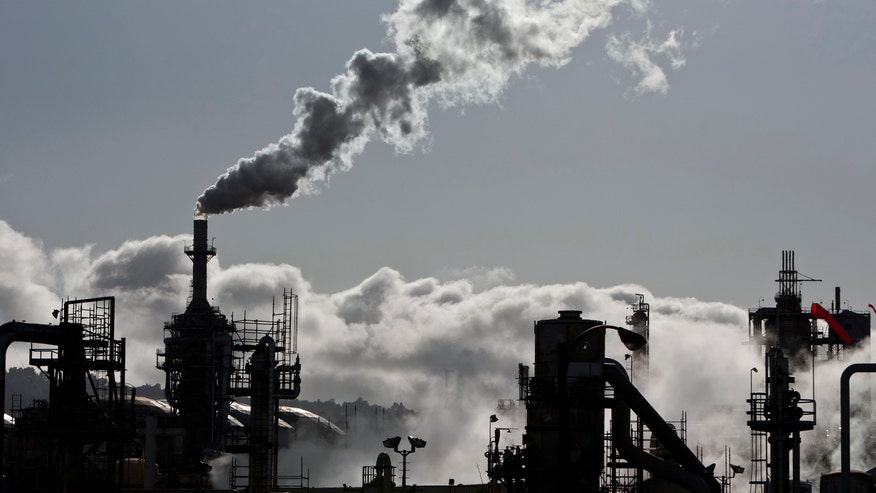 With the U.N. Climate Summit set to kick off in New York on Sept. 23, the U.S. has outlined its plan for a possible global climate agreement.
The 13-page document, which was submitted by the State Department to the U.N. Framework Convention on Climate Change (UNFCCC) Thursday, advocates a 5-year timeframe for countries to make initial cuts to carbon emissions, starting in 2020 and ending in 2025.
"In terms of initial contributions, we hope that there can be convergence on 2025 as a common end date," it said. "We think 2025 is advantageous because of ambition. If the end date were 2030, which some have suggested, Parties might be unsure about how ambitious they could be."
The European Union has been pushing for a 10-year timeframe, starting in 2020 and ending in  2030.
A conference in Warsaw last year invited countries to submit their "contributions" on reducing carbon emissions by the first quarter of next year. These submissions will lay the foundations for a December 2015 conference in Paris with the goal of international agreement on climate change. The treaty resulting from the Paris conference will take effect in 2020.
The U.S. will release its "intended contributions" for reducing emissions by the first quarter of 2015, according to its submission to the UNFCC, and encourages "contributions in the same timeframe from others in a position to make them."
The submission does not provide specific reduction details, although a document sent by the U.S. to the UNFCCC in 2009 discussed a 30% reduction in emissions by 2025, a 42% cut by 2030 and an 83% cut by 2050.
The European Union wants to see a 40% cut in its emissions by 2030 compared to 1990 levels. The Union's long-term goal is a reduction of at least 80% by 2050.
Next week's Climate Summit represents a key milestone on the path towards a global agreement, according to overseas ministers who will be attending the event.
"Anything that we can reach after this Summit is a step towards success," said Peru's Environment Minister Manuel Pulgar-Vidal, during a media teleconference organized by research organization World Resources Institute on Thursday. "Probably the most important is to have a very clear and focused objective – we need an agreement to be signed in 2015."
However, Pulgar-Vidal has realistic expectations about the New York Summit. "We should recognize that from the Summit we're not going to have a formal outcome," he said, but nonetheless hopes the event will "catalyze" action.
Pulgar-Vidal is the president of COP20, a December conference taking place in Lima, Peru, which will continue negotiations around a global climate agreement.
On the same teleconference, Marshall Islands' Minister of Foreign Affairs Tony de Brum explained that his country is on the frontline of the climate battle.
"The Marshall Islands is one of the most vulnerable countries to the effects of climate change," he said. "We lie just a few feet above sea level in the middle of the Pacific Ocean."
"The Summit comes not a moment too soon – it's the first time in a while that world leaders have come together to discuss a topic at the top of our diplomatic priorities," he added. "2015 agreement will save my country."
The Climate Summit, which will be attended by President Obama, is timed to coincide with the start of a new U.N. General Assembly session. Advocates for a climate agreement are hoping that the event will breathe new life into the U.N.'s green agenda.
In June U.N. Secretary General Ban Ki-Moon called for broad cooperation and "bold" action on climate change, warning that the world will face dangerous and irreversible climate disruption. "We know that we are not on track, and time is not on our side," he said, during the launch of a 'deep de-carbonization' report.
The U.N. has suffered a number of blows in its push for a climate agreement. Australia's new government, for example, recently repealed its two-year old national carbon tax, and countries such as Canada, Russia, and Japan have refused to sign on for an extension to the Kyoto Protocol to combat greenhouse gases.
Follow James Rogers on Twitter @jamesjrogers