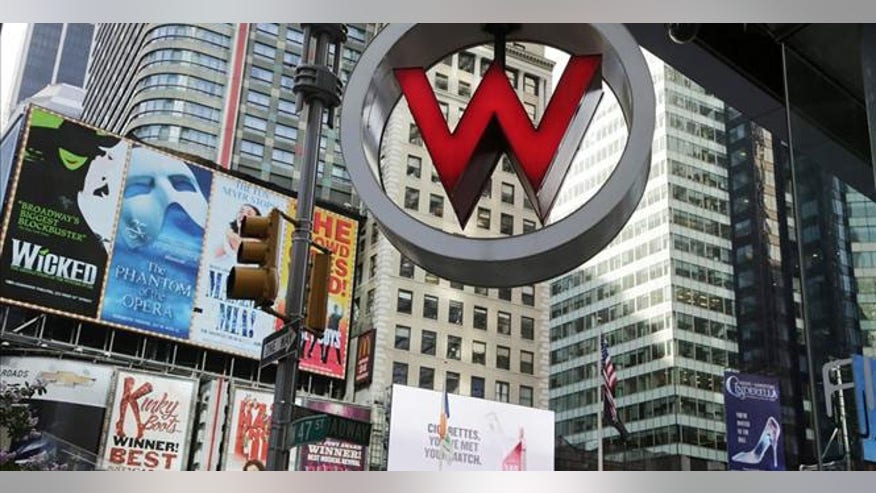 Marriott International is all set to acquire Starwood Hotels & Resorts Worldwide in a $12.2 billion deal.
The two companies announced that they have reached a definitive merger agreement that will result in the world's largest hotel company, boasting a whopping 1.1 million rooms in more than 5,500 properties around the globe.
While Marriott stands to gain the most from the deal, other winners and some losers have already emerged.
WINNERS
U.S.
Marriott's acquisition of Starwood means that the latter will remain under American ownership, signaling a monumental win for the U.S. hospitality industry. 
As many as three Chinese companies — including the country's sovereign wealth fund — were reportedly interested in bidding to acquire Starwood. And any successful bid would have represented the largest Chinese acquisition of a U.S.-based company.
Citing the Rhodium Group, Forbes reported the "real estate and hospitality sector has continued to be the biggest driver for Chinese investment in the U.S., accounting for 65 percent of the $6.4 billion foreign-direct investment transaction in the U.S."
However any China-based acquisition of Starwood would have dwarfed that figure.
Loyalty Program Members
Marriott Rewards (54 million members) and Starwood Preferred Guest (21 million members) are already among the industry's most popular and successful loyalty reward programs. Therefore, combining the two programs into one is likely to benefit members, especially business travelers, who could have significantly more options when traveling.
"We will take the best of both programs and make sure the best are preserved," Marriott President and CEO Arne Sorenson said on an analyst call Monday.
While mergers don't always assure an improved customer experience, if Marriott is able to implement the best of each award-winning program down the road, members almost certainly stand to benefit.
Owners and Franchisees
In a statement, Sorenson said the greater scale should "improve economics to owners and franchisees."
"The combined company will be able to realize increased efficiency by leveraging economies of scale in areas such as reservations, procurement and shared services. Combined sales expertise and increased account coverage should drive additional customer loyalty, increasing revenue," the companies said in a news release. "We expect that these enhanced efficiencies and revenue opportunities should drive improved property-level profitability as well as greater owner and franchisee preference for the combined company's brands."
Marriott also said that it remains committed to its franchise strategy in wake of the acquisition.
Arne Sorenson
Marriott President and CEO Arne Sorenson is undoubtedly a winner in this deal as he will remain in his role through the merger.
"Today is the start of an incredible journey for our two companies. We expect to benefit from the best talent from both companies as we position ourselves for the future," Sorenson said in a statement. "I know we'll do great things together as The World's Favorite Travel Company."
LOSERS
Hyatt Hotels
Up until Monday's announcement, the prevailing sentiment was that Hyatt Hotels was in the driver's seat to potentially acquire Starwood by the end of the year. As recently as last month, Hyatt was reportedly in advanced discussions to purchase Starwood.
Nonetheless, Monday's announcement represents a colossal missed opportunity for Hyatt, which paled in scale comparison to Marriott even before the latter acquired Starwood.
"Hyatt's problem is it's just smaller — about one-fifth of the size of Hilton and Marriott," industry analyst Michael Bellisario told CNBC last month, adding that Hyatt "would become a very formidable competitor" had it successfully acquired Starwood.
Hilton and IHG
As a result of Monday's mega deal, Hilton Worldwide's 4,500 properties and 735,000 rooms represent the world's second-largest hotel company. Now, the Virginia-based company will soon be competing against not only Marriott's slew of brands, but Starwood's handful of well-known brands that include Sheraton, W and St. Regis. 
But in addition to Hilton, leading hotel company IHG takes a backseat to Marriott, which will benefit significantly from Starwood's recent overseas expansion in China, India and elsewhere.
Consumers?
While the direction of the two companies' loyalty programs is encouraging and it's certainly too early to know for sure what impact the pending merger will have on consumers, recent trends in the airline industry suggest that mergers aren't always beneficial to customers, who may fall victim to fewer choices and higher prices.
What's more, Marriott's acquisition of Starwood could potentially be the catalyst for additional mergers in the future, in turn compounding some of the aforementioned negative impacts on consumers. 
Keep in mind that the deal comes amid record hotel occupancy and rates.
More from TravelPulse
Why You Must See Riviera Nayarit This Winter
Beaches Resorts' Planetarium Experience: Star Gazing at its Finest
Explore the Winter Wonder of Harbin and China
5 Travel Items That Keep Thieves at Bay