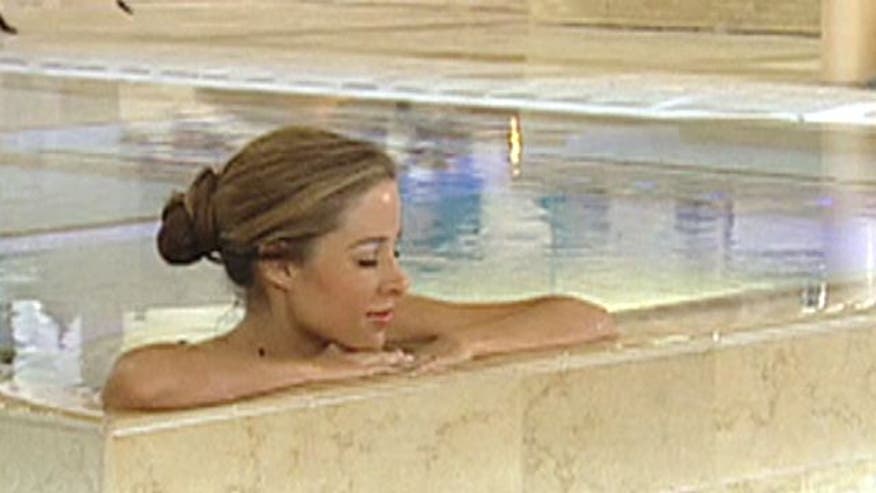 Would you like a glass of champagne? Maybe you'd prefer a microbrew or a signature cocktail  served with delicious nibbles or luscious deserts.
All you need is the gold key.  
When I used that key recently to enter the Club Lounge at the Ritz-Carlton Lake Tahoe, I felt I'd been ushered into a secret world at what already was a terrific hotel—blazing fireplace, stellar mountain views, smiling concierges to cater to my every need and such good eats—breakfast, lunch, cocktails and  evening treats, all served up with appropriate panache by smiling servers.
Of course there is an upcharge, but these club level rooms are the first to go.  Families love them because they can feed the kids without waiting in a restaurant—or pay big bucks for food they won't eat.  Business travelers like the convivial atmosphere and the convenience, not to mention free drinks and eats.
Travel is about the experience and there's nothing that will de-stress the experience—or make it feel more memorable—than a little extra pampering. 
Another plus: It's easier to meet other travelers in these smaller spaces. You'll find them at other hotels around the world—JW Marriott, for example, sees these Executive Lounges as a way to showcase their best culinary efforts to their most valued guests with plenty of locally sourced and healthy options.
The Grand Club Lounge at the Grand Hyatt New York features a spectacular private terrace with views of the New York skyline.  The M Club at the Marriott Marquis in Washington DC is the largest concierge level of any of the city's hotels and also boasts an outdoor balcony—this time with views of the Washington monument (here, Gold/Platinum Marriott Rewards members get complimentary access but you have to pay for your beer and cocktails).
Before you jump on the band wagon, consider if the extra freight (it can be as little as $25 a night or as much as $200) is worth it.  One man at the Ritz told me the free drinks alone made it worth it—given the price  for drinks at the hotel bar. Others say just not having to endure fidgety kids at a restaurant makes it worthwhile. A tip: If something is wrong with your room, a quick fix is to ask for access to the Club Lounge.
But don't think you'll be escaping kids at a club lounge, whether in Lake Tahoe, New York or Paris.  
Check out the club level lounges at Walt Disney World deluxe hotels like Disney's BoardWalk, Contemporary Resort and Wilderness Lodge, among others, for those who have booked club level rooms.  
The concierges have done everything from sewing on buttons to setting the scene for marriage proposals. There are special activities too—cooking demonstrations at the Ritz-Carlton, for example, a Sunrise Safari followed by a lavish breakfast buffet at Disney's Animal Kingdom Lodge.
They're guaranteed to be extremely popular at Disneyland hotels this year too, with all of the hoopla and special events for the Disneyland's 60th anniversary Diamond Celebration coming this spring.  Upgrade to the club level and you even can enjoy a special fireworks experience.  But wine and cheese at the end of the day isn't too shabby either.
Cruise ships are getting into the act too. For the first time on a Princess cruises, suite passengers on certain ships have use of a dedicated concierge lounge, an exclusive area to relax or work, with access to full front desk services, plus light snacks and beverages. No need to wait in long lines to book shore excursions, spa or restaurant reservations either.
The Haven is the key-card-only access suite complex on Norwegian ships—with the largest to come on the new Norwegian Escape.  Think a ship-within a ship  complete with 24 hour butler and concierge service,, a private restaurant and bar (no waiting at the buffet!) as well as pool, sundeck and whirlpools.
There's only one downside—it will be hard to go back to vacationing with the "regular" folks.
Eileen Ogintz is a nationally syndicated columnist and creator of TakingtheKids.com. Her new  Kids Guide to Boston is available online and from major booksellers, along with the Kids Guides to NYC, Washington, DC, Orlando,  LA and Chicago. Coming  later this year: San Diego, San Francisco and Denver.