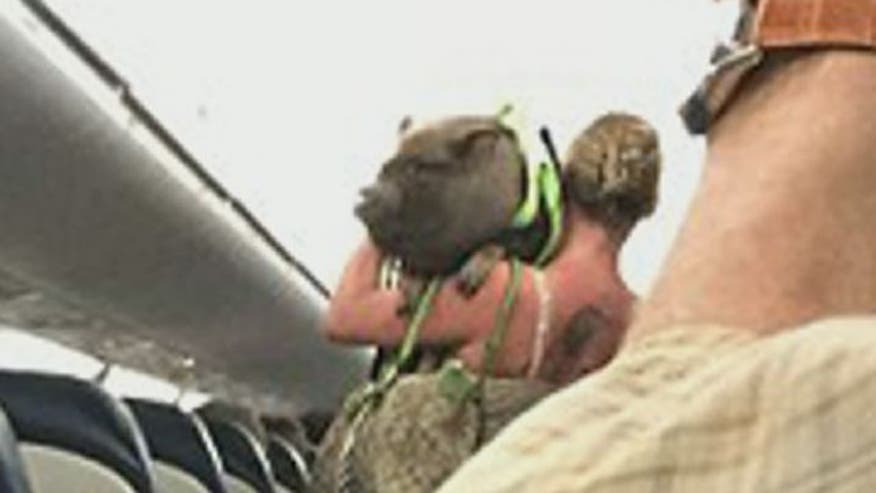 A pet pig trying to board a U.S. Airways plane in Connecticut found out that not all pigs can fly.
The porky passenger was grounded at Bradley International Airport for turning the cabin into a pig pen and disrupting other passengers.
The 70-pound pot-bellied pig was brought on to the flight as an emotional support animal for a woman who was flying to Washington Wednesday. Passenger Rob Phelps told the CBS affiliate in Springfield, Mass., that the flight crew booted the woman and the pig from the plane before it left because the animal was squealing and had defecated in the aisle.
Phleps, of Haydenville, Mass., snapped a photo of the woman carrying the pig over her shoulder as she left the plane.
Another passenger Johnathan Skolnik told ABC News she thought the woman was carrying a duffel bag when he saw her board the plane.
"But it turns out it wasn't a duffel bag. We could smelt it and it was a pig on a leash," he told ABC News.
The woman sat the pig next to Skolnik.
"I was terrified, because I was thinking I'm gonna be on the plane with the pig," he said.
Emotional support animals are allowed on commercial flights under federal rules as long as they are not disruptive, Laura Masvidal, a U.S. Airways spokeswoman said Friday.
The Associated Press contributed to this report