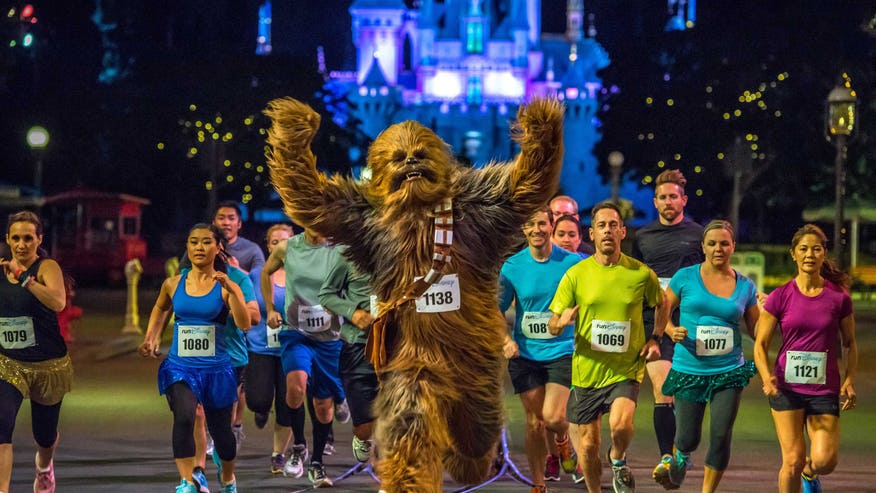 If you can't wait for the next "Star Wars" installment "The Force Awakens," don't worry, there's a whole slate of activities on tap to make this year the "Year of the Skywalker." From gallactic marathons to tons of festivals, the Force is strong in 2015.
The biggest, baddest, blockbusteriest film of all time, Star Wars: The Force Awakens, opens this year. And if you feel like you've waited a millennium since Disney shoved $4 billion across the table to purchase Lucasfilm Ltd. in 2012, there finally is light at the end of your universe: The movie is scheduled to premiere on Dec. 18, so there's only what feels like half a millennium to go. 
Fortunately, you don't have to bury your head in Tatooine sand hiding from spoilers, because there's a whole slate of activities on tap to make 2015 the "Year of the Skywalker."
Check out some of the events below, and Star Wars VII will arrive in theaters before you know it.
Jan. 16–18: Star Wars Half Marathon Weekend, Anaheim, Calif.
The Year of the Skywalker is off and running at the Disneyland Resort in Anaheim, where runDisney will stage a Star Wars Half Marathon weekend featuring 5K, 10K and half marathon races. Runners who finish both the Star Wars 10K and half marathon complete the Rebel Challenge and procure gleaming medallions. Even if you can't run, the Star Wars Half Marathon weekend promises a host of costumed characters, cosplayers and participants all along the route. May the course be with you.
Jan. 31– Oct. 4: Star Wars and the Power of Costume, Seattle
You don't know the power of the … costume. A traveling museum exhibit kicks off a 12-city tour at Seattle's EMP Muesuem on Jan. 31. The display highlights how artists, designers and actors created the iconic characters of the Star Wars saga through wardrobe. From Jedi robes to Sith capes and royal gowns to military uniforms and, of course, the intricate design of the metallic droids, "Star Wars and the Power of Costume" shares a behind-the-scenes look at the creation of the universe.
Now through April: Star Wars Identities, The Exhibition, Lyon, France
What Force shapes your identity? This traveling museum exhibit cleverly uses Star Wars to teach fundamental principles of nature vs. nurture, primarily through the characters of Anakin and Luke Skywalker. Where did they come from? What swayed them? How did their choices influence them? These questions are addressed throughout the installation. Using props, concept art, photographs and costumes, guests are led through a series of stations, eventually creating their own Star Wars character.
April 16–19: Star Wars Celebration, Anaheim, Calif.
Star Wars Celebration is the official Lucasfilm Ltd. fan convention: a four-day Comic Con-style event focused entirely on Star Wars that is now in its seventh year. Held at the Anaheim Convention Center, it is expected to draw as many as 40,000 rabid Star Wars fans. Some of the biggest stars from the saga have appeared at previous celebrations, including Mark Hamill, Carrie Fisher, Billy Dee Williams, Ian McDiarmid, Anthony Daniels, Warwick Davis and the man who started it all, George Lucas himself. In addition to celebrity appearances, fans can enjoy the premiere of Star Wars Rebels season two, autograph sessions, panel discussions, screenings and exclusive merchandise. 
May 15–June 14: Star Wars Weekends, Walt Disney World, Buena Vista, Fla.
Can't make it to Anaheim for Star Wars Celebration? Residents of a galaxy far, far away will take over Disney's Hollywood Studios theme park at Walt Disney World in Florida each weekend between May 15 and June 14. As with Star Wars Celebration, you can expect celebrities to make appearances, sign autographs, host shows and participate in parades. But you'll also find unique Disney touches, such as Disney/Star Wars mash-up characters like Jedi Mickey, Princess Minnie, Darth Goofy, Stormtrooper Donald and even Chip & Dale dressed as Ewoks. Stormtroopers patrolling the streets offer comedic banter and may even break into a chorus of "Let It Go." Plus, a Star Wars weekend vacation wouldn't be complete without booking a trip on Star Tours to explore the distant planets of Bespin, Hoth and Naboo.
July 9–12: – Comic-Con International, San Diego
Welcome back to Nerdtopia, the largest celebration of pop culture on the planet. Comic-Con International embraces all pop culture genres from comic books to movies, but there's little doubt Star Wars will have a large presence at this years's event. Yes, in fact, I sense a Comic-Con presence I've not felt since …
Aug. 14–16: Disney's D23 Expo, Anaheim, Calif.
Every other year, D23, the official Disney fan club, hosts the D23 Expo at the Anaheim Convention Center, where it celebrates all aspects of the Walt Disney Company, including television, film and theme parks. Lucasfilm, Ltd. and Star Wars made its first appearance at the 2013 D23 Expo, and no doubt Darth Vader will cast a greater shadow on the 2015 event. Don't be surprised if Disney's plans for adding new Star Wars attractions are revealed during the event — unless the Rebels intercept the plans first.
Oct. 24: Galaween Rancho Obi-Wan, Petaluma, Calif.
Steve Sansweet, former director of fan relations for Lucasfilm Ltd., was an avid collector of Star Wars paraphernalia even before he went to work with the Maker. In 2011, Sansweet left Lucasfilm to maintain his collection at Rancho Obi-Wan in Northern California's Sonoma County. The museum was recently recognized by the Guinness Book of World Records as the world's largest privately owned collection of Star Wars memorabilia, and Steve offers personally guided tours throughout the year. He hosts Galaween, a special intergalactic fun-fest, for some of the most ardent Star Wars fans in the world to raise funds for the nonprofit museum.
If none of those Star Wars events fits your schedule, or you're in the mind for more exotic locales, you can always schedule a trip to Tunisia, the set location for Tatooine, or Norway's Hardangerjøkulen glacier, the setting for Hoth.
May the Force be with you! And may the popcorn be fresh on Dec. 18, when The Force Awakens!