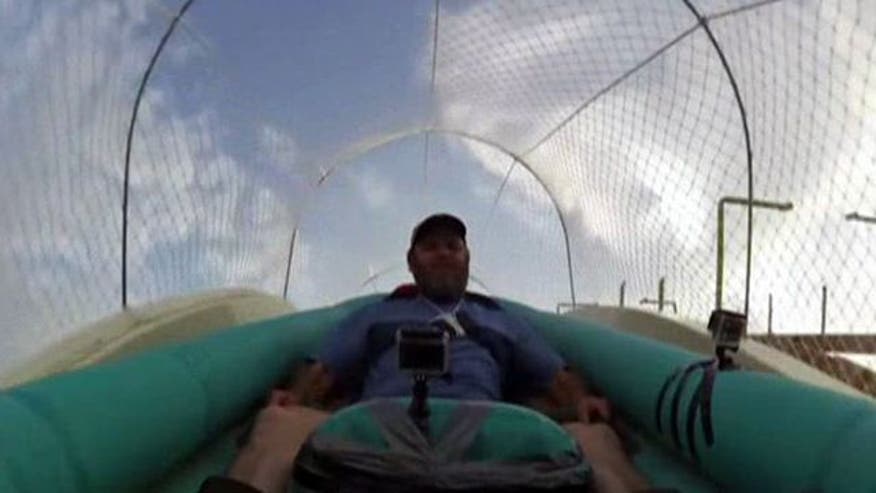 KANSAS CITY, Kan. –  Six weeks after the world's tallest water slide was initially scheduled to open to the public, media members and local dignitaries took the first rides Wednesday on the Kansas City, Kansas, attraction.
Kansas City Mayor Mark Holland, who rode in the second raft of the morning, insisted his screams on the way down the slide, called Verrückt, were of joy, not fear.
"It's ridiculous," Holland said moments after his first run down the 17-story slide at Schlitterbahn Waterpark. "You gotta think, why are you doing this? But then you cast common sense aside."
While members of his staff waited anxiously to whisk him off to another appointment, the mayor made his way up the 264 steps to the top of the slide to ride it again.
The 168-foot-tall water slide is scheduled to open to the public Thursday, after initially being slated to open May 23. The ride was reconfigured after early tests included sandbag-filled rafts flying off the slide and crashing to the ground.
Schlitterbahn co-owner Jeff Henry, who came up with the idea for the slide two years ago, said the early failures to keep rafts from being catapulted to the ground were just part of developing new technology.
"We wanted to know where the envelope was," said Henry, who was the first person to ride Verrückt. "We found those envelopes and pushed those levels."
While listening to the screams of riders coming down the slide Wednesday, Henry declared it to be "the baddest ride that's ever been built."
Verruckt, which means "insane" in German, was certified as the world's tallest water slide in April by Guinness World Records.