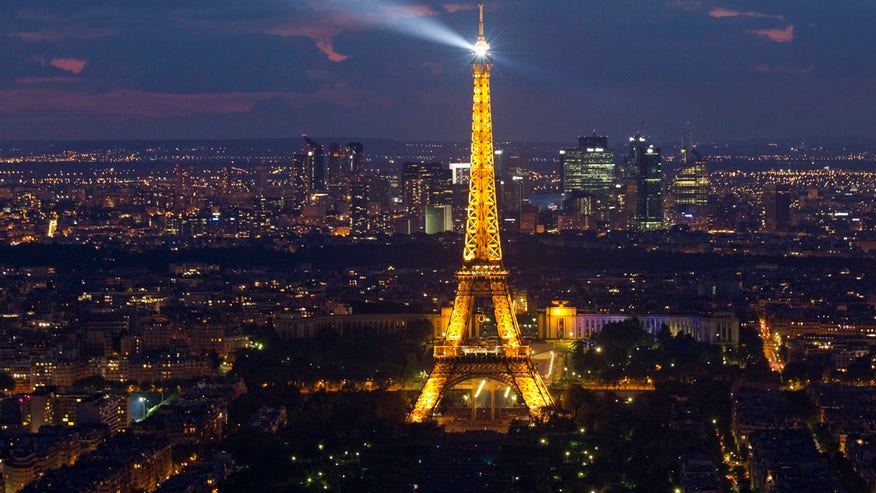 The next time you're in the City of Lights and are about to snap nighttime pictures of the Eiffel Tower don't: you could be fined.
An obscure clause in EU law states that the tower's evening light display is an "art work" — and therefore is copyrighted.
According to the Daily Mail, under the EU's 2001 information society directive, tourists could be fined for taking pictures of the Eiffel Tower at night and sharing them on Facebook, Twitter,  or online.
Built in 1889, the structure is the most-visited paid monument in the world that attracts almost seven million of tourists to Paris each year.  Tourist flock to see the glittering lightshow, which made its first appearance in 1985. Originally the work of Pierre Bideau, an electrician and lighting engineer, the golden lights that flank the sides of the tower sparkle for five minutes every hour from dusk til dawn.
The tower is classified as public domain, so when the lights are off, picture taking and sharing is permitted.  
Société d'Exploitation de la Tour Eiffel, the organization that manages the tower, notes this on its website. "Daytime views from the Eiffel Tower are rights-free."  But it continues to read: "However, its various illuminations are subject to author's rights as well as brand rights. Usage of these images is subject to prior request from the Société d'Exploitation de la Tour Eiffel." 
The Eiffel Tower isn't the only structure subject to the obscure clause. Many buildings across Europe are protected by copyright. In Romania, Bulgaria, and Slovenia, for example, tourists may snap pictures of public buildings, but cannot distribute images for sale.
But in the U.K., the Netherlands, and Germany, anyone may take pictures of public buildings and use them for any purpose.