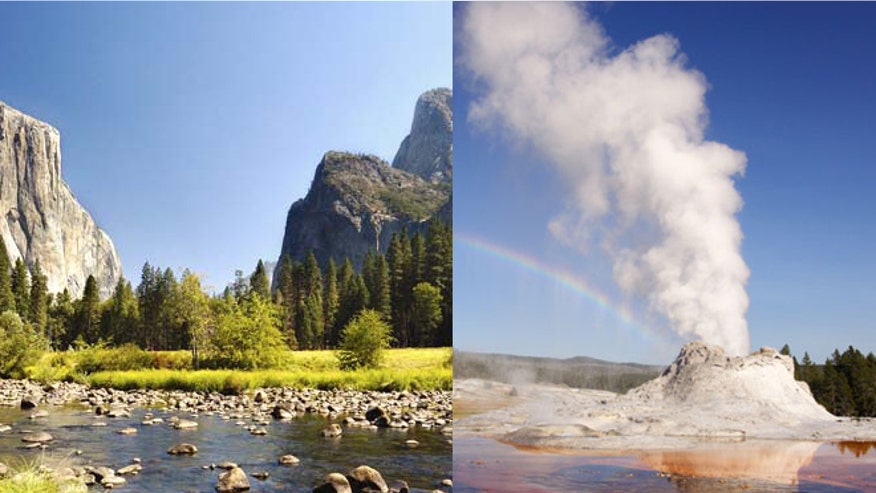 America's best national park: Who ya got? Half Dome or Old Faithful? Yellowstone's towering geysers or Yosemite's majestic waterfalls? The bald eagles and buffalo herds in Yellowstone, or the black bear and bighorn sheep of Yosemite?
Two of America's largest and most popular parks each boast some of the world's most spectacular scenery, flourishing wildlife, and untracked wilderness to explore. But which park should be declared the better of the two?
Some fun facts and spirited debate might help you choose a winner.
The Case for Yellowstone 
Yellowstone National Park is a land of superlatives: The first national park in the world. The biggest park in the lower 48 states. Home of the largest population of wild bison in the world. And the location of one-half of the world's known hydrothermal features, including Old Faithful geyser, in addition to an otherworldly landscape of bubbling mud pots, multihued hot springs, steaming vents, and curious sculptures made of silica geyserites. For the wildlife or the geothermal features alone, Yellowstone would outclass Yosemite, but the park also boasts a full slate of outdoor activities — more than a thousand miles of hiking trails, 2,000 campsites, and year-round lodging — to rival anything Yosemite has to offer.
Founded: In 1872 Yellowstone became the first national park in the U.S. The creation of the park gained steam with the help of a railroad executive, of all people, who wrote, "Let Congress pass a bill reserving the Great Geyser Basin (Yellowstone) as a public park forever — just as it has reserved that far inferior wonder the Yosemite valley and big trees."
Size: 2.2 million acres across three states. That is more than 3,400 square miles, which is almost triple the size of Yosemite, making Yellowstone the largest national park in the lower 48 states.  
Number of Visitors: The park averages over 3 million visitors per year, with a record 3.6 million in 2010. 
Iconic Spot:  Old Faithful erupts about 17 times a day, creating a 130-foot tower of water. It's one of 300 geysers in the park, part of the 10,000 "hydrothermal features" of the world's most fascinating geological landscape.  
Old Faithful geyser erupts. iStock
Places to Stay: Yellowstone has over 2,000 campsites in addition to wilderness camping, RV sites, old-school cabins, and Old Faithful Inn, the hundred-year-old structure that is considered to be the world's largest log cabin.
Wildlife: Yellowstone is the home where the buffalo roam, with over 4,000 bison grazing in the park's grasslands. Yellowstone is also the roosting place for the dozens of bald eagles that soar majestically over the landscape. What is more American than that?! Wolves, grizzlies, elk, moose, and coyotes are among the 67 species of mammals in the park, the largest concentration in the lower 48 states. What do you get in Yosemite? A bunch of brown bears breaking into cars for the granola bars.
Waterfalls: Yosemite brags about its falls, but Yellowstone offers 290 waterfalls that flow year-round. The tallest is the Lower Falls of the Yellowstone River at 308 feet.
Impending Volcano Doom Meter: 2/10. Although Yellowstone sits in the caldera of a supervolcano, no volcanologist has stated that Yellowstone is likely to erupt this week, this month, or this year.
A Park for All Seasons? Absolutely! Snowmobiling, snowshoeing, and cross-country skiing are available for guided winter tours. And visitors can try something Yosemite doesn't have: a ride in a huge all-terrain van running on treads, allowing you to get close to both bison and elk in any weather. Head there in the spring and you'll likely see red baby bison, wobbly little elk, and cute bear cubs playing in the meadows. Visit in the summer, and you can escape the heat. In the fall, you won't be facing large crowds. Old Faithful will be still be shooting geysers on schedule.
The Case for Yosemite
There's a reason why Teddy Roosevelt declared, "There can be nothing in the world more beautiful than Yosemite." He said camping there "was like lying in a great solemn cathedral, far vaster and more beautiful than any built by man." The soaring peaks of Half Dome and El Capitan, the shimmering cascade of Bridalveil Fall, the wildflowers coloring broad meadows, the massive sequoia trees reaching to the sky — all these features combine to create a natural setting unmatched on Earth. And that's even without adding the wildlife and to say nothing of the camping, climbing, hiking, biking, and near endless adventures possible in the park. Yellowstone has its pleasant features, to be sure, but that park is dominated by boiling mud pits, surly buffalo, and toxic fumes, making it more of a scientific novelty than a pleasant park in which to enjoy a visit. Advantage, Yosemite.
Founded: In 1864 (eight years before Yellowstone's founding), Abraham Lincoln granted the Yosemite area to the state of California as an "inalienable public trust." It became a national park in 1890.
Size: 1,189 square miles
Number of Visitors: 3.6 million in 2013, a half-million more than Yellowstone. But walk a couple of miles out of the valley, and you won't see a soul.  
Iconic Spot: Take your pick: Half Dome, which towers a sheer 4,700 feet above the valley floor; El Capitan with its 3,000-foot cliffs; the 617-foot-tall Bridalveil Fall; or the 209-foot-tall Grizzly Giant sequoia with its 25-foot-thick trunk. But perhaps the most iconic spot is that unnamed and unmeasurably beautiful meadow that you can hike to on a perfect spring day.   
Places to Stay: Yosemite offers eight lodging options in the park, ranging from the four-star Ahwahnee Hotel to tented cabins. Outdoors, there are 13 formal campgrounds with nearly 1,500 spots, as well as the 95 percent of the park dedicated to wilderness. You can create your own temporary campsite virtually anywhere (just register and follow the rules).
Wildlife: Hundreds of mule, deer, and black bears roam the park like they own the place, while shy creatures such as mountain lions, bobcats, red and gray foxes, and the recently reintroduced bighorn sheep patrol the forests and the mountain trails. The park's elevation diversity — from 2,000 feet to over 11,000 above sea level — provides a setting for over 250 species of birds to thrive.
Waterfalls: Yosemite is justly famous for its waterfalls, with 10 of them longer than Yellowstone's best offering: Yosemite Falls' 2,400-foot cascade is one of the highest in the world, the thousand-foot Horsetail Fall becomes a glowing red "firefall" in February, and the spectacular Bridalveil Falls is an awe-inspiring welcome to visitors driving into the park.
Impending Volcano Doom Meter: 0/10. Yosemite was carved by glaciers, tectonic shifts, and the power of waterways. No volcanos here. Sure, there are rockslides, forest fires, lightning strikes, and a variety of other dangers found in any wilderness — this is not Disneyland. But you will enjoy a park free from lethal geysers, boiling mud pits, and the stench of sulfur you find in Yellowstone.
A Park for All Seasons? Yes! Winter is a beautiful and fun time to visit Yosemite, as described here, with snowshoeing, ice skating, downhill skiing at Badger Pass, and cross-country skiing on trails throughout the park. There's a peace and solitude in the valley that can't be found in summer. And unlike Yellowstone, it doesn't get bitterly cold (Yellowstone's record low was minus 66 Fahrenheit). The "shoulder seasons" of spring and autumn have their own rewards, including colorful wildflowers or fall foliage and fewer visitors.
More from Yahoo! Travel
Sorry These 9 Excuses Not to Travel Just Aren't True
Check Out the Biggest, Sickest Yachts Afloat
Travel Hacks: How to Save in a Big Way on Your Next Rental Car