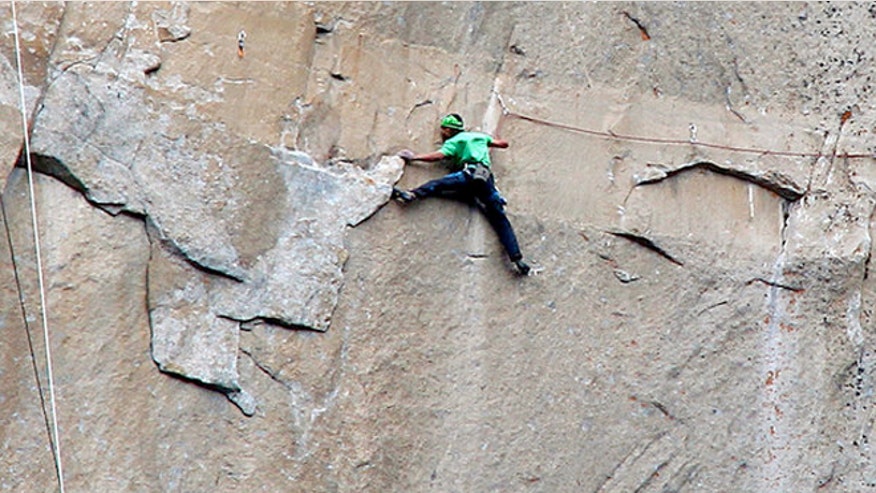 The sport of climbing has reached astonishing new heights. Last month, Americans Tommy Caldwell and Kevin Jorgeson completed their climb of the Dawn Wall of El Capitan in Yosemite National Park, an ascent experts have called the most difficult ever achieved. Two weeks later, Canadian climbers Will Gadd and Sarah Hueniken became the first people to climb Niagara Falls, which was covered with ice.
The feats captured the public's imagination. They were dramatic, they were dangerous and they were "firsts" in an adventure-sports world where it's increasingly hard to do something that hasn't been done before.   
Professional climbers and mountaineers have been thrilled to witness the buzz in their sports, whose headlines are often grim. "So often the news is about accidents and people dying, and every spring it's Everest, and who's going to get hurt and what's going to happen," world-renowned climber Conrad Anker said. "Now it's about success and triumph."
Related Image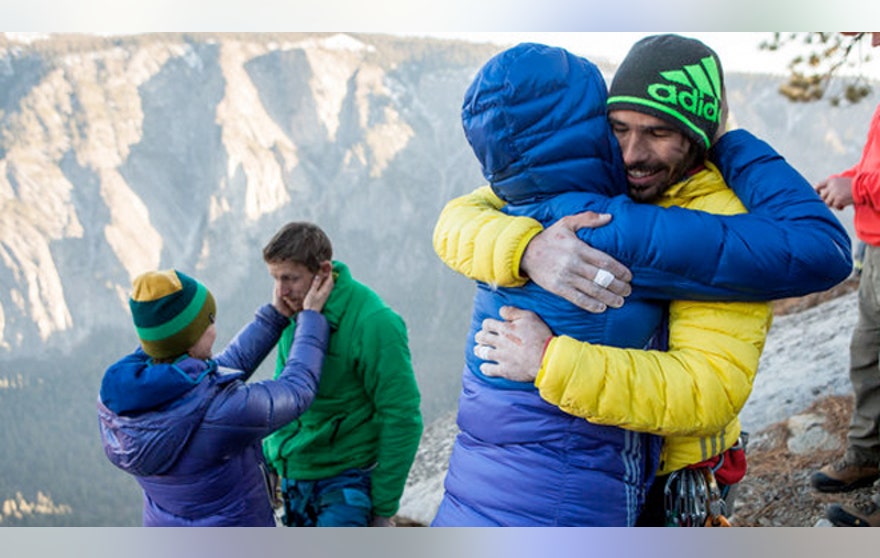 Expand / Contract
Climbers Tommy Caldwell and Kevin Jorgeson on their way to their historic summit of the Dawn Wall route on El Capitan in Yosemite National Park. (Peter Stevens/Flickr)
The climbs also showcased some of the world's most spectacular natural wonders — Yosemite's soaring granite walls and Niagara Falls. Tourism officials and guide companies say it's too early to connect recent headlines with a bump in bookings, but some say they've seen an uptick in interest.
The Yosemite Mountaineering School has been getting dozens of calls a day — many more than usual — from prospective guests, director Dave Bengston said. The unseasonably warm temperatures in the park are one reason, but Bengston said he's also seen a higher volume of inquiries from beginners. And some haven't a clue about what big-wall climbing entails.
Related Image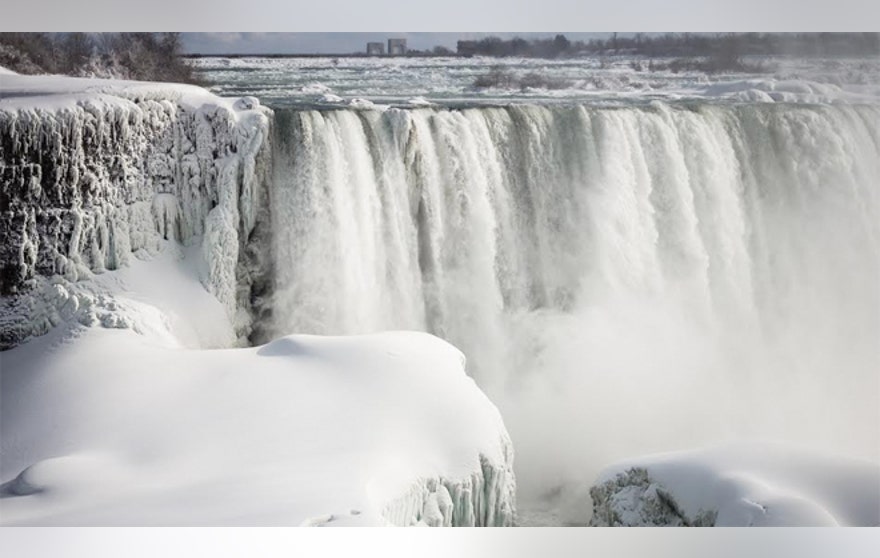 Expand / Contract
The frozen Niagara Falls provided an otherworldly backdrop for the first-ever ascent of the falls by Canadian climbers Will Gadd and Sarah Huenekin. (Elvir K/Flickr)
"One was an email saying, 'We're coming in February, and my friend wants to climb El Cap, we really have only one outdoor day, but we're really fit and blah blah blah,'" said Bengston, who has made the 3,000-foot climb to El Capitan's summit about 50 times.
"Our reply is, of course, 'That's a really challenging feat that requires multiple days and more than beginner-level experience, but that said, there's lots of great climbing at every level in the park.'
"You don't want to turn people off, but climbing El Cap is probably beyond their imagination at this point."
Joseph Anderson, owner of Peregrine Expeditions, a Bellingham, Wash.-based guide service that runs ice climbing and other mountaineering trips, said he, too, has seen "a pretty consistent uptick in ice climbing." 
"More people are talking about a bucket list than ever before — the people who just want to do it once so they can say that they did it. But we still have an increase in people who want to learn the basics so they can be intermediate climbers," Anderson said.
"I don't know if it's because of Will Gadd's ascent — it's too early to tell — but that will shake out in the next year or two. But it's been a big increase since last year, and all of a sudden it's gotten really busy."
Business could soon get even better, thanks to several climbing-centric movies that have been recently released or will be in theaters soon:
–"Meru," a documentary by award-winning adventure photographer and climber Jimmy Chin, documents Chin and fellow climbers Anker and Renan Ozturk in their quest to climb the Shark's Fin route of 21,000-foot Meru Peak in India, which has denied more elite climbers than any other Himalayan peak. It won the Audience Choice Award in its debut at the 2015 Sundance Film Festival.
–"Valley Uprising," which chronicles the history of climbing in Yosemite, was released last September. It snagged top awards at several film festivals.
–"Everest," starring Jake Gyllenhaal and Keira Knightley, is scheduled to be released in September. It recounts the 1996 disaster that claimed eight climbers on the world's tallest mountain.
During filming last May, an avalanche killed 16 Nepalese guides on the 29,035-foot Everest, topping the 1996 accident as its deadliest disaster. The tragedy brought the 2014 Everest climbing season to an early end, but it appears to be business as usual for the 2015 season, which generally starts in May (although the Nepalese government has required climbers to follow a new routefollowing last year's disaster). And if the popularity of Jon Krakauer's 1997 bestseller, Into Thin Air, which details the 1996 tragedy, is any indication, the guide industry could see a boost from "Everest."
"At the time I was working for other guide services, and it was a huge uptick for all guide services across the country and across the world," Anderson said of the 1996 tragedy. "Every single trip, guides would make a bet on who would be the first guy to ask if we had read this book, Into Thin Air, and it would usually happen minutes into a trip. That happened for years."
The movie may inspire some Everest-esque dreams, and many guided climbing tours cater to beginners on iconic peaks like Mount Rainier in Washington and Mount Kilimanjaro in Tanzania. But the experts all agree that beginners interested in climbing should start a little closer to earth, both figuratively and literally, in indoor climbing gyms that are great for building strength and learning basic techniques.
Beyond that, the first step for many newcomers is knowing the differences among rock climbing, mountaineering and bouldering.
–Rock climbing usually involves tackling a single rock face, cliff or boulder. It can be done with lots of equipment or none at all. At the very least, it requires a pair of special climbing shoes.
–Mountaineering or mountain climbing generally describes the process of climbing a mountain by using specific skills like ice climbing and navigation. Depending on the terrain, special equipment, including crampons and ice axes, is often necessary.
–Bouldering involves ascending smaller rock faces without ropes.
As a general rule, says California-based climber Hans Florine, who holds several speed records on El Capitan, "if you're aerobically fit, you're going to do better on things that involve altitude."
He says people who are in good shape also have more than just the obvious advantage of fitness. They're better attuned to how their bodies respond to distress from exertion, which helps them know when they can push themselves or not.
"And then there's somebody coming off their desk job who … hasn't experienced this bad feeling in their head or their joints before, and they think, 'Well it's supposed to hurt, I'm exercising,'" Florine said.
But inspiring others to new heights can also be part of the fun.
"The good thing to come out of all this is that we grab people and we rattle their cages a little bit, and we say, 'You know what, there's a big cool world out there, and you're just sitting on your duff watching football,'" said New Hampshire-based Mark Synnott, who assisted with Gadd and Hueniken's Niagara Falls ascent.
"Instead of that, you could be out there checking this stuff out for yourself."