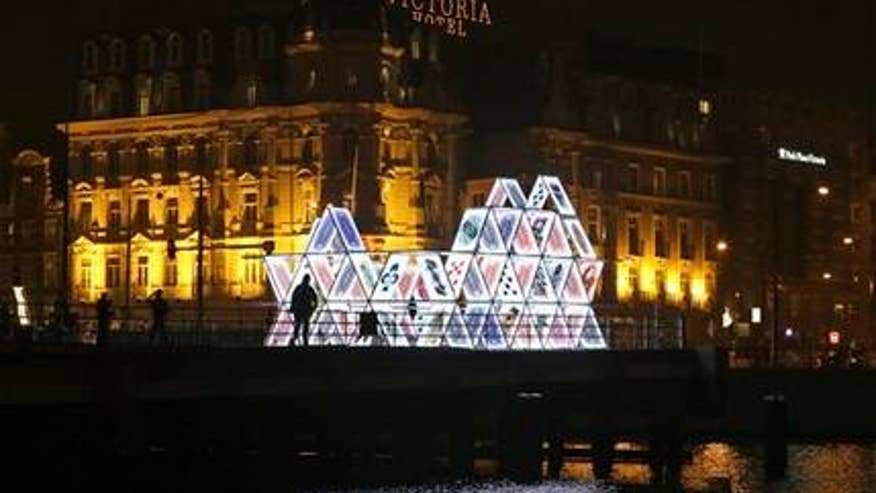 As a canal boat slides along Amsterdam's elegant Herengracht canal, a man walking over a bridge pushes down and pulls up on a bicycle pump. As he does, a model tulip – its flower glowing purple – rises sedately from beneath the water.
The art installation – titled "Tulip Mania!" – is a playful part of the Amsterdam Light Festival which opened Nov. 27 with the aim of bringing a little illumination and color into the gloomy days and nights of winter that are settling over the Dutch capital.
In a giant open-air exhibition that lasts until Jan. 18, the waterways and web of canals that make up the historic heart of Amsterdam form a backdrop for dozens of works of art, ranging from a huge glowing origami-style boat to a sphere of lights that changes color according to the mood of the city, gauged, its creators say, by online posts.
There are two ways to see the festival: on foot, with or without a guide, or on a canal cruise in one of the long, low boats that glide through the city. For the more energetic, there's even a rowing tour organized by a local club.
The boat route, appropriately named "Water Colors," takes around 75 minutes and is already open. Most of the city's canal cruise operators are offering nighttime trips to see the art along a route that takes visitors through Amsterdam's ring of canals and the Amstel River.
The 90-minute walking route, titled "Illuminade," opens Dec. 11 and ends Jan. 4.
While you have to pay for guided tours and boat cruises – prices vary depending on the level of luxury on board – you can also walk around town and see the art works for free.
This year is the third edition of the light festival and features several interactive exhibits. A striking wave-shaped creation called "Lightbridge" is made up of tiny lights that change color and react to movements like bicycles passing over the bridge it is attached to or boats passing beneath from the Amstel to the Herengracht canal.
Another installation is a giant heart made up of 178 bottles – one for each nationality said to live in Amsterdam – containing LED lights that can be controlled by visitors. Via the festival's app, you can have the heart light up in the color of your national flag, its creator says.
A giant ring called "Circle of Life" formed around a narrow pedestrian bridge also changes colors as boats pass by, simulating the flickering lights on canal walls created by the movement of water.
Another highlight is a giant but fragile-looking house of cards close to Amsterdam's central railroad station built of 125 light boxes decorated as playing cards by 40 contemporary street artists.
The house of cards is followed in quick succession on the boat tour by a series of glowing balls floating in the water that change color as boats pass by and a floating bridge that also pulses with different colors as boats maneuver their way under its arches.
While the festival comes alive at night, there are also events tied to the light theme at galleries and museums around the city to keep visitors busy during the day.
In you have more time to spend in the Netherlands, check out the newly installed "Starry Night" bike path in Eindhoven– a solar powered nod to one of the van Gogh's most famous works.