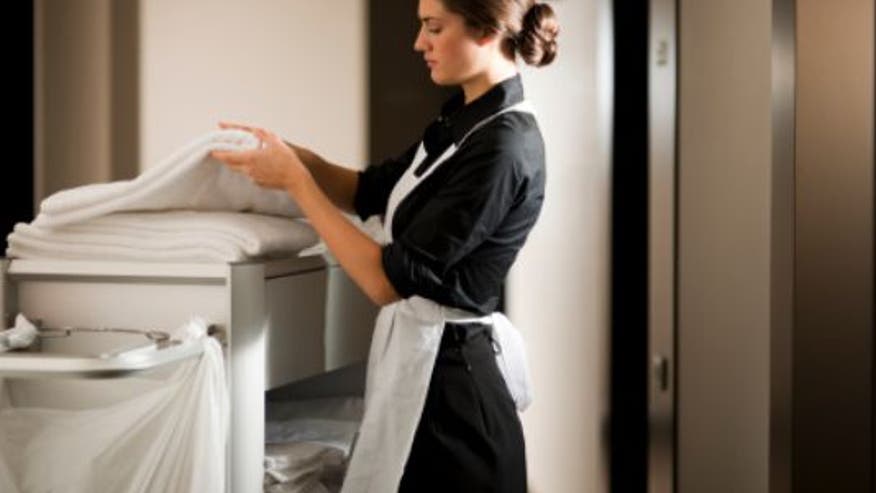 A new program to encourage Marriott hotel guests to tip the housekeeping staff is not sitting well with customers.
On Monday, Marriott hotels launched a new tipping program encouraging customers to pay and extra tip for maid service.
"The Envelope Please", an initiative by Maria Shriver's group A Woman's Nation, began rolling out this week in an estimated 750 to 1,000 hotels across the U.S. and Canada. 
Arne Sorenson, CEO of Marriott International, said that housekeepers "are less frequently tipped" than concierges, bell hops or front desk attendants who are more visible to the customer. The aim of the program is meant to raise awareness of the work that maids do behind the scenes.
But the program is coming under fire from former Marriott customers who question the hotel's increasing fees amid low wages for maid staff. 
All Marriott guests should then write 'PAY YOUR EMPLOYEES A LIVING WAGE' on the empty envelope and hand it to hotel management @BostonGlobe

— Totalblamblam (@Totalblamblamm) September 15, 2014
@patricialopez13 @abc13houston @Marriott I understand that they need to be tipped but leaving an envelope, I find that extremely tacky!

— Ana (@ITwitItLikeItIs) September 15, 2014
This RT @NYMag: Marriott makes $626m/yr in profits. If it wants its housekeepers to earn more, it can pay them more. http://t.co/TD2mMzdL3h

— J.C. Reid (@jcreidtx) September 17, 2014
The Marriott Hotels are putting envelopes in the rooms suggesting you tip the Maid Service. Why doesn't Marriott pay a livable wage?

— Aquaserpent (@Milasecondman) September 17, 2014
Frequent travelers say the Envelope Please program is akin to blackmail and say that up multiple night in hotels could mean racking up big bills. 
Most comments centered around the question of whether or not it's the customer's responsibility to make up for the chain's low pay. Many said no. 
Marriott representative says the company pays a "competitive" wage to its maid staff and the majority make more than the minimum wage. 
Angela Wiggins, a Marriott spokeswoman, sent a statement to the Huffington Post, defending the hotel's initiative.
"The tipping initiative is a voluntary way for guests who would like to express their gratitude for good service – in the same way you would tip a bell man or wait staff. We get questions all the time from customers who don't know how much to tip housekeepers, when to tip or where to put it."