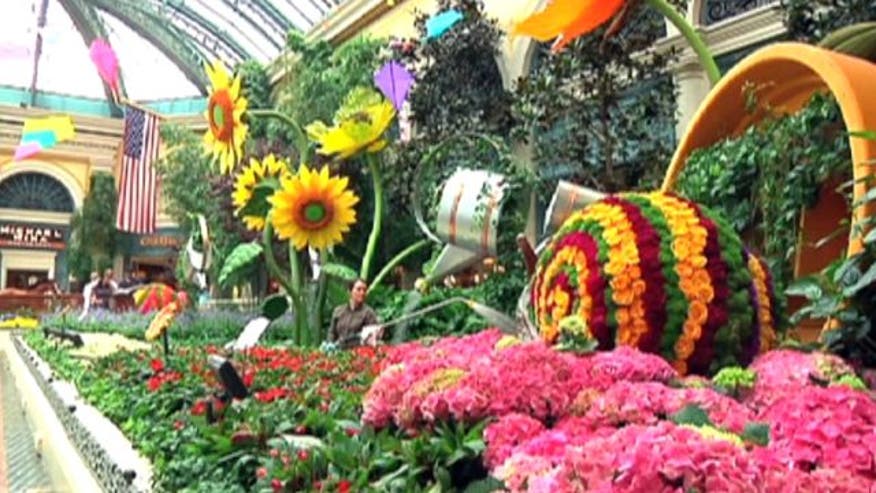 Inside an unsuspecting warehouse just off the Las Vegas strip is a wonderland that can be described as the Santa's workshop of Sin City.
"It needs a little tender loving care," Patricia Streeter, manager at the Bellagio Conservatory & Botanical Gardens, says pointing to a life-sized teddy bear. "That's all it needs, and then it will be ready to go into the show." 
The bear, along with hundreds of other props and decorations are sitting in a 15,000-square-foot warehouse, either getting spruced up or just waiting.  They'll be used in the spectacular Bellagio Conservatory & Botanical Gardens—a glass enclosed green space located inside the hotel and casino that attracts hundreds of thousands of visitors every year.
The conservatory is like a combination of a Disney theme park and European garden. It's packed with thousands of fresh flowers bursting with color. Life-sized props, like tree houses and two-story neon garden shovels, are set amongst the plants.
"I love everything, big and colorful and bright," said visitor Allison Larson of Nebraska.
"I like the tree house," said tourist Larry Brimer of North Carolina.
The entire Bellagio conservatory theme is changed five times a year, requiring up to 75 workers for each show –and a lot of decorations. 
But the unique assortment of props, and where they're stored, is a great source of interest for visitors.
"Guests are asking all the time, 'What do you do with these props, where do they go,'" Streeter said.
The answer is the warehouse down the street–a secret museum that isn't open to the public.  FoxNews.com recently got a sneak peek. 
The space is filled with objects. Some of the props are considered classics and used year after year, like the Christmas animals. Others are stacked, too hard to make out just what they are. Many of these props are so big they have to be taken apart and stored piece-by-piece.
The pieces provide countless possibilities for Bellagio set designers.  Those that have seen better days are donated to local charities or discarded.  
Yet, the only way to see them in their full glory is when they're on display inside the conservatory.  
"So creative that people can think of everything that they put in here and there's so much work put into it," Larson said.
Matt Finn is part of the Junior Reporter program at Fox News. Get more information on the program here and follow them on Twitter: @FNCJrReporters