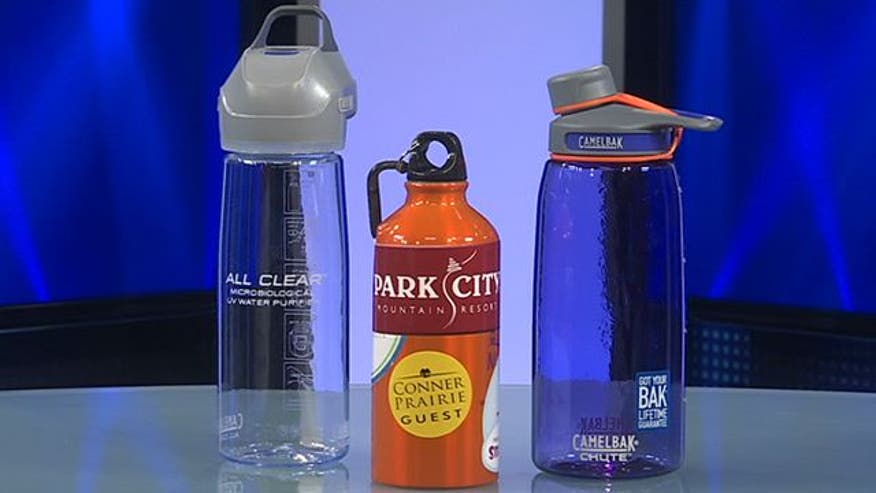 Wouldn't it be nice to get and give gifts that are really appreciated?
Whether you have some intrepid travelers on your list or those who leave home just once a year, these gifts are guaranteed to please—and make them smile not only when you give them, but every time  they use them:
BETTER THAN A SWEATER 
Try a puffy jacket like the ones from Mountain Hardwear or REI that are warm, cozy and, best of all, compress into a pocket — perfect for a pillow in the car or on a plane.  They're also weather resistant so they stay warm even when wet and they come in all kinds of colors.  REI's vests start at just $79.50; the jackets at $99.50.
THE GIFT OF HYDRATION  
A water bottle like Camelbak Chutes promise to be leak proof and come with a lifetime guarantee.  Just $14.  Suggest your favorite traveler paste stickers on  their bottle  wherever they go—instant souvenir!  The intrepid adventurers on your list would love Camelbak's All-Clear that purifies water in just 60 seconds — thanks to short wave UV light that treats the water.  Perfect in the back country or traveling abroad. It's $99 and also comes with a lifetime warranty.  Think of all the plastic throw-away bottles you can keep out of the environment by using a reusable bottle.
SEXY TRAVEL UNDIES 
For those you are close enough to give such a gift,  opt for Ex Officio's  Give-N-Go Underwear that is not only fast drying,  but wicks moisture and looks cute. Check out the lacy low rise bikini or the guys' boxer brief. Starting at $20 for the women; $30 for guys, though you may be able to find on sale. Anyone would appreciate a quick-dry  tee shirt for travel too!
FOR THE COFFEE LOVER
You can't go wrong with REI's Double Shot Press Mug — a press coffee maker and insulated mug in one for $29.50.  A new insulated mug would always be welcome too.
FOR THE KIDDOS  
A headlamp, like LED Trailblazer from LL Bean that's water resistant, lightweight and is guaranteed to last for 150 hours. The kids will love the red light for night vision!  Perfect for a plane, the back of the car at night, a hotel room…. Cost: $29.95.  A travel game is always welcome too–how about magnetic hangman?
FOR THOSE WHO CAN'T SURVIVE WITHOUT THEIR DEVICES 
A battery booster like the power cell 3015 from Ventev that's small enough to slip in a purse or a pocket and provides 12.5 additional hours of talk time.  It's just $34.99;  I also like the powercell 6000 that allows you to charge two devices at once and is great for long flights — 20 hours of video playback, 100 hours of audio playback and 18 hours of Internet! $74.99  You might also want to check out the variety from Jackery
FOR THOSE WHO KNOW WHERE THEY ARE GOING 
A book about the destination or one that is set there. For example, there's the new Farm to Table French phrasebook by Victoria Mas ($15.95) that would be a welcome gift for any foodie  heading to France; How about the world's best street food from Lonely Planet, complete with recipes.  I'm a fan of the Fodor 25 Best series for major cities — small enough to slip in a backpack.  For kids, check out my new pocket-sized Kid's City Guide series with fun facts and input from local kids.  Just out are the Kid's Guide to San Diego, San Francisco, Denver and Ski Country.
FOR THOSE WHO CAN'T FIND THEIR SUITCASES ON THE AIRPORT CAROUSEL
A new one in a bright color!  Kids and adults alike love these rugged water-resistant wheeled duffels from L.L. Bean that are under $100 — even with a monogram.  For the fashionable road warrior,  a TORQ hard side carryon from Briggs & Riley with spinner wheels.  It's lightweight, the only hard side luggage protected by an unconditional lifetime warranty and made of a high performance polycarbonate material that is built to withstand event the worst airline handling.  This is a gift for someone you really like since costs start at $479
FOR THE DISORGANIZED PACKER
 The Specter Compression Cube Set from Eagle Creek that not only keeps your clothes organized, but compresses them so that you can maximize space.  $38
And the best gift of all—a trip!   If not the whole trip, maybe a gift certificate for dinner, spa or a tour on their next planned adventure.  Princess Cruises is offering gift certificates for just those gifts.
So what are you going to buy for yourself this holiday? Happy shopping!
Eileen Ogintz is a nationally syndicated columnist and creator of TakingtheKids.com. Her new  Kids Guide to Boston is available online and from major booksellers, along with the Kids Guides to NYC, Washington, DC, Orlando,  LA and Chicago. Coming  later this year: San Diego, San Francisco and Denver.