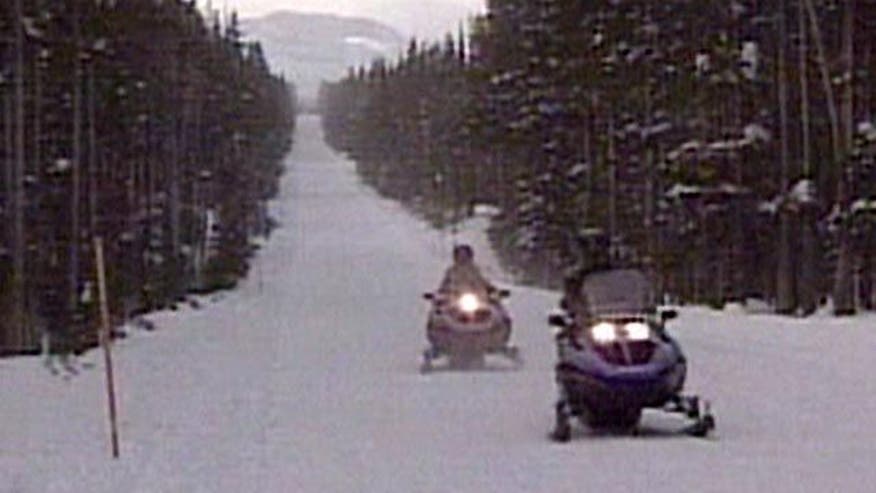 Ready to get face-to-face with a giant bison?  How about seeing the Old Faithful geyser erupt—without any crowds?
Welcome to Yellowstone National Park in winter.  I've been there in summer as well as winter. Winter is an entirely different experience.  We combined a visit with a ski trip to Big Sky in Montana, but there's plenty to do if you opt to make Yellowstone's winter wonderland your entire getaway.  
The best way to access Yellowstone in winter is through Montana — either the north entrance from Gardiner, MT or west entrance from West Yellowstone, MT. Both are an easy 1.5 hour (more or less) drive from the Bozeman Airport.  Montana-based Austin Adventures offers  multi-day trips with drop off and pick up in Bozeman.
The only road open to vehicle traffic is from Gardiner, MT (north entrance) to Cooke City along Lamar Valley, often termed "America's Serengeti" due to its abundant resident wildlife. You can drive from Gardiner to Cooke City, where you can stay in the historic mining town.
Every winter through mid-April, park roads are closed to the interior of the park making it an adventure to get here by snowmobile or guided snow coach that follow the park roadways.
If you've only got a day,  take a heated snowcoach from Gardiner or West Yellowstone and explore the park's hidden landscapes inaccessible by a vehicle in winter. These guided tours stop frequently, allowing visitors to intimately explore iconic areas like the Grand Canyon of the Yellowstone, Old Faithful and Mammoth Hot Springs.
If you've got more time, stop at Chico Hot Springs for the night, enjoying the area's hot spring pool—we loved it!
Have you seen frozen water falls?
Keep an eye out for the wolves, bison, bobcats, eagles and more—especially on a wildlife tour through Lamar Valley with a naturalist guide (check Yellowstone Association for more information).
There are only two lodging options inside the park during winter (at Mammoth Hot Springs and Old Faithful). Park concessioner Xanterra Parks and Resorts provides lodging and all varieties of fun in the snow tours.
Spend a night or two at the Mammoth Hot Springs Hotel and take a warming dip in the natural Boiling River. Just a few miles inside Yellowstone's North Entrance at Gardiner, the steaming water is guaranteed to please and rejuvenate.
Explore all the thermal features and spend a couple of days snowshoeing or cross country skiing around Yellowstone's Upper Geyser Basin—it's home to nearly a fourth of the world's geysers all located within a two-mile radius—that's when I came face to face with that bison and stay at
At Old Faithful Snow Lodge, you can skate on a rink 7,300 feet high in elevation and bed down in a place only accessible by special snow coaches and snow mobiles after feasting on regional specialties—think seared duck breast with a flathead cherry port glaze.
Let's not forget snowmobiling!   At the west entrance to the park, West Yellowstone is a snowmobiling mecca. Guided day trips or multi-day adventures travel deep into the lesser-explored areas of Yellowstone, encountering wildlife and snowy landscapes. Go out for a few hours on a guided adventure or explore deep into the less-explored areas of Yellowstone on a multi-day adventure.
Eileen Ogintz is a nationally syndicated columnist and creator of TakingtheKids.com. Her new  Kids Guide to Boston is available online and from major booksellers, along with the Kids Guides to NYC, Washington, DC, Orlando,  LA and Chicago. Coming  later this year: San Diego, San Francisco and Denver.