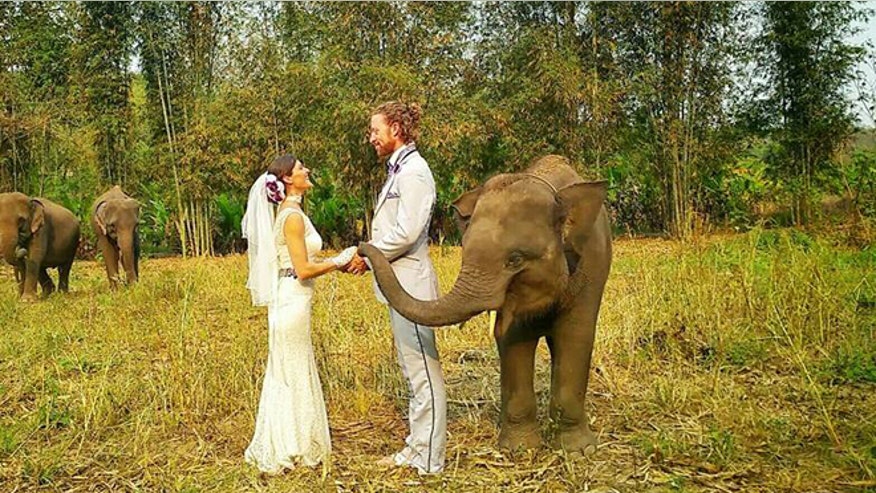 Many couples on a budget choose to forgo a pricey honeymoon in favor of a dream wedding.
But Cheetah Platt and Rhian Woodyard decided to take the ceremony on the road –or in their case –ceremonies.
The Los Angeles-based couple are holding 38 unique wedding ceremonies in 11 countries.
And they plan to do it all in just 83 days.
"We live in California, which is a very expensive state," Platt told The Huffington Post. "And weddings? Oh, they're a lot of money. We didn't want to spend a lot of money for a single day."
Platt and his new bride came up with the concept of a "worldwide wedding" after they realized it would be more affordable—and more fun—to self-ordain online and marry themselves for free.
"I really want people to know that this wedding, three months around the world with unbelievable adventures… is cheaper than throwing a good — not even a 'great,' not even an 'epic' — just a good wedding in California for one day," Platt explained.
The couple have set up a donation page via Honeyfund and are now just shy of a little over $1,000 from their original budget of about $6,000. They expect the entire trip to cost less than $3,000 each. 
"We're lucky to already have a home full of everything we need, so please enjoy browsing our "alternative" registry. Here you can contribute to our dream wedding AROUND THE WORLD and check out some of our crazy adventures!!" Platt and Woodyard write on Honeyfund.
The two professionally trained acrobats plan to "teach, train and perform" their skills all over the world as a way to share their passion and talents with others. Funders can keep up with the couple's travels via Platt's Facebook page.
Prior to their multi-continent wedding, Woodyard had never been out of the country.
Related Image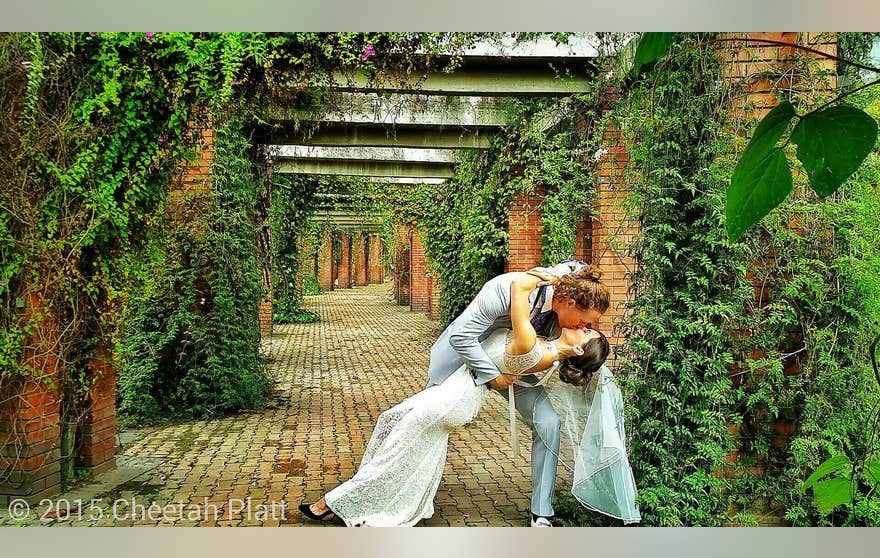 Expand / Contract
The first wedding at Jardin Botanico in Bogota, Colombia. (Courtesy Cheetah Platt)
"I have been to three states," the bride Huffington Post. "I have never traveled before at all, so something else that inspired this wedding was the fact that Cheetah could give me this amazing experience at the same time, and we could learn about each other."
So far, the duo have been married in front of the pyramids in Giza, the Ajanta Caves in Thana, India, a Masai village in Nairobi, Kenya and a castle in Dublin, Ireland—and many other historic global sites.
Their "wedding," which started Feb. 8 and is scheduled to end April 28, will culminate in  a TDB reception somewhere in the Los Angeles area on May 2, where they will legally tie the knot in front of close friends and family.