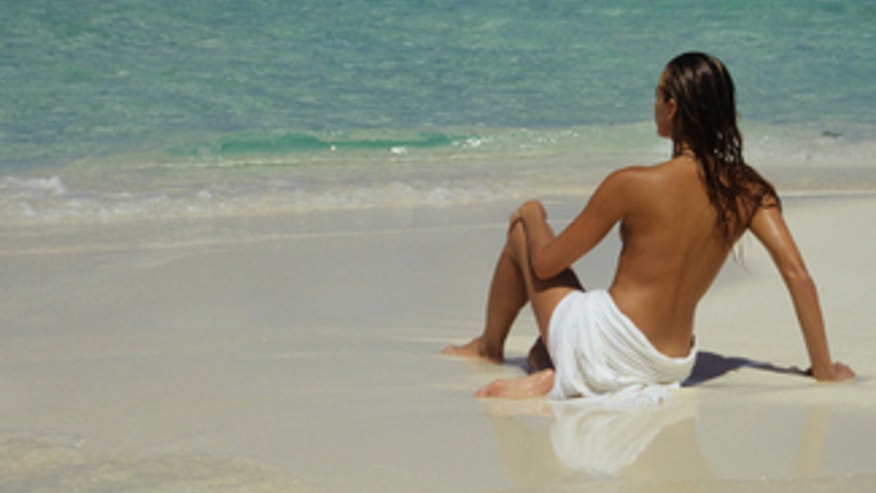 Want to know the country with the most nude sunbathers? 
For three years running, Germany has had more beachgoers willing to take it all off, according to Expedia's annual Flip Flop Report. But this year, it shares the top spot with Austria.
Twenty eight of Germans and Austrians polled reported spending a day at the beach without clothes. Last year, 17 percent of Germans surveyed said they had sunbathed nude on a public beach.  
The online survey, conducted by research firm Northstar, examined the behaviors and attitudes of over 11,000 adults in 24 countries across North America, South America, Europe, Asia, Australia and New Zealand. Topics ranged from opinions on public nudity, Speedo-style swimwear, favorite beach activity, and shark anxiety.
Going the full monty at the beach is hard by those in Asian countries, with just two percent of Japanese, three percent of South Koreans and four percent of Thai beachgoers admitting to have taken it all off.
But according to the report, going topless is more acceptable, with 20 percent of female beachgoers worldwide reported having spent some time at the beach sans a top. 
Japanese women expressed a high comfort level with toplessness (72 percent), but few in Malaysia, Indiana and Hong Kong approve of the practice.
Beach vacations continue to be a favorite destination worldwide. Fifty-six percent of survey respondents said they have taken a beach vacation in the past year, and 75 percent indicated that they are "very" or "somewhat" likely to take a beach vacation in the next year.
When it comes to beach time activities, 88 percent said they were looking for a "serene, calm destination" over a "party" atmosphere. Walking, swimming and sunbathing were the most popular things to do –but most people like napping.
What sets off the most beach time anxiety?
Theft, selfies and shark attacks. 
Sharks are universally feared—with 44 percent of all respondents expressing anxiety—with up to 84 percent of Brazilians expressing the most fear. But, for example, according to Florida Natural History Museum, which tracks shark attacks around the world–you're 33 times more likely to get bit by a dog than by a shark in the U.S.
More than 50 percent of beachgoers said they would "never" post a photo of themselves in swimwear but almost 70 percent said having their wallet or other possessions stolen makes them "very" or "somewhat" anxious. 
Skimpy swim wear isn't much of a shocker. 
An overwhelming 74 percent of respondents worldwide consider Speedo-style swimsuits acceptable beach attire, with nearly all Brazilians (95 percent), Austrians (94 percent), Germans (91percent) and Spaniards (91 percent) saying they're fine.  Even more than half of Americans– at 57 percent –say they're okay with them.