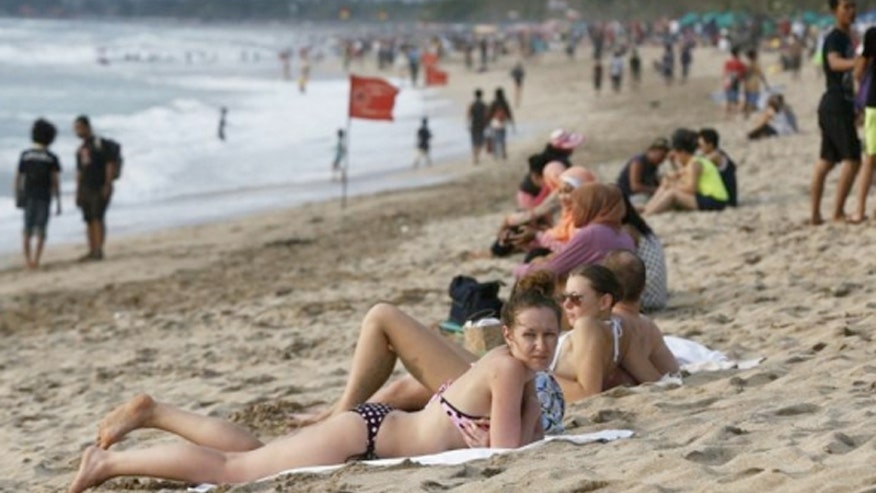 A Chinese national has been arrested in connection to series of viral photos featuring tourists stripping down on a Malaysian beach in the coastal town of Semporna.
According to The Malay Mail Online, the unnamed man, who was identified from photos posted online, is a diving instructor who caters to Chinese tourists.
"The suspect has visited Semporna several times, bringing in Chinese tourist groups to dive on the islands around Semporna," State criminal investigation department chief Datuk Salehhudin Abdul Rahman told Malaysian press Wednesday.
The photos circulating online features a group of 13 tourists. One shows a group of naked men with their backs to camera wading through shallow waters while a clothed female companion poses in the foreground. Another shows a group of three women sans bikini tops, their backs to the camera, and a smiling man wearing swim shorts standing beside them.
The suspect is being held in Malaysian court until a hearing on Oct. 25. He is being charged with public indecency, and faces a penalty of up to three months of jail time, a fine or both.
"Such shameless incidents not only damage our reputation as a renowned tourist destination, but also spoils Sabah's image. What more, their behavior is totally unacceptable by the Semporna locals, most of whom are Muslims," Semporna district officer Dr. Chacho Bulah told the Malaysia's Daily Express. 
Authorities are not sure when exactly the pictures were taken but Bulah said his office has enlisted Interpol's help to identify the tourists in the photograph and determine when they visited the country though they are all believed to have departed. Semporna detectives have determined that the photos were taken sometime between two years ago and the last two weeks.
The incident comes a few months after Eleanor Hawkins, a British backpacker, was fined and jailed for posing naked on a sacred mountain in May. Locals blamed Hawkins and her companions for "angering" the guardians of the mountain and causing a 6.0 magnitude avalanche which killed 18 climbers.