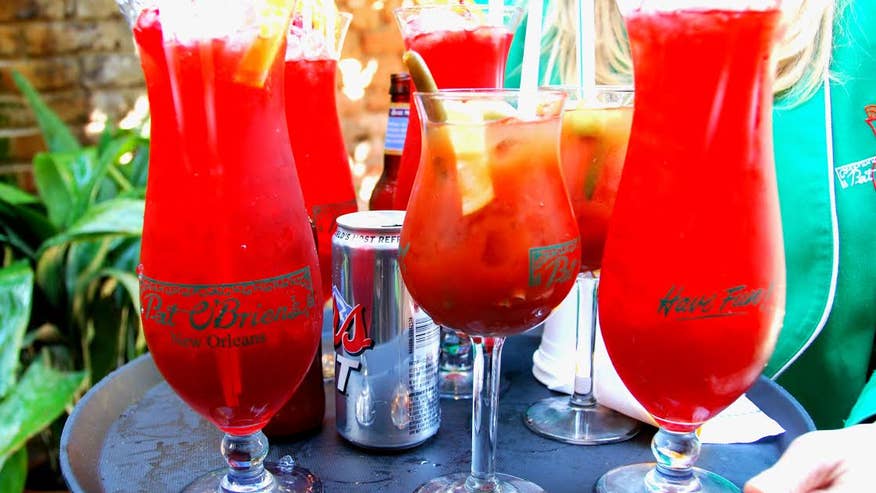 For visitors to New Orleans, it may be the most celebrated and consumed cocktail on Bourbon Street. But among locals, the hurricane is often met with rolled eyes instead of a raised glass. 
Perhaps that's because hurricanes – boozy fruit bombs made with a hefty dose of rum, juices like passion fruit and lemon and Grenadine, and a traditional orange-and-cherry garnish – are closely associated with touristy excess. But don't lump hurricanes in with some other over-the-top New Orleans drinks, like the shark attacks and hand grenades swilled by liquored-up legions in the French Quarter.
Bourbon Street remains ground zero for the hurricane. It was born there in the 1940s at Pat O'Brien's, the city's most famous bar, and it was named for the hurricane-lamp-shaped glasses it's served in. The drink took off, and these days most dining establishments in the city serve some version of the cocktail, from frozen concoctions in Fat Tuesday to hand-crafted creations in upscale tiki bars that would make any foodie swoon. 
"I equate it to New York pizza," says Al Martin, head bartender at Red Fish Grill, an award-winning seafood restaurant in the French Quarter whose recently renamed version of the drink is called a "cat-5 hurricane." "You can get a slice on every street corner, but not every one is going to be good." 
Indeed, there may be some controversy about who makes the best hurricane in New Orleans, but Pat O'Brien's is the undisputed winner when it comes to history, notoriety and sheer volume. 
Like many bars across the country, Pat O'Brien's faced a serious shortage of whiskey, bourbon and scotch after World War II. But rum was readily available, and liquor distributors that were eager to offload it forced bar owners to buy a case with their purchases of other liquor.
Related Image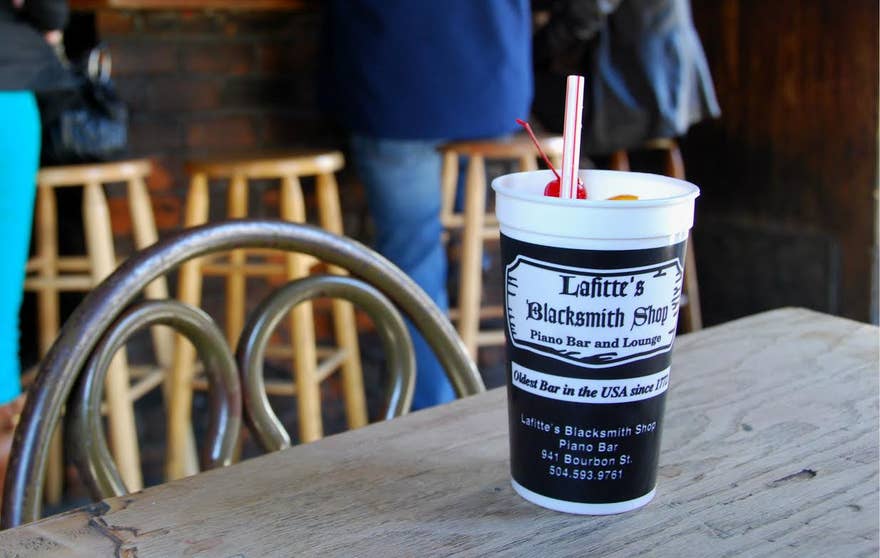 Expand / Contract
The specialty at historic bar Lafitte's Blacksmith Shop Bar is the hurricane, which is made from a secret recipe that includes four juices. (Blane Bachelor)
After some trial and error, Pat O'Brien's head bartender, Louis Culligan, came up with what would become a multimillion-dollar idea: Mix rum with passion fruit mix, serve it in a tall glass shaped like a hurricane lamp, repeat. In 1956, Culligan revealed his recipe to Cabaret magazine: four ounces of gold rum, the juice of two lemons and two ounces of Fassionola, a brand of bottled red passion fruit mix. 
The rest is cocktail history. The hurricane soon swept its way into the spotlight – not just in New Orleans, but across the country, says Jeff "Beachbum" Berry, a tiki cocktail guru and owner of Latitude 29, a recently opened tiki lounge and restaurant at the edge of the French Quarter. "It's a New Orleans staple, but it got grafted onto tiki drink menus in the 1950s, 1960s and 1970s, and it got so popular that you'd find it on the menu of quite a few tiki places," Berry says. "It's a de facto tiki drink." 
It's also a must-do for first-time visitors to New Orleans. Stopping by Pat O'Brien's to enjoy a hurricane in its birthplace should be a part of any Big Easy itinerary. 
Though Pat O'Brien's management doesn't disclose specific figures, operations manager Scott Touchton says between 15 and 20 bartenders work through the course of the day. Based on an observation during a recent visit, it's safe to say several hundred hurricanes are served daily. 
Before the drink became so popular, Pat O'Brien's bartenders would craft each cocktail individually. Nowadays, they're mass-produced using a red mixer and are shot into the iconic glasses with the help of multi-pronged guns (the glasses are one of the most coveted souvenirs from New Orleans – or return for a $3 refund off the $11.50 price of the drink). 
"We're not the first people to have this hurdle when your business grows: How can you stay true to what people like, but be able to produce the volume to which you can serve them?" Touchton says. "Our recipe has stayed true to that, just done in a larger quantity."
On the other end of the French Quarter, Lafitte's Blacksmith Shop Bar also pre-mixes its hurricanes, which are poured from plastic jugs into plastic cups and garnished with the requisite orange slice and cherry. 
When asked about the recipe one recent morning, a surly bartender said only that the drink is homemade and includes "four different juices, and that's all I can tell you, or else I'll have to take you out back." Although it was well before noon, two locals happily sipped on that closely guarded secret while sitting at the end of the bar. 
In the midst of the craft cocktail craze and the resurgence of tiki-style drinks, the hurricane also has received some newfound attention. Last year it was selected as the subject of the recipe contest for Tales of the Cocktail, the world's premier cocktail festival, held every year in New Orleans. Bartender Joe Cammarata of Backbar in Somerville, Mass., beat out hundreds of others with his "Hurricane Caesar," made with ingredients including Campari and nutmeg.
But at Pat O'Brien's, they raised some eyebrows about selecting the hurricane for "reimagining." "They pick a drink that's well known, that, in their opinion, is dead, and make this big thing about it that it's past its prime and needs revamping," Touchton says. "But we were like, this is the one item we built our business around, you're saying it's dead and needs a re-lift? For us, it never went away."
Related Image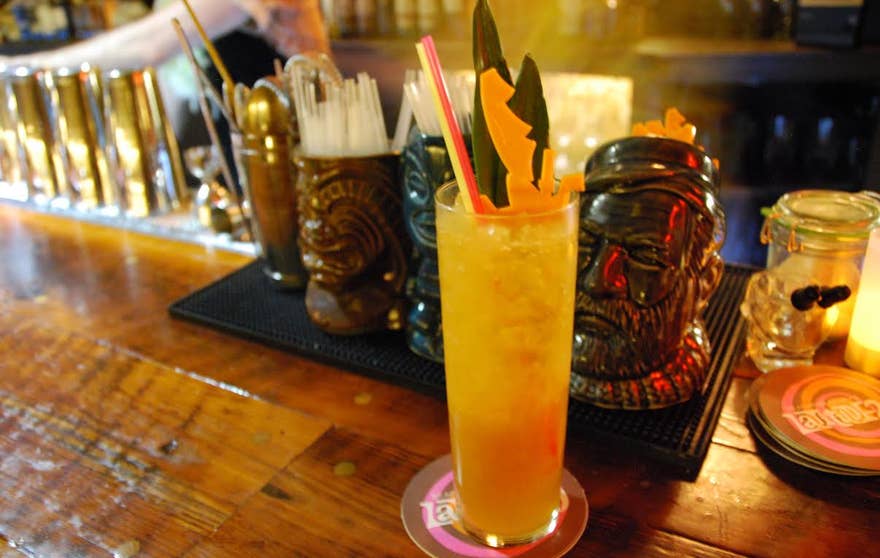 Expand / Contract
At Latitude 29, the hurricane is made with three types of rum and hand-squeezed juices. (Blane Bachelor)
Regardless, Touchton says, the selection got people talking about the hurricane – and it got some bartenders thinking about how they can personalize it. 
At Latitude 29, it's an off-menu drink, a tasty concoction made with lime juice instead of the typical lemon, and three types of rum, including agricole, a sugar cane spirit from the Caribbean that imparts grassy, vegetal notes and that Berry says brings "an added dimension" to the drink. At Red Fish Grill, a floater of Bacardi 151 gives the restaurant's deliciously tangy drink – the favorite in an unscientific taste testing around the city – an extra wallop. "Don't drink from the top; use the straw instead," Martin wisely advises. 
"It can be a little stigmatic, but as long as you make a good hurricane, you shouldn't be embarrassed to serve it," he says. "It embodies everything about New Orleans. It's a strong drink, it packs a punch and it will get you where you want to go in a hurry."