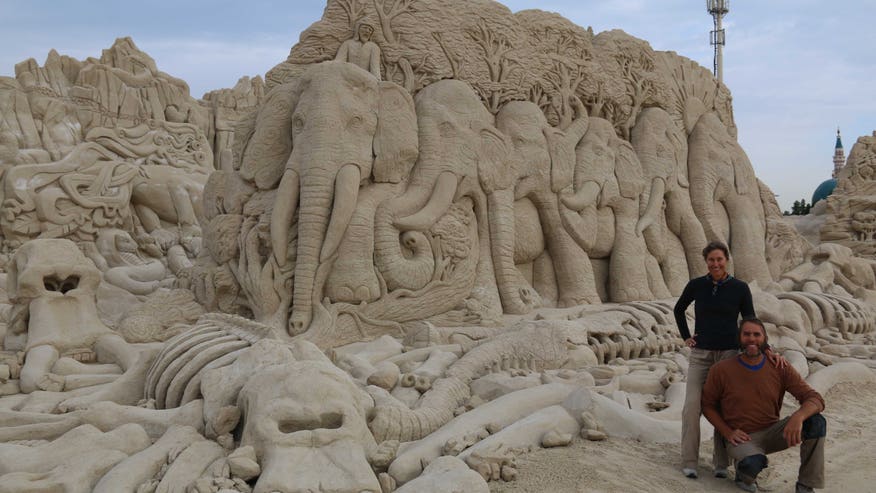 Think that building sand castles are relegated to kids with plastic buckets and shovels?
One couple has taken sand sculpting to dramatic new heights in a career that has spanned the globe.
Briton Paul Hoggard and his Dutch wife Remy say they create elaborate sculptures using little more than common tools, sand, water and their bare hands 
"I love to make sand sculptures with my wife Remy, we are in our element when we work together," Paul Hoggard told FoxNews.com. "We both love to travel, meet people and experience other cultures."
The couple has created thousands of pieces and their awe-inspiring designs have been featured in countries like Greece, Holland, Kuwait, Iran, Bahrain, Denmark, South Korea and France. Right now, their work can be seen in Denmark where the Hoggards have 15 giant-themed sand sculptures on display until September. 
Hoggar spoke with us about his sand sculpting process and gave us some insider tips on how to create your own sand sculpture. 
Don't forget to check out the slideshow above to see more of their incredible works of art.
FoxNews.com: How did you get your start building sand designs? 
Paul Hoggard: When I was a boy, I always would dream of travelling the world, but I never quite knew what I would be doing to enable the travel, until I started making sand sculptures.
I made my first sand sculpture on the beach in India in 1991. I was amazed at the face that materialized under my hands out of the sand. I was hooked. I soon found myself in the Canary Islands and worked for several winters creating sculptures for tips. I also established a spring-to- autumn base in St. Ives in Cornwall, England were I worked for a decade building sculptures and teaching sand sculpture to the local kids.
I worked for 10 years on the Cornish beaches (in the U.K.) perfecting my style and teaching, with the odd commission here and there. I am self-taught. 
FoxNews.com: What kind of tools do you use?
Paul Hoggard: Our imagination and our hands. And our strong healthy bodies are our most important tools. We also use shovels, a water hose, buckets trowels, pallet knives and brushes.  
FoxNews.com: How long does a typical sculpture take?
Paul Hoggard: Most of our sculptures us three to four days, but some take us three to four weeks. It all depends on the size, the subject and the detail of the designs.
FoxNews.com: What does it feel like to see one of your pieces get washed away in the waves (Does that even happen?)
Paul Hoggard: All our sand sculptures are ephemeral.  They have all gone back to a pile of sand. It teaches us time and time again that nothing is forever in life and we do learn how to let go. All that lasts are the memories and pictures. Some of them stay for several weeks or even months though, as we can spray them with a thin layer of diluted children's glue when we are finished. This way we can make them last longer.
But they all eventually go back to nature, and it can be a beautiful process to watch the sculpture been washed away by the sea or erode in the wind.
FoxNews.com: How large was your biggest creation?
Paul Hoggard: The elephant graveyard we built for the Remal festival in Kuwait last November used 700 tons of sand. This was my favorite subject—elephants. And it was huge, such a challenging steep, high, spectacular sculpture. We spent three weeks creating it. To go to the Middle East, take their ancient stories and turn them into life-size, three-dimensional sculptures in the desert sands was just such an amazing experience for us.
FoxNews.com: How to do avoid it falling apart?
Paul Hoggard: First we wet the sand, then compacted it into the rough desired shape, made sure there is no air in there anymore and the sand grains are packed tightly together. Wet compacted sand turns into a quite strong natural sand stone. After that preparation you can start sculpting. To keep your sculpture longer, you can keep it wet by spraying water on it.
FoxNews.com: How does someone get started if they want to make sand art?
Paul Hoggard: We would like to encourage everybody, young or old, to try and make a sand sculpture or express yourself artistically with your desired medium. If you do not have a beach, a bucket of sand can be turned into a sculpture on a table top.
Use your hands and imagination, find some sand and start practicing. Follow your passion in the subject matter. Make what is close to your heart and interests. It does not have to be perfect straight away.  The most important thing is that the process brings you the joy of creating.
Visit www.sandartist.com for designer tips and tricks, as well as instructions on basic tools needed.