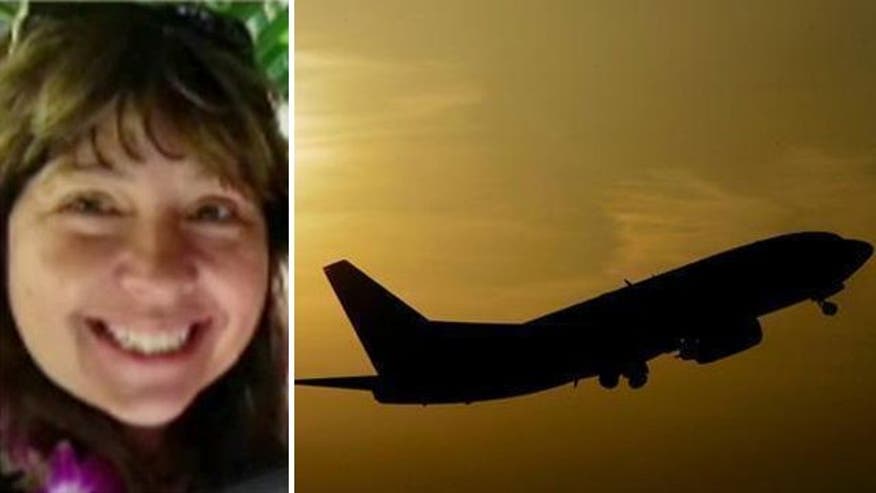 Alaska Airlines has apologized to a woman with cancer who was forcibly removed from an aircraft after she said she felt weak.
Elizabeth Sedway was flying back to her home near San Jose, California after a vacation in Hawaii with her family on Monday night. Sedway, who suffers from multiple myeloma, put on a surgical mask in the boarding area and told a gate agent she might need extra time to board because she sometimes "feels weak," according to NBC News.
Her entire family was allowed to board, but it wasn't until they were seated that Sedway says that they were asked to leave the plane after a flight attendant called a doctor who concluded Sedway was unable to fly.
Sedway recorded video of her and her family as they were escorted from the plane, and later posted it to her Facebook page.
"It's April 6. I have multiple myeloma. They're taking me off the airplane because I don't have a doctor's note saying I can fly," a shaky-voiced Sedway says. "I'm being removed as if I'm a criminal or contagious, because I have cancer."
Today, we were at gate 8 ready to depart on Alaska Airlines for San Jose. An airline employee saw me seated in the handicap section of the boarding area. She asked me if I needed anything. The first time. I said no. The second time, O said, well I might need a bit of extra time to board, sometimes I feel weak. Because I said the word weak, the Alaska Airlines employee called a doctor, she claimed was associated with the airlines. After we board the plane. An Alaska representative boarded the plane, and told us I could not fly without a note from a doctor stating that I was cleared to fly. The video is of us being removed from the plane.

Posted by Elizabeth Sedway on Monday, April 6, 2015
Sedway told NBC that airline officials were worried about her flying over open ocean for an extended period of time. "They didn't want me to collapse," she told the network.  
Sedway acknowledges that she didn't have a doctor's note clearing her for safe travel ahead of time, but the mother of two says she has flown without issue for the last five years.  She also emailed her own oncologist during the ordeal, who gave her permission to fly.
Sedway and her family had to spend Monday night in Maui and the delayed trip caused her to miss a scheduled chemotherapy appointment, something she says has never happened.
The Department of Transportation regulations prohibit a carrier from refusing to provide transportation to a passenger with a disability on the basis of his or her disability, except in very limited circumstances concerning safety.  According to DOT, carriers may require a passenger to provide a doctors note, but again, under limited circumstances, such as someone who is traveling in a stretcher or incubator; who needs medical oxygen during a flight; who has a communicable disease or condition that could pose a direct threat to the health or safety of others on the flight. 
Alaska Airlines spokeswoman Halley Knigge told NY Daily News that the airline tries it's best to avoid having "a medical emergency while flying over water." The airline confirmed to FoxNews.com that the crew called MedLink, an around-the-clock medical provider that employs ER physicians who are specially trained to make assessments over the phone, and that the decision to seek medical advice was due to Sedway's prolonged flight time over the Pacific Ocean.   
Alaska Airlines' contract of carriage also specifies several conditions where a passenger would be denied transport, including those who have a contagious disease, or passengers who cannot sit upright in the seat with the seatbelt fastened.
According to Cancer.net, some cancer victims are at a higher risk to develop a blood clot after sitting through a long flight and others who have had  lymph nodes removed could experience swelling  in the arms, legs, or other parts of the body. 
Alaska Airlines has since apologized to Sedway and acknowledged different action could have been taken.
Alaska Airlines spokeswoman Bobbie Egan on Tuesday told NBC Bay Area that the "communication breakdown was on our part." 
The airline will reimburse the family for their return airfare and extra night of accommodations in Hawaii and released the following statement to FoxNews.com:
"We regret the inconvenience Ms. Sedway experienced yesterday and are very sorry for how the situation was handled," the statement read. "What we can say is that our employees acted out of concern for our customer before the long flight from Hawaii back to San Jose."
"They need to polish their policies, apply some common sense," Sedway said. "A simple mask, a word, shouldn't be enough to pull a whole family off an airplane."