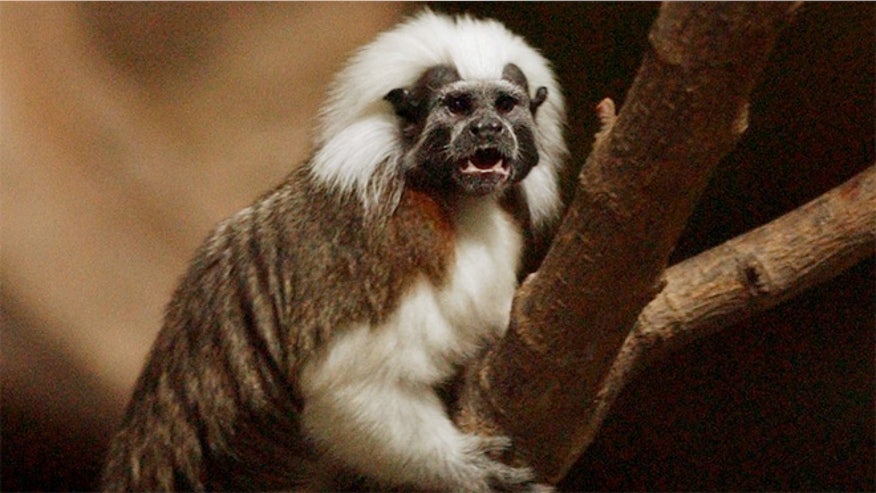 While the world was enraptured by last week's video of the giant panda bear Bao Bao as the cub frolicked in the snow in Washington, D.C.'s Smithsonian National Zoo's, frigid temperatures were claiming the life of two endangered monkeys in Louisiana.
The cotton-top tamarins, which each weigh less than a pound, died after a caretaker "overlooked" them and left them out on Jan.7 at the Alexandria Zoological Park, city officials said. A third monkey survived the exposure.  The death of the monkeys were only made public this week.
From Colombia, the monkeys are among the world's smallest new-world primates and need temperatures of 76 to 85 degrees to survive. The high last Wednesday in Alexandria was in the 50s while the overnight low was in the teens.
Public Works Director David Gill said in a news release "this appears to have happened as a result of human error and not a system problem." According to City spokeswoman Cynthia Jardon, the caretaker resigned Monday, she said.
The monkeys are critically endangered, with about 1,800 in captivity and about 6,000 in a small area of northwest Colombia, according to the International Union for Conservation of Nature.
As the temperatures have become frigid across the U.S., zoos have been stepping up measures to keep animals protected against the cold.
The Indianapolis Zoo has specially heated rocks in its tiger exhibit that allow the cats to stay warm while remaining outside, and also provide them with inside shelters. Others zoos have added heaters to exhibits where African animals and monkey are kept to keep those animals warm, while many zoos have alarm systems that monitor the temperatures in several  buildings 24 hours a day.
Each animal is taken care differently when it is freezing. When the temperature falls below 32 degrees, animals such as the apes and lemurs have to stay inside. Animals such as the lynx tigers, camels and reindeer are especially adaptable to snow. Heated barns are usually provided for animals not used to the snow, like elephants and lions. The water in the sea lion and walrus exhibits is typically temperature controlled.
Alexandria Zoological Park Zoo Director Lee Ann Whitt called the deaths of the cotton-top tamarins "a tragedy."
Now, People for the Ethical Treatment of Animals, or PETA, is calling for a federal investigation into the deaths of the tamarins, saying that their deaths were preventable.
The Associated Press contributed to this report.