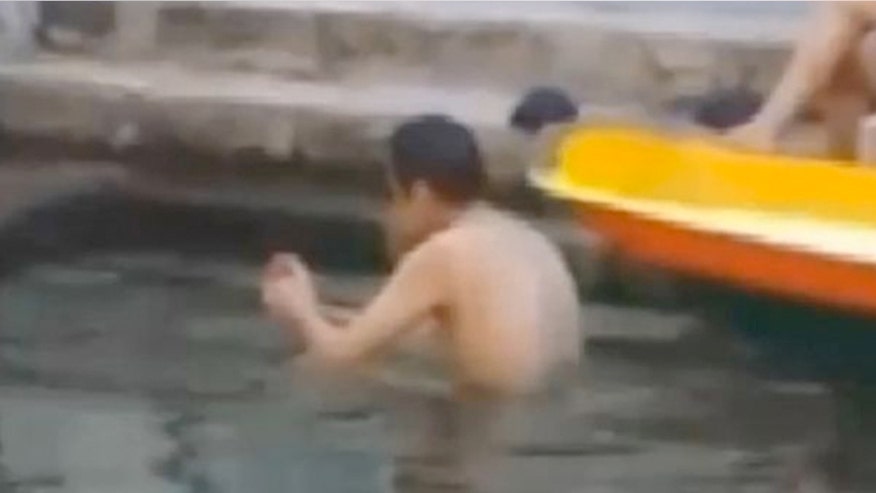 Italian media is blasting a tourist after he was spotted having a bath in one of Venice's famed canals.
Footage shows the man up to his chest in the water, splashing around and using the water to clean his armpits, shoulders and back.
The video, recorded by someone on the other side of the canal, was supplied to local newspaper Il Gazzettino, which said the footage had been uploaded to Facebook.
Venice has long been a popular tourist destination that draws about 25 million visitors a year. But, with the hordes of travelers that take over the city, especially in the summer,  not all are on their best behavior.
Visitors have also been photographed peeing in a canal, showering naked behind a RV or seen diving from the city landmark, the Constitution Bridge. This latest scene has sparked outrage and calls for a crackdown on visitors behaving badly.  But it's not just Venice that has had its share of bizarre acts.  Tourists to Rome made headlines recently for carving their names or initials into the Colosseum and another teenager stole ceiling tiles at Pompeii to buy an iPhone.
Venice's tourism councilor complained that the massive amount of tourists on the streets make walking the streets seem like touring a museum, tourism councilor Paola Mar told the Local Tuesday.
"The city doesn't have to become a museum," Mar said. "We have to find a way for the residents to live with the tourists."