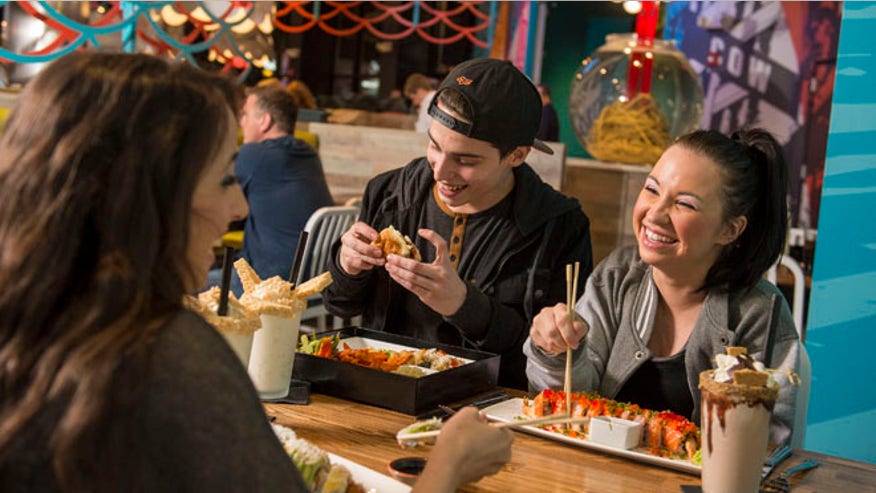 Forget the latest theme park attractions. How about a farm tour or cooking lesson on your next trip to Orlando?
OK, maybe not, though Grande Lakes Orlando, home to the Ritz-Carlton and the JW Marriott, does both and JW Marriott Executive Chef Jadan Sheive points to the popularity of the resort's new Whisper Creek Farm: The Kitchen, with kitchen-made sausages and vegetables and fruit right from the resort's 7,000-square-foot garden. (Think kale pesto flatbreads.) There are cooking classes for parents, as well as kids. At first, Sheive said his team wasn't sure kids would take to the new restaurant — there aren't even kids' menus — but it has been increasingly popular, especially as kids taste their parents food and like what they are eating.
He said you don't often see kids these days that refuse to eat anything green. "That whole trend has been turned on its head," he said. "Dining out has become an experience," he said. And that includes kids, as well as all those with special dietary needs as restaurants, hotels and theme parks work hard to accommodate them. Walt Disney World, for example, which has fielded more than 650,000 special dietary requests in one year, has now begun to introduce allergy-friendly menus at 120 quick-serve and table-service restaurants. A tip: If someone in your family has special food challenges, it's always smart to call ahead.
Visit Orlando's magical dining month, which starts August 24 and continues throughout September and highlights many restaurants offering prix fixe dinners for $33. (Ready to share with your junior foodie?) A tip: Wherever you are, rather than ordering from the children's menu, ask for a half portion or appetizer-size portion. The kids will eat healthier and maybe expand their palates a bit.
At the same time, there is a growing list of Orlando restaurants including family favorites like the Rainforest Cafe and the Hard Rock Cafe–among the more than 42,000 nationwide — that are part of the National Restaurant Association's Kids LiveWell initiative designed to offer kids healthier and appealing foods.
September, by the way, may be the cheapest month of the year to visit Orlando — a great bet for those whose kids aren't in school yet, homeschoolers and those who can finagle a long weekend. The average rate for September hotels is $122 a night, according to trivago, the hotel search mega site. (Check out the new free iPhone app that helps with planning to SeaWorld, Disney World and Universal Orlando from Undercover Tourist, the purveyor of discount theme park tickets and rental cars. You'll also find helpful dining tips.)
Whether you want to dine with a princess, sample a Krusty Burger at Springfield, home of the Simpsons at Universal Studios Florida, eat farm-to-table or indulge in a fine dining experience (maybe when grandma is watching the kids) you'll have your pick here in Orlando with thousands of restaurants to choose from, including an ever-growing array of sophisticated and themed choices like the recently opened Tin Roof with good Tex-Mex eats and live music at I-Drive 360 where the Orlando Eye is located.
Still, Orlando restaurant and tourism officials lament, many visitors still think there's nothing more to eat than burgers and giant turkey legs though in Orlando these days you'll have more food options than at most vacation destinations. Disney, in fact, is revamping Downtown Disney into Disney Springs with new restaurants like the Boathouse with its floating artwork and the chance to take a ride in an Amphicar and Morimoto Asia coming this fall complete with exhibition kitchen where you can watch dim sum being made . When finished, there will be more than 150 shopping, dining and entertainment venues.
Nor will anyone give your kids a second glance (as long as they are reasonably behaved) at an upscale or trendy eatery, particularly early in the evening. I've seen kids chowing down everywhere from Todd English's BlueZoo at the Walt Disney World Swan and Dolphin (kids love the mocktails and the glittery blue decor) to The Cowfish at Universal Orlando's CityWalk, which serves up burgers and sushi. There are also special kids' Bento Boxes with a menu that includes an origami activity.
Orlando, of course, is the place for interactive dining experiences like Trader Sam's new Grog Grotto in Walt Disney World's Polynesian Village Resort where the wait can stretch to two hours. But where else will a goddess light up or an interactive volcano picture erupt if you order a particular drink?
A few minutes away at the new Four Seasons Orlando at Walt Disney World Resort, you won't find such elaborate themes — just a focus on carefully prepared food from local purveyors. Think chef-made charcuterie at the character breakfasts, prime steaks in the rooftop restaurant Capa where you can watch the fireworks from Magic Kingdom and Epcot. Kids can order a small fillet or "paella" — chicken and rice.
"I like to see more kids order different things," said Four Seasons Executive Chef Fabrizio Schenardi.
At the theme parks too, said Gary Jones, a culinary dietary specialist who helped introduce the "Mickey Checks" on kids' meals that indicate the healthier options, such as meals served with carrots rather than fries and water or juice instead of soft drinks. Still, he said, only about half the guests opt for the healthier choices for their kids.
Everyone keeps trying. The Hyatt Regency Orlando and Hyatt Regency Grand Cypress have launched an innovative menu, "For Kids, By Kids," which provides nutritious, fresh and interactive offerings for children. Think Top Your Own Taco.
At the Ritz-Carlton at Grande Lakes Orlando, every dish at Highball and Harvest includes something from the resort's farm — tomatoes, peppers, Swiss chard, rosemary — which families can visit. There's honey produced on site, a big chicken coop, 18 varieties of citrus trees, avocado trees, bananas, mango and cherries. Everything from beets to yucca to blueberries, broccoli and mint are grown here.
Kids like to sit up at the counter and watch how their food is being made, said Chef Sheive. "Wellness has got to be part of your concept these days," he added. "If not, you're going to miss out."
Let's hope families agree.
Eileen Ogintz is a nationally syndicated columnist and creator of TakingtheKids.com. Her new  Kids Guide to Boston is available online and from major booksellers, along with the Kids Guides to NYC, Washington, DC, Orlando,  LA and Chicago. Coming  later this year: San Diego, San Francisco and Denver.