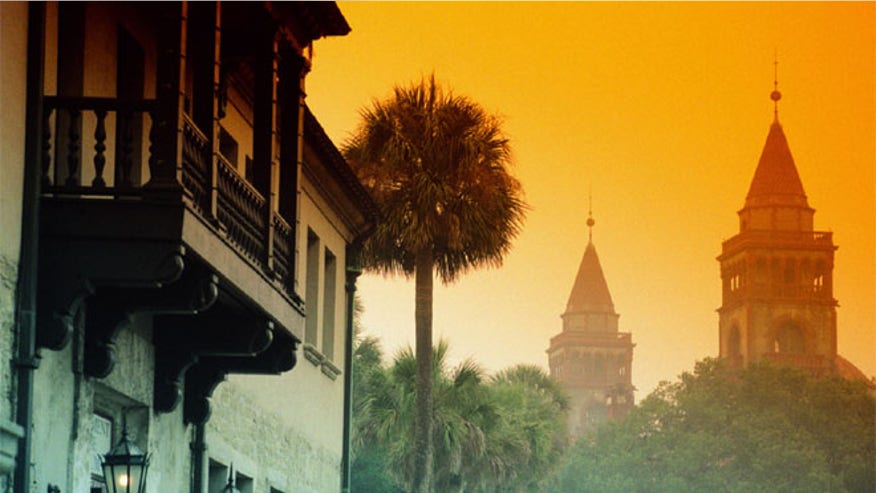 St. Augustine's colonial-city charm, beautiful beaches and nouveau eateries make the city a prime location on Florida's northern Atlantic coast.
St. Augustine, the oldest city in the nation, turns 450 years old today. So it comes as no surprise that people have been visiting all year long to experience its rich history. After all, it's home to a 17th-century fortress, the oldest Catholic parish in the nation and the oldest street in the U.S., just to name a few. 
These days, in addition to its colonial-city charm, St. Augustine is also home to nouveau eateries and entertainment. And with its prime location on Florida's northern Atlantic coast, visitors are treated to stunning natural backdrops everywhere they turn.
"It's European with tight buildings and narrow streets; it sits in a harbor with a coquina fort that looks past the barrier islands toward the open ocean."
Kelly Seddon Rogers, an Orlando resident who visits St. Augustine a few times a year, says she loves the city's small-town feel. "I think that's what attracts people at first, but they are soon captured by its beauty," she said.
Stephen DiMare, founder of The Hyppo, a gourmet popsicle shop on bustling Saint George Street, agrees. "I think people enjoy visiting St. Augustine because it is quintessentially quaint," he said. "It's European with tight buildings and narrow streets; it sits in a harbor with a coquina fort that looks past the barrier islands toward the open ocean."
With 73,000 acres of protected beaches, salt marsh, ocean and mangrove estuary, the beachside city has more than its fair share of beauty. One way to get to know the area's marine life is to skim the surface in a kayak. St. Augustine Eco Tours takes guests through the narrow creeks of the estuary, home to pink-hued spoonbills, manatees and dolphins. Guests paddle under the Bridge of Lions and past the Castillo de San Marcos, which once protected the city from British invaders.
Back on land, Flagler College is worth a stop. Built by railroad tycoon Henry Flagler in 1888, it had electricity three years before the White House. Nearby, the Lightner Museum is also a sight to see. Built in 1887, its Spanish Renaissance Revival architecture landed it on the National Register of Historic Places. The museum beckons people to see antiquities from yesteryear, including a fossilized dinosaur egg and a stuffed lion that belonged to Winston Churchill. Beyond all the relics, just strolling through the streets and whiling away the afternoon are enjoyable. 
"Students are hurrying to class, boats are bringing in fresh catch, people are mowing their yards and real everyday life is happening all around," said DiMare, a longtime resident who is particularly thrilled about how things are taking shape on the culinary front.
"The Ice Plant, Distillery, DOS, Kookaburra, Gas, Cousteau's and other authentic food stops have circled up to really offer a great burgeoning food scene in our town," he said. "We're not Charleston, but for our size and long dormancy, we are doing great."
When hunger strikes, take your pick from farm-to-table eats (The Floridian), raw and vegan food (The Present Moment Cafe), seasonal seafood (Catch 27) and Southern comfort food (Aunt Kate's Restaurant, Barnacle Bill's and O'Steen's Restaurant).
The best part is that the city's layout is very tourist friendly. The downtown area is walkable and safe, so visitors can feel free to get lost and explore a little. Geographically speaking, the city is large. But with only 14,000 residents, you can easily find a slice of beach all to yourself. 
"My favorite memories from St. Augustine are of coming home from the beach, which was quiet and filled with locals," Rogers said. "I loved the feeling of salty skin and relaxing with friends. No one was ever in a hurry. St. Augustine has a magical quality to me that's difficult to describe."
"I love this city because it's beautiful," DiMare said. "It has a good speed of life and my family is here. It's just small enough to know, or feel like you know, most of the people here. And yet it's just big enough to not mind seeing them when you do."
If you go:
Visit www.floridashistoriccoast.com for a list of events throughout the year.