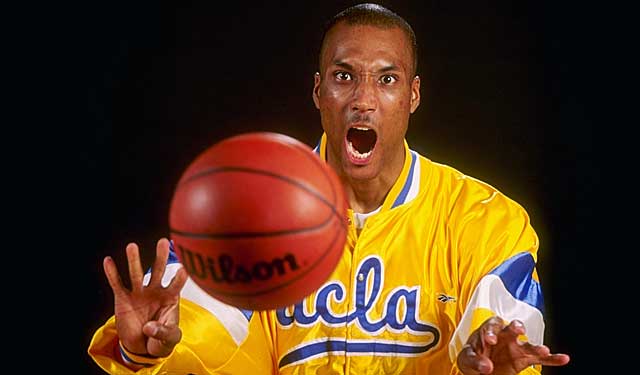 O'Bannon case: O'Bannon timeline | How Vaccaro created case | More trial content
Ed O'Bannon v. NCAA is headed for trial Monday in Oakland after nearly five years of litigation. Confused by what this case is all about and what it could mean? Here's what to expect at the trial.
What's the Ed O'Bannon trial about? Licensing money, largely broadcast TV dollars. A group of 20 former and current football and men's basketball players, led by ex-UCLA basketball star Ed O'Bannon, want an injunction to end the NCAA's rules preventing players from being paid for use of their names, images or likenesses. They claim the NCAA's restrictions violate antitrust law.
This case focuses on live broadcasts, rebroadcasts, highlight clips and video games. The O'Bannon plaintiffs lost their attempt to seek $3.2 billion in damages from 2005-06 through 2010-11 and have said they're dropping individual claims against the NCAA. That narrows this trial to whether the NCAA is illegally restricting athletes from being paid for their names, images and likenesses.
What's at stake for the NCAA? The ever-evolving definition of amateurism (or, as it's being called now, the collegiate model). A win for O'Bannon would open the door to athletes being paid for use of their names, images and likenesses. Universities around the country will be paying attention. Also, this case could impact other lawsuits against the NCAA, including the next big NCAA suit: Prominent sports attorney Jeffrey Kessler's case seeking a free market for college athletes to be paid beyond their scholarship. Every piece of evidence and every statement provide future material for the next wave of cases.
Who's going to decide the case? U.S. District Judge Claudia Wilken will oversee the bench trial in the Northern District of California. Initially, the case was scheduled to be two trials (one bench, one jury), but a related lawsuit against the NCAA over video games was delayed to March 2015. The O'Bannon trial will last up to three weeks and run each day from 8:30 a.m.-1:30 p.m. PT. Bench trials move faster than jury trials.
Wilken has said she hopes to have a written verdict before any class notice is sent out from the Electronic Arts settlement over video games. The EA class notice is currently scheduled to be issued on Sept. 3. Wilken told the sides she wants them to file written closing arguments as soon as three days after the trial ends. Get used to Wilken's name, if you're not already. She was named the presiding judge over several lawsuits against the NCAA and its conferences related to scholarships, including Kessler's suit.
Could there be a settlement? That's always a possibility, either before trial or during it if one side appears to be losing. Lawyers for the O'Bannon plaintiffs have publicly said they're willing to settle but the NCAA won't have meaningful dialogue. The NCAA last week continued to publicly signal that what's at stake in the O'Bannon case is too fundamental to college sports for a settlement.
The risk for the NCAA is it could be handed an unfavorable ruling, with lawmakers watching closely, that would immediately (pending appeal) impact college sports on Wilken's terms, not the NCAA's. For example, it's not Wilken's role in this case to be concerned about Title IX implications if O'Bannon wins. Future court cases and the Office of Civil Rights would have to sort that out.
For the O'Bannon plaintiffs, the risk is considerable legal expenses and time spent on this case for five years with little to show for it financially. A recent court document listed O'Bannon's legal fees having exceeded $30 million, a number O'Bannon attorney Michael Hausfeld denied. The plaintiffs have said that besides an injunction, they're seeking "attorneys' fees, costs, other expenses." In other words: They need to be paid in some way for all of this work.
What exactly would an injunction against NCAA rules mean? That's one of the most fascinating questions. How far-reaching would an injunction be? If Wilken simply determines the NCAA rules prohibiting athletes from getting paid based off their own identity are unlawful, then what? Would athletes be pooled into group licenses through the Former College Athletes Association, a mechanism created by the O'Bannon plaintiffs with renowned mediator Ken Feinberg? Or could athletes individually seek licensing money based on their own market value?
The O'Bannon plaintiffs have suggested group licensing money could be put into a fund for deferred payments until after graduation or eligibility expires; the NCAA could revise its definition of "pay" to allow for players to be paid off licensing; or the NCAA could allow individual schools and conferences to decide whether to share licensing money with players. The NCAA says the O'Bannon plaintiffs' ideas are "blueprints for the NCAA to produce a different kind of sports, which deprives the NCAA" members of 'ample latitude' to adopt rules preserving the revered tradition of amateurism in college sports." The O'Bannon plaintiffs recently filed proposed language for an injunction.
Is the NCAA still using a 1984 U.S. Supreme Court ruling to defend its model? Yes. How the NCAA defends itself carries wide implications for the association so it's sticking in part to a tried-and-true defense, probably with an eye toward future appeals. In the past, the NCAA has often invoked "amateurism" as its defense in federal cases. But Wilken wrote last October that a 1984 U.S. Supreme Court ruling used by the NCAA to preserve amateurism doesn't apply in this case.
Still, the NCAA cites 10 times in its trial brief the NCAA v. Board of Regents of Oklahoma case that determined the NCAA had an illegal monopoly to televise football games. For instance, the NCAA says it's a "joint venture" and cites the 1984 Supreme Court ruling, which said the NCAA and other sports organizations are the "leading example[s]" of "activities [that] can only be carried out jointly" because sports require "rules on which the competitors agreed to create and define the competition to be marketed."
What are the NCAA's arguments for not paying players? The NCAA has four arguments for restricting payments to players (a fifth one — the viability of women's sports and non-revenue sports — was previously thrown out by Wilken):
1. Amateurism is core to college athletics. "I don't think amateurism is going to be a useful word here," Wilken said at a February hearing when she questioned how it is the NCAA gets to define what amateurism means.
2. Competitive balance among schools is enhanced by not paying players. Antitrust law allows a restraint if the restraint can be shown to be promoting competition. The NCAA argues schools with more money would have an advantage to pay players, and that schools couldn't maintain balance through a draft and trades such as in pro sports because players choose the university they want to attend. The NCAA says prominent football and men's basketball recruits would have offers of at least $100,000 to attend colleges if schools could use TV money to pay for use of athletes' names, images and likenesses. The NCAA will try to show college football and men's basketball are "at least as balanced — or about as improperly balanced — as the NFL and the NBA."
3. The integration of athletics and academics would be damaged if athletes were paid. This defense assures the quality of some college athletes' education will be put on trial, such as the alleged, fake "paper classes" at North Carolina. Wilken said the NCAA must show evidence its payment restriction "actually contributes to the integration of education and athletics." The NCAA says it will provide data showing football and men's basketball players achieve academic success at equal or higher rates than other young people with similar backgrounds.
4. Increased output of teams, support services to athletes, and participation opportunities would be heavily impacted if football and men's basketball players shared TV revenue. The NCAA will argue that some schools won't want to play against athletes at other schools who are being paid, and other colleges will leave Division I because they lack the resources to compete in cash bidding for recruits.
What are O'Bannon's arguments for antitrust violations? To prove the NCAA violates antitrust law, the plaintiffs have to show there's a market being harmed. The plaintiffs say NCAA rules preventing football and men's basketball players from being paid hurt two markets: the "college education" market, in which schools compete to recruit the best players; and the "group licensing" market, in which broadcasters and video game developers compete for group licenses to use the names, images and likenesses of college players. The plaintiffs allege the NCAA's price-fixing conspiracy:
1. Limits competition for college athletes
2. Increases the price of school for athletes
3. Facilitates early exit by some athletes
4. Limits consumer choice by restricting the number and quality of licensed products
5. Spurs inefficient substitution, such as excessive expenses on recruiting, salaries and facilities
The O'Bannon plaintiffs will have to prove there was a contract or conspiracy to fix prices, the agreement unreasonably restrained trade under a rule of reason analysis, and the restraint affected interstate commerce.
What's the role of NCAA and school publicity forms that athletes sign? At the start of every year, athletes sign many documents as part of an eligibility packet, including a right-of-publicity form. The document typically says something like: "You authorize the NCAA [or a third party acting on behalf of the NCAA [e.g., host institution, conference, local organization committee] to use your name or picture to generally promote NCAA championships or other NCAA events, activities or programs."
What the document does and doesn't legally cover has been up for interpretation for five years in this case. Do athletes sign away their rights on TV with these forms? Are these waivers that cover the NCAA and schools from operating their alleged anticompetitive practices? Do players have to sign the forms in order to be eligible? And if the answer is yes to any of these questions, is there a conspiracy coordinating these documents?
The O'Bannon plaintiffs say they will show the forms are "contracts of adhesion, signed without informed consent, under duress, and typically after being told a signature is required to play." The NCAA says the only use of athletes' names, images and likenesses are to promote NCAA events. At a pretrial hearing, Wilken said the forms can be introduced at trial "if there's some offer of proof or showing that the NCAA was knowledgable of them, participated with them, that they had some relevance to a conspiracy charge. If they are just out there and there's no showing that anybody else ever saw them, then I'm not sure they would be relevant."
Why are TV broadcast companies closely watching this trial? It could impact how they do business. After many media companies argued otherwise, Wilken ruled that the First Amendment doesn't guarantee media organizations unlimited rights to broadcast entire college football and basketball games. That was a defense used by the NCAA to justify not paying players for use of their names, images and likenesses. Wilken also opened the door to the possibility that TV broadcasters have accountability as well.
In her summary judgment ruling, Wilken wrote that whether college athletes own rights in their athletic performance doesn't depend on the scope of broadcasters' First Amendment rights, but rather whether the athletes themselves validly transferred their rights of publicity to another party. Wilken said that the record doesn't show all Division I athletes validly transferred those rights. So she concluded the First Amendment can't prevent athletes from asserting their rights of publicity in broadcasts and the First Amendment doesn't preclude the existence of a market for group licenses to use athletes' names, images and likenesses. This is an issue ripe for appeal.
So do college athletes posses publicity rights for TV games? This figures to be a fundamental question at the trial — and the answer could establish new case law. Wilken has said that for the O'Bannon plaintiffs to establish the existence of a group licensing market, they must show that without the NCAA's rules against paying players, the athletes would have publicity rights in live broadcasts and archival footage.
The O'Bannon plaintiffs say those rights get sold in television agreements for clearances so the players can appear in the broadcasts. The NCAA says there is no legal precedent to recognize a right-of-publicity claim by a participating in a sporting event against a broadcaster in a live telecast. Also, no amateur sport has ever paid a portion of licensing revenue earned from a broadcast to an athlete, according to the NCAA.
College athletes "do not have that right because they do not create college football or basketball games or control the stadiums where they are played," the NCAA wrote in its trial brief. "Their colleges and universities … do." College athletes, the NCAA wrote, "are only in the stadium at all because their colleges and universities have agreed to let them play, just as they have agreed to let the band march, the cheerleaders cheer, and the fans with tickets sit in the stands."
Are televised games commercial or non-commercial speech? Wilken handed O'Bannon a defeat in her summary judgment ruling by rejecting the argument that live TV broadcasts of games are commercial speech. The NCAA previously argued that players cannot be paid for appearing on live TV broadcasts because the First Amendment protects non-commercial speech.
Wilken compared commercial breaks during games to newspapers and magazines setting aside pages for ads, meaning it's not enough to declare the entire broadcast commercial. O'Bannon may try to present evidence to change Wilken's opinion.
Who are some key witnesses at trial? NCAA president Mark Emmert and Big Ten commissioner Jim Delany, who are on the NCAA's witness list, undoubtedly will get the most media attention if they're called to testify. They most likely would testify in the second week of the trial when the NCAA presents its case. Emmert is an NCAA witness, but the O'Bannon plaintiffs want to question Emmert as well. But the case may hinge on witnesses who are unfamiliar to most of the public.
Electronic Arts executive Joel Linzner is expected to testify that EA wanted to pay college athletes for use of their names on NCAA-branded video games and was willing to pay more for those rights. That goes to O'Bannon's attempt to show that, if not for NCAA rules, there is a marketplace for group licensing of college athletes. Additional evidence or testimony from EA — a former NCAA partner that has settled with video-game plaintiffs — could be revealing about the extent to which the NCAA knew athletes' characteristics were being used in EA video games.
Economic experts will play a significant role in the antitrust discussion: Roger Noll and Daniel Rascher for O'Bannon, Daniel Rubinfeld and Lauren Stiroh for the NCAA. Noll, an economics professor at Stanford, will be a key voice for O'Bannon to explain the price-fixing theories. His theories have been at the center of the case and will get attacked by the NCAA. Three named plaintiffs are expected to testify: O'Bannon, former Alabama football star Tyrone Prothro, and former Vanderbilt linebacker Chase Garnham, who joined the suit as an active college player in 2013 and differed with his school last year over use of his name and image.
Do all of these issues disappear after the O'Bannon ruling? No way. Both sides have set their case up for appeals. Barring a settlement, an O'Bannon victory likely would be appealed by the NCAA, whose members have argued that allowing players to be paid would damage college sports. O'Bannon would also likely appeal a trial loss and/or Wilken's previous ruling to not certify a class for damages from TV and video games.
At last week's pretrial hearing, the NCAA raised concerns that O'Bannon lawyers are saying only that the named plaintiffs will dismiss individual claims against the NCAA. Left unspoken is that if O'Bannon wins, a whole set of new plaintiffs could individually sue the NCAA for damages over names, images and likenesses. Two former Texas Tech players already sued the NCAA in March over similar O'Bannon claims.
"They're not the first, nor will they be the last suing the NCAA in light of the judge denying class certification," Hausfeld said in March. "Based on inquiries to us, there are hundreds, if not thousands, of them already lined up."
The O'Bannon trial marks a pivotal moment for the NCAA. Even if the NCAA wins, the aftermath of this trial could result in change for college sports. The NCAA is nowhere near the end of its litigation headaches.