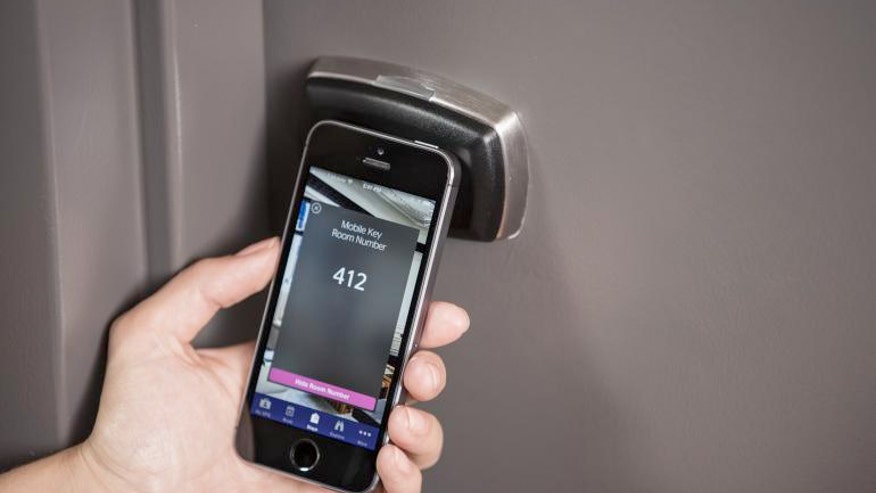 Why wait in line to be served at the hotel check-in desk?
Starwood Hotels and Resorts on Monday became the first chain to let guests bypass the desk and unlock their room doors with their phones.
Following an initial pilot program at a pair of its properties, the hotel chain announced the official launch of its SPG Keyless program that uses Bluetooth technology to give guests room access with a wave of an iPhone or Android.
After customers book their hotel, customers will get a notification along with their key code.  Once at the hotel, they can simply bypass the front desk and go directly to their room, open the door and settle in.
On the plus side, the new program helps speed up the check-in process for busy travelers.  On the downside, it is putting more of an onus on customers to handle their own booking and service.
Hotels such as Starwood are trying to catch up with the integration of mobile technology into their services.  Fliers today use their phones to check in, select seats and as a boarding pass. Cruise lines and Disney theme parks have also recently launched similar concepts with radio frequency wristbands that act as travelers' e-wallets and room keys.  Hotels envision a similar relationship, with guests ultimately ordering poolside drinks via an app.
The company is rolling out Bluetooth locks in 10 of its hotels, with more to come early next year. They include Aloft Beijing, Aloft Cancun, Aloft Cupertino, Aloft Harlem, W Doha, W Hollywood, W Hong Kong, W New York-Downtown, W Singapore and Element Times Square.